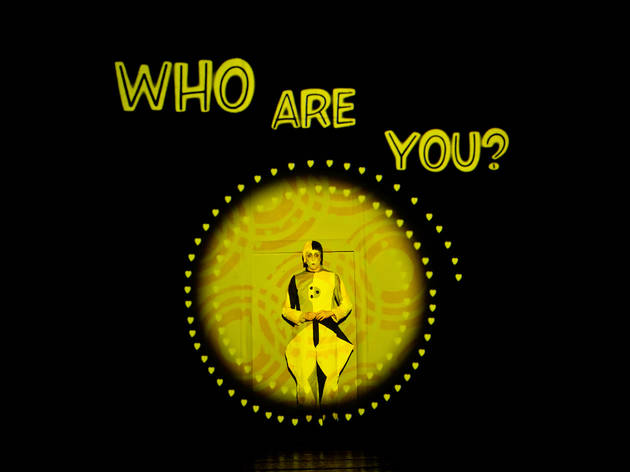 1/9
© Bernhard Müller
Shamira Turner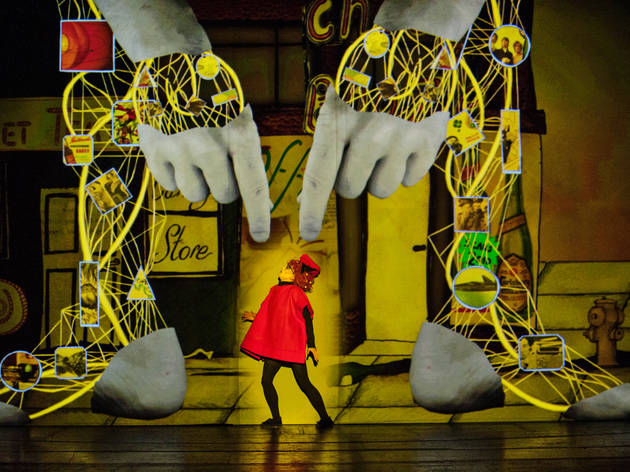 2/9
© Bernhard Müller
Esme Appleton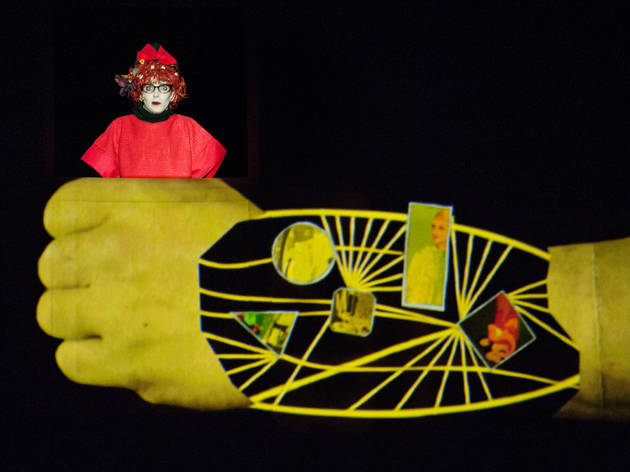 3/9
© Bernhard Müller
Esme Appleton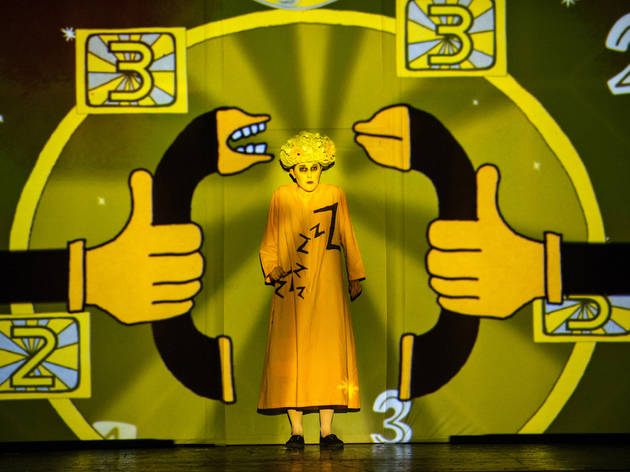 4/9
© Bernhard Müller
Rose Robinson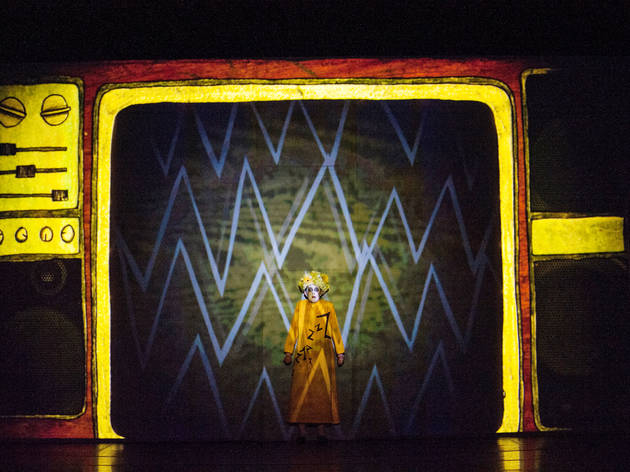 5/9
© Bernhard Müller
Rose Robinson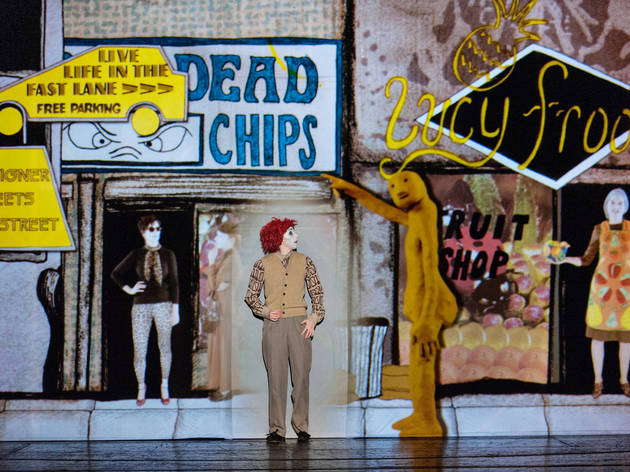 6/9
© Bernhard Müller
Shamira Turner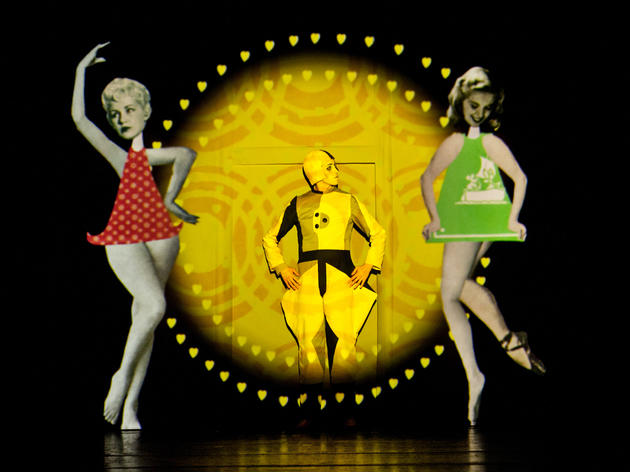 7/9
© Bernhard Müller
Shamira Turner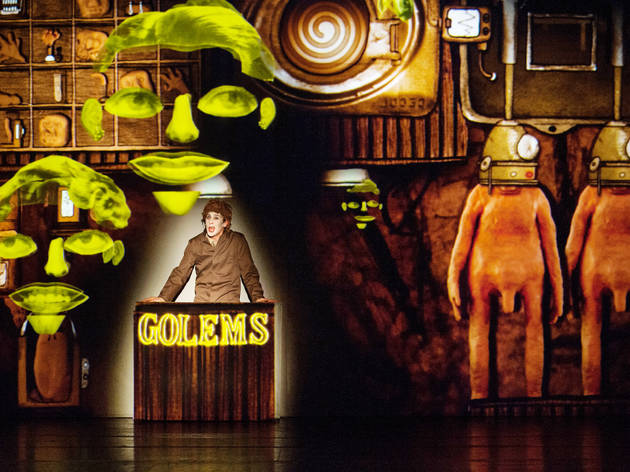 8/9
© Bernhard Müller
Will Close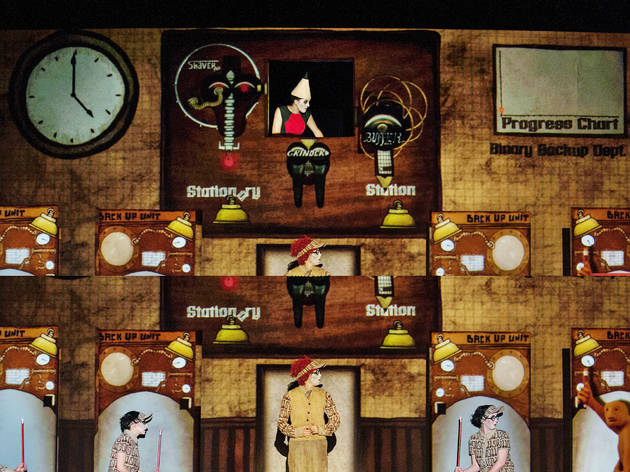 9/9
© Bernhard Müller
Will Close
'Golem' transfers to the West End from April. This review is of the show's run at the Young Vic.
With new show 'Golem', the animated vistas conjured by theatre company 1927 have become so stunning that the story could be about pretty much anything – the dos-and-don'ts of grouting; a short history of sponges; a Nick Clegg biopic – and still be essential viewing. Whereas the company's visuals have previously been mostly influenced by German Expressionism and silent movies, here animator Paul Barritt lobs in everything from 'Metropolis' to 'Monty Python' to 'Morph' to create an astonishing, acid yellow world that looks like 'Nathan Barley' reimagined by Fritz Lang.

As it happens, Barritt and writer-director Suzanne Andrade's third play is a polemic about tech dependence. The titular Golems are lumpen claymation manservants – with amusingly prodigious willies – who do the bidding of the live human cast as they wander a projected world. The Golems are, it's clear, supposed to be stand-ins for iPhones, or at least the phenomena of our obsession with Apple tech, something made plain when a smaller, more irritating model is released to the market, leading to an epidemic of homogenisation as everyone buys one and starts letting it run their life.

In some ways, Andrade's message is too blunt to be effective, offering a vision of tech addiction so dementedly OTT that it's difficult to take a tremendous amount from it (unlike the Donmar's recent 'Privacy', which certainly made me rethink my relationship with my phone). Still, it's hard to disagree with the underlying point, and there is also a more nuanced argument about how tech has made us less kind – in the descent of lead character Robert (Shamira Turner, excellent) from nerd loser to sociopath success, one sees a reflection of the darker side of Silicon Valley, from Steve Jobs's more abrasive habits to Uber executive Emil Michael's recent comments on journalists.

Really, though, a 1927 show is more about medium than the message. To simply characterise 'Golem' as a political rant would be to ignore not only the visuals, and the lovely, jazzy live score, but Andrade and Barritt's lavish attention to detail and wonderfully irreverant sense of humour. From a recurring gag about Benedict Cumberbatch to such inclusions as a hipster aspic restaurant and an underachieving tweecore punk band, this is a cracked, exaggerated, funhouse mirror reflection of our world that you could stare into for days.
Average User Rating
3.5 / 5
Rating Breakdown
5 star:

1

4 star:

0

3 star:

0

2 star:

1

1 star:

0
Were all the critics watching the same show as me? Yes, the integration of animation and live action must have taken a lot of work, but the script, music, lyrics, and direction were all embarrassingly amateurish. The show's narrator started off talking about herself, and it was only 20 minutes in that I realised that the show was actually about her brother. It's also a musical, and yet I can't remember a single piece of music from the show apart from one bit which stole the bass line from "Tainted Love". The script was filled with what were clearly supposed to be jokes, and yet none of the audience were laughing very much. I remember Stephen Sondheim saying that a show always needs to be a step ahead of the audience, but in this one I always felt that I was 5 steps ahead of the show. As soon as a scene started I knew where it was going, and yet had to sit through 5 minutes of obvious rhymes for it to make its point. Also, the writer seems to think that Apple and the Daily Mail are one and the same thing - it's not even very targeted in its satire.
Go and see something else! There are so many better productions on the London stage.