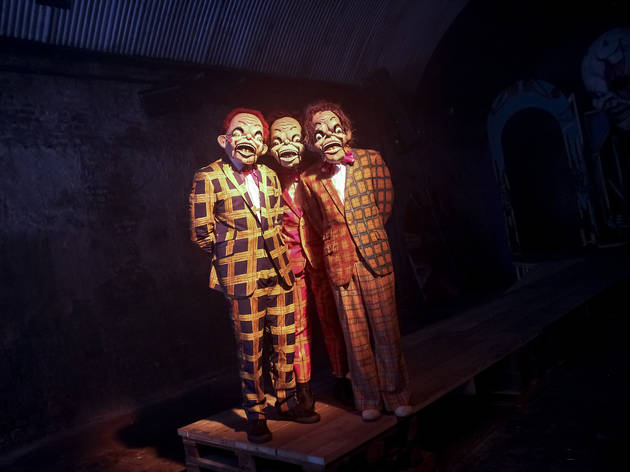 1/15
© Alice Pepperell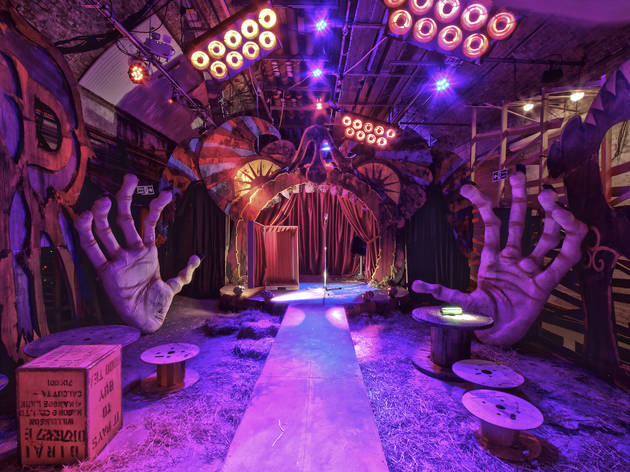 2/15
© Alice Pepperell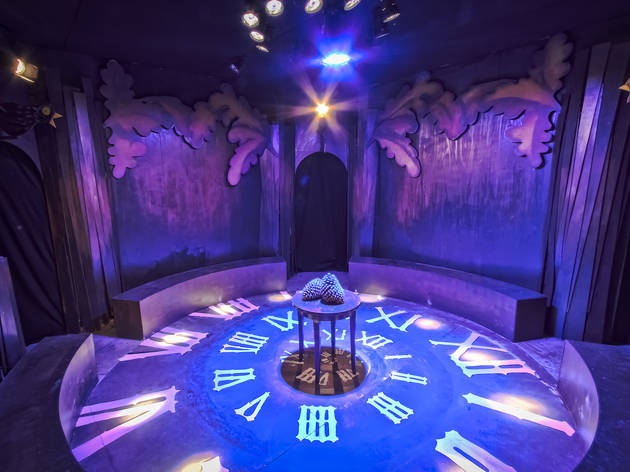 3/15
© Alice Pepperell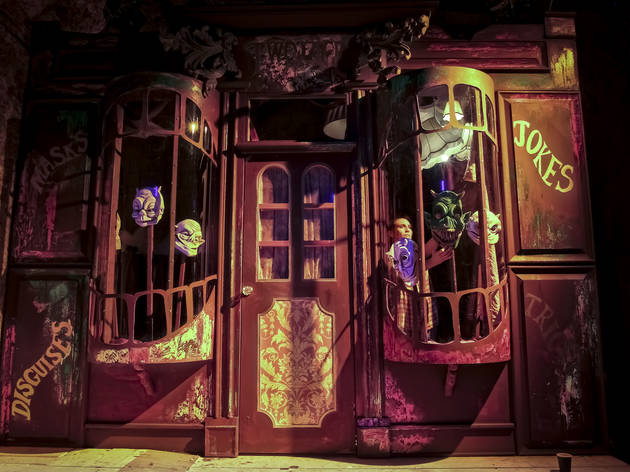 4/15
© Alice Pepperell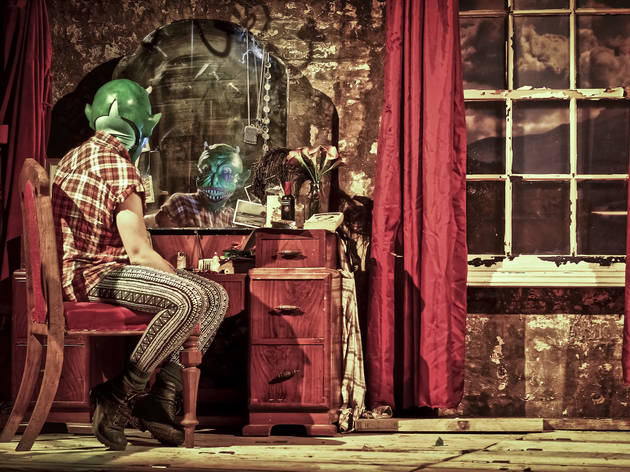 5/15
© Alice Pepperell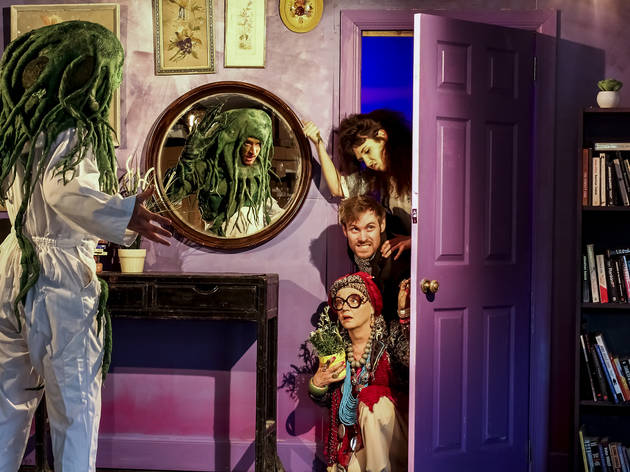 6/15
© Alice Pepperell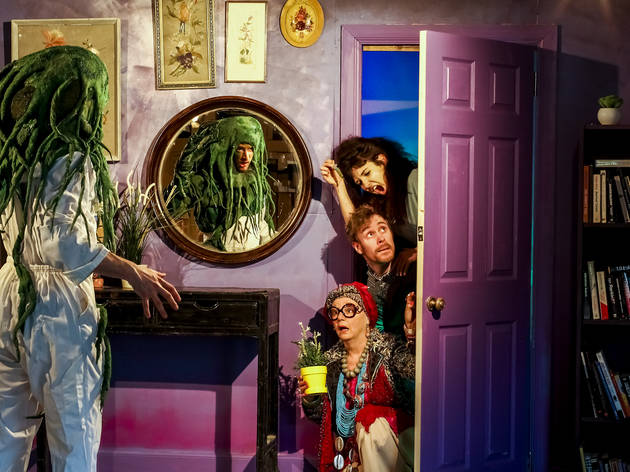 7/15
© Alice Pepperell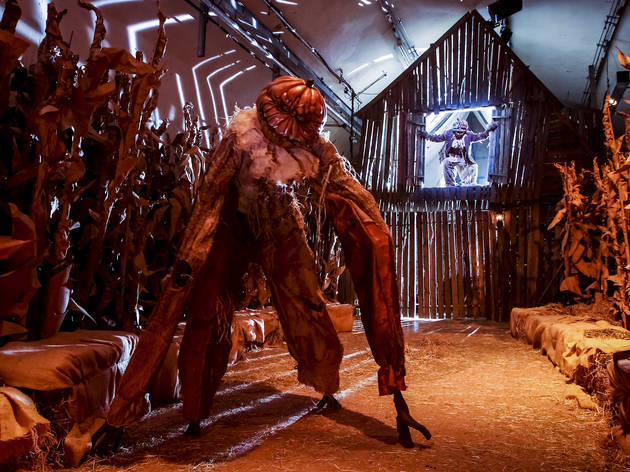 8/15
© Alice Pepperell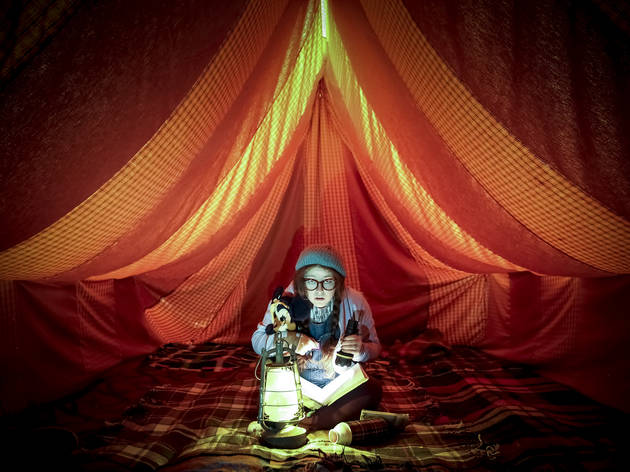 9/15
© Alice Pepperell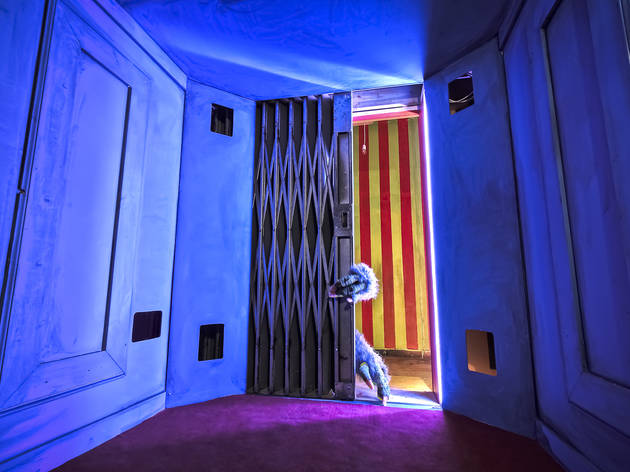 10/15
© Alice Pepperell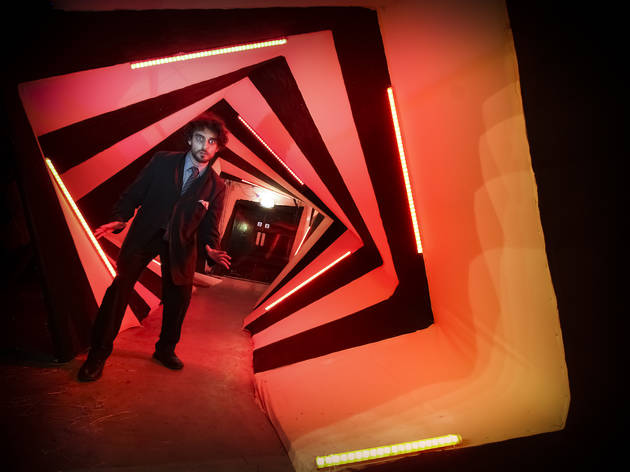 11/15
© Alice Pepperell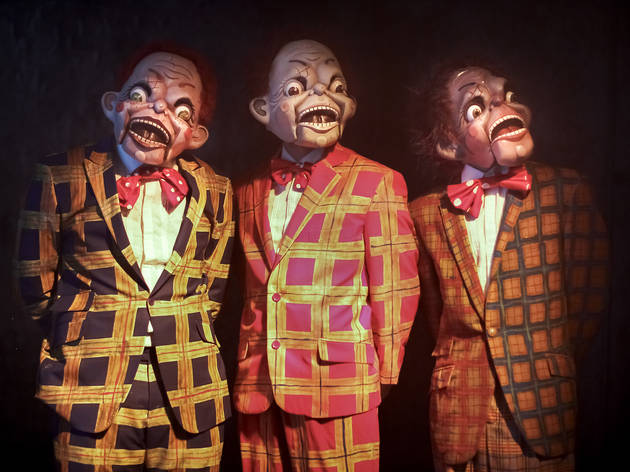 12/15
© Alice Pepperell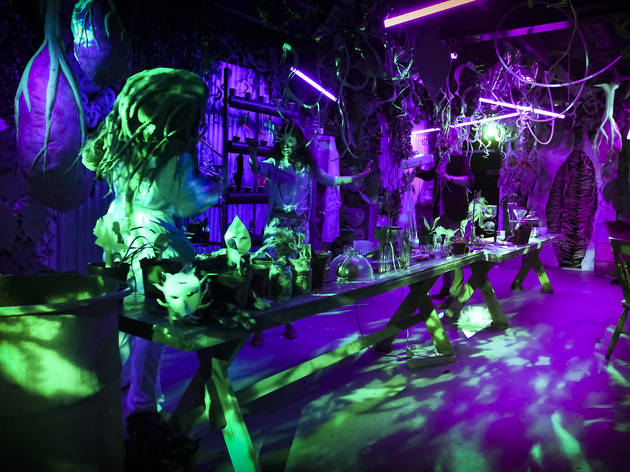 13/15
© Alice Pepperell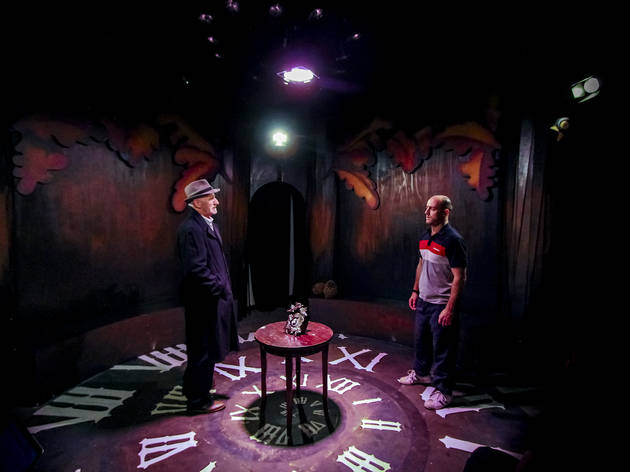 14/15
© Alice Pepperell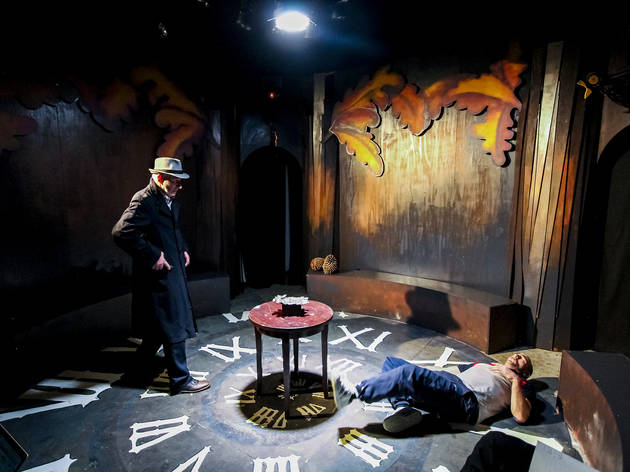 15/15
© Alice Pepperell
Nostalgic horror fun in this uneven immersive theatre show
Despite being bang into rival young adult horror fiction franchise Point Horror as a tween, RL Stine's 'Goosebumps' series completely passed me by. Which perhaps suggests it never make it to my local library, as it seems impossible I'd have failed to clock them, given their sheer volume: the US author rattled off 62 novellas of terror in five years, followed by numerous spin off series, including 'Give Yourself Goosebumps', which in itself contains a walloping 50 books.
A film starring Jack Black recently hit cinemas, and several of the stories have been adapted and sewn together in Wateroo's atmospheric Vaults to create an immersive theatre show.
Perhaps appropriately, it's a bit of a weird beast. Aimed squarely at nostalgic millennials, the show is for ages 18-plus (though younger can come accompanied) with two bars selling medium-expensive cocktails served in large syringes. No drinking during the show, though, as a brief skit in the bar leads to us being divided into groups and led off into various recesses of the venue. Basically, in 90 minutes we got three very entertaining 10-15 playlets – crisply and knowingly updating a trio of Stein stories for an adult British audience – plus a lot of varyingly entertaining atmospheric in-betweeny stuff (much of which revolves around the iconic 'HorrorLand' and 'Night of the Living Dummy' stories – a bit of red meat for franchise fans).
I mostly enjoyed Tom Salamon and Gabriel Greene's production but there's quite the disconnect between the wantonly schlocky – but skilfully executed – stories, and the rest, which involves being herded through what's essentially a big haunted house while a more concerted effort is made to scare you (though the most terrifying thing is the amount of time spent waiting). Really, I'd rather have either seen more stories (the first two are rattled off in quick succession and then the pacing becomes very stilted) or been allowed to explore the venue at will, Punchdrunk style. I gather a single visit only lets you see a portion of the sprawling show, which feels like a shame given it feels a bit content light.
More for those who fancy a drink, a larf, and a bit of nostalgia than actual terror, plus die-hard fans of the franchise may be a bit aggrieved if their favouite story wasn't crammed in (though presumably nobody was expecting all 62+).
A 50-minute kids' version begins in May and is almost certainly worth a look for those with little monsters.
Tue-Sat staggered entry until 9:30pm. Sun staggered entry until 7:30pm.
Average User Rating
3.9 / 5
Rating Breakdown
5 star:

6

4 star:

8

3 star:

3

2 star:

3

1 star:

0
All a bit dull, shouty and too try-hard I'm afraid. I love going to the Vaults as it is such a unique space and this show couldn't easily be staged elsewhere but felt let down at the end. Most of the scenes had interesting sets and costumes for most of the actors but each seemed flawed in some way or other - tent scene : boring, botanist : overly long; too much shouting; screechy girl, Cabaret - pointless, Lift - dire. Time clock - at least this was somewhat engaging. Can't even remember the rest and was glad when the 90 minutes was up.
Perhaps I'm too old for this sort of thing i.e. over 12!
It's very entertaining! It doesn't go beyond the limit of scaring people (i.e.: not touching) and it keeps you on your toes. The stories are very well elaborated and the actors are outstanding. The scenarios are very well constructed and they put a lot of attention to details. It could be slightly scarier though!
Terrifying but so much fun!
Very fun and original immersive experience I recommend it! Thanks time out for the tickets!
Had such good fun! Did the adult version last night and shrieked, jumped, ran at times, and laughed round the experience. I wasn't sure what to expect, but went along with a friend and it far exceeded my expectations, the set and staging are fantastic. Would recommend!
I went to Goosebumps Alive (ADULT VERISON) last night and really enjoyed myself!
Don't get me wrong- I wasn't jumping out of my skin every 2 seconds, as i'd prepared myself for, however I was laughing pretty much constantly! the scripts are hillarious and the acting very intimate and witty. It tickled me in a way I wasn't expecting at all! The areas you move through to get from room to room need lots of dressing up. It kinda pulls you out of the atmosphere, that I feel the writers and actors have worked so hard to create, and it takes a while for you to feel immersed in the story once more.

The stories they depicted where done really well and the whole thing was much more grown up than i'd expected (lots of swearing and adult references) which I really enjoyed.

All in all what made it for me was the acting (which again I was not expecting.) There were some lovely dark twists as expected and the actors depicted these really well.

I'd recommend it- but don't expect to be scared stiff.
Goosebumps Alive for me is one of the best immersive shows around at the moment. If you've been to see Heartbreak Hotel then this is something similar where you're taken around different spooky sets and watch different stories/acts but on a much grander scale.
The performances were good, not as scary as I thought but still able to make you jump once in a while. The acting was good and the stories and costumes were to a high standard.
There is food and drink available at the venue at reasonable rates although I found it can get fairly warm within the venue so is probably worth leaving your coat at the door.
This review is for Goosebumps Alive (the 'adult' version).
As a 30 something who brought a group of friends, the normal vs adult would suggest they had something juicy in store in terms of scaring the bejesus out of us. Unfortunately this was the not the case;
The Good - Acting as decent, sets are very good
The Bad - Simply not scary enough. Its hard to take a bunch of adults on an 'emotional scare journey' but there were so many more opportunities for 'jumpy scares' which lets be honest are the funny ones anyway. At £50 a ticket I expected a bit more imagination from whoever directed this - im not talking big budget stuff, just more unexpected movements etc etc.
Incidentally there was a 14 year old kid who came on the tour with us and even he looked bored at certain points.
Amazing!! Great fun brilliant atmosphere.