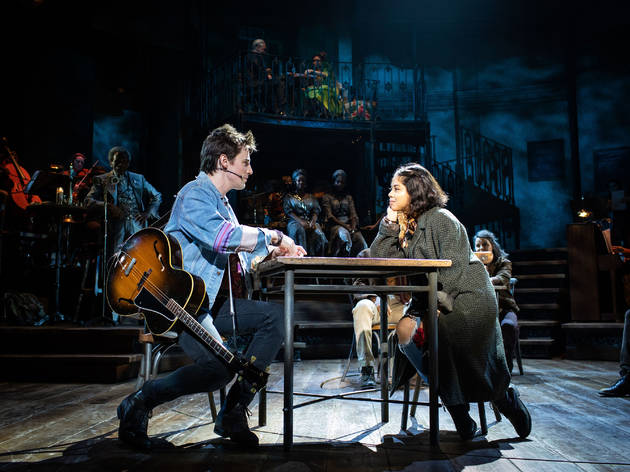 1/15
© Helen Maybanks
Eva Noblezada (Eurydice) and Reeve Carney (Orpheus)
2/15
© Helen Maybanks
Eva Noblezada (Eurydice)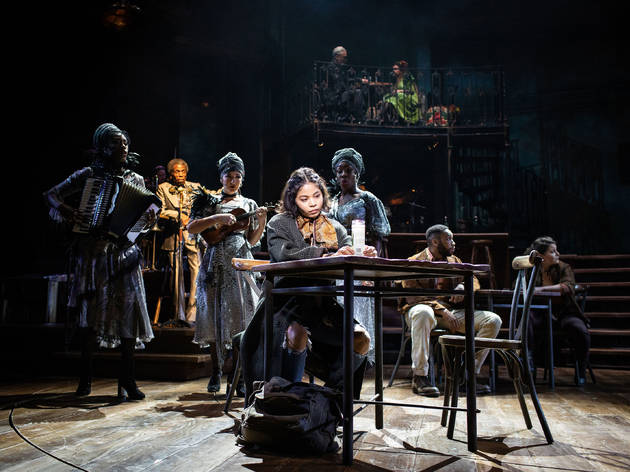 3/15
© Helen Maybanks
Eva Noblezada (Eurydice), Carly Mercedes Dyer, Gloria Onitiri, Rosie Fletcher (The Fates)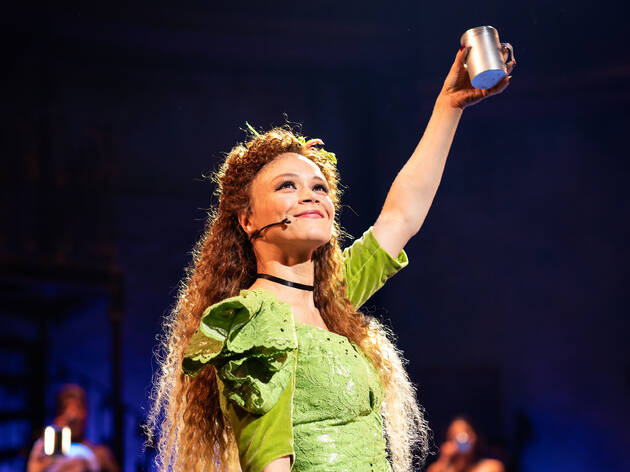 4/15
© Helen Maybanks
Amber Gray (Persephone)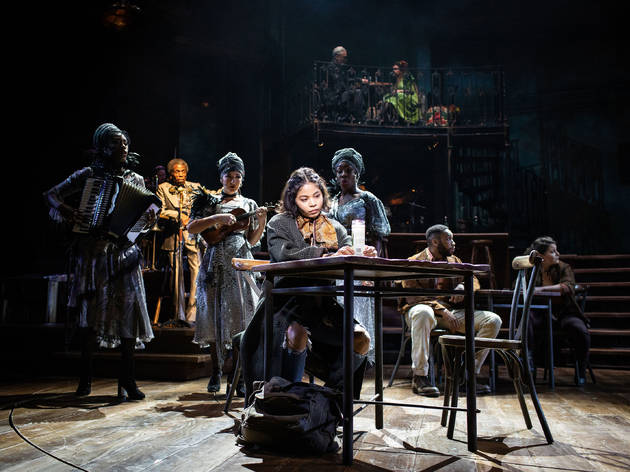 5/15
© Helen Maybanks
Eva Noblezada (Eurydice), Carly Mercedes Dyer, Gloria Onitiri, Rosie Fletcher (The Fates)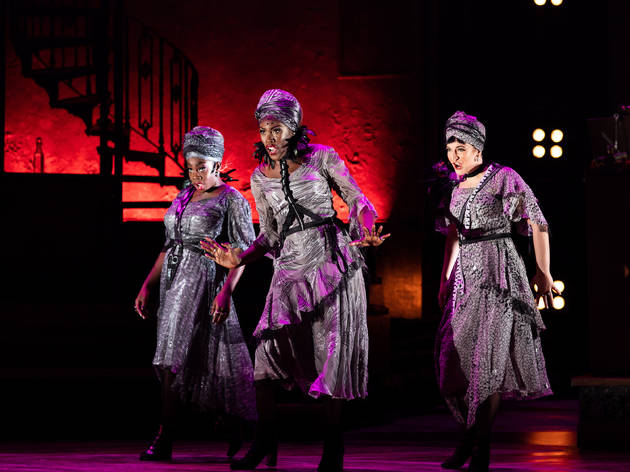 6/15
© Helen Maybanks
Carly Mercedes Dyer, Gloria Onitiri and Rosie Fletcher (The Fates)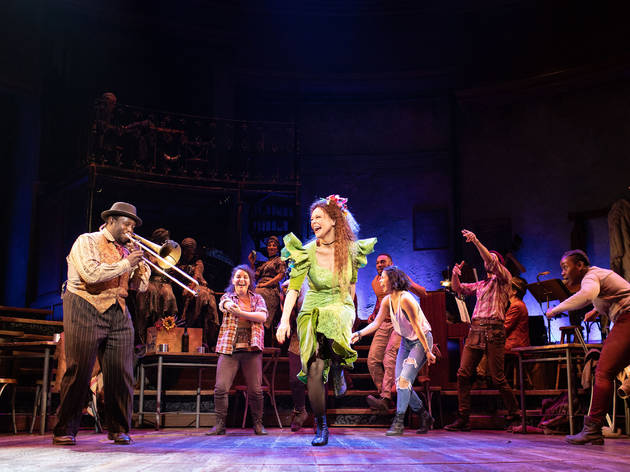 7/15
© Helen Maybanks
Amber Gray (Persephone) and Nathaniel Cross (Trombone)
8/15
© Helen Maybanks
Patrick Page (Hades) and Amber Gray (Persephone)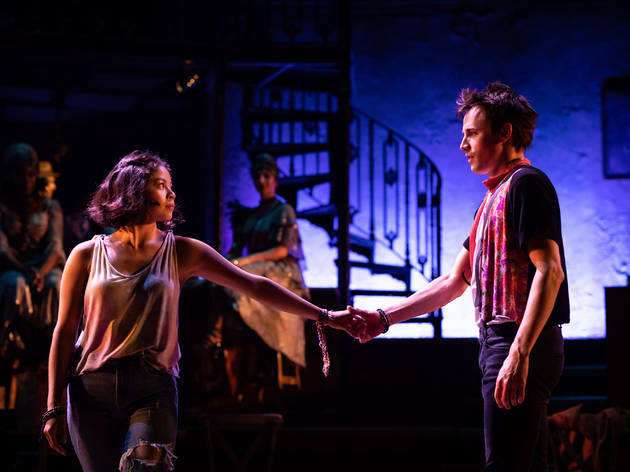 9/15
© Helen Maybanks
Eva Noblezada (Eurydice) and Reeve Carney (Orpheus)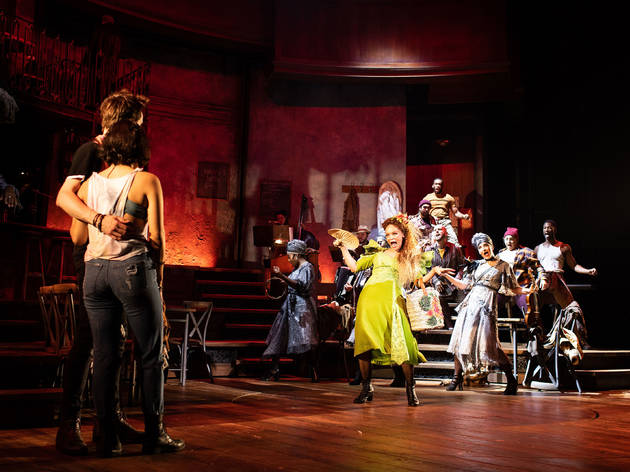 10/15
© Helen Maybanks
Amber Gray (Persephone)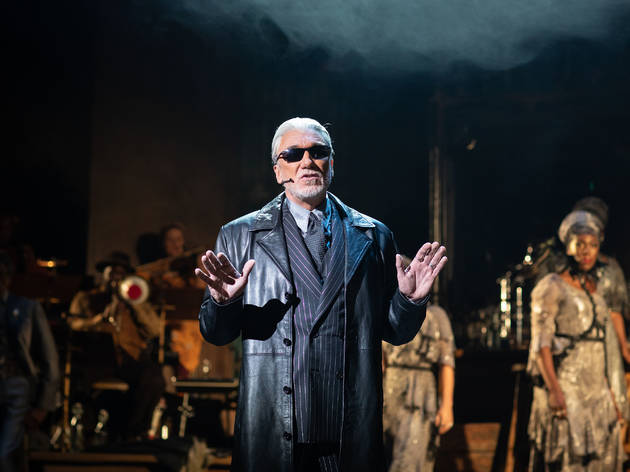 11/15
© Helen Maybanks
Patrick Page (Hades)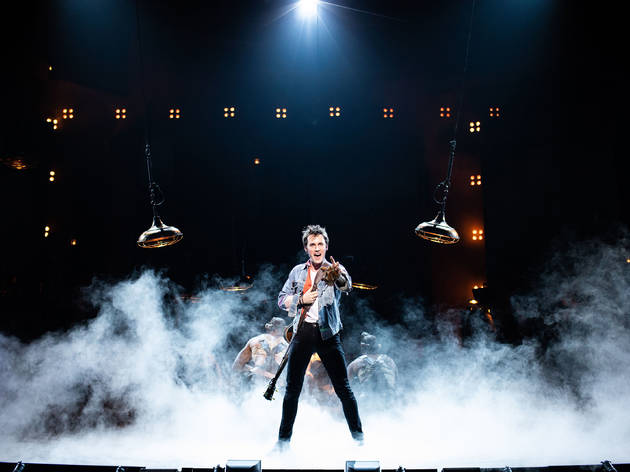 12/15
© Helen Maybanks
Reeve Carney (Orpheus)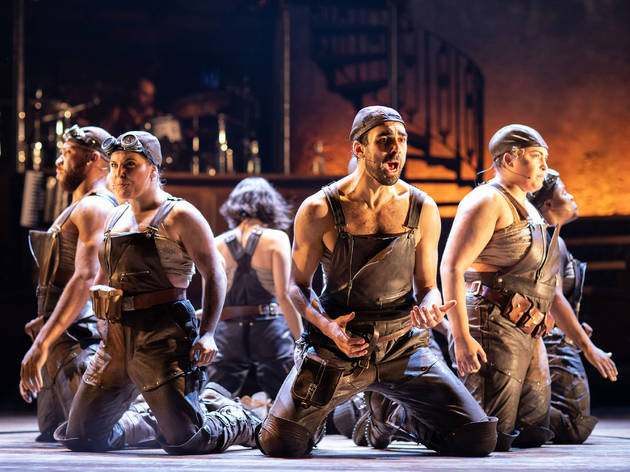 13/15
© Helen Maybanks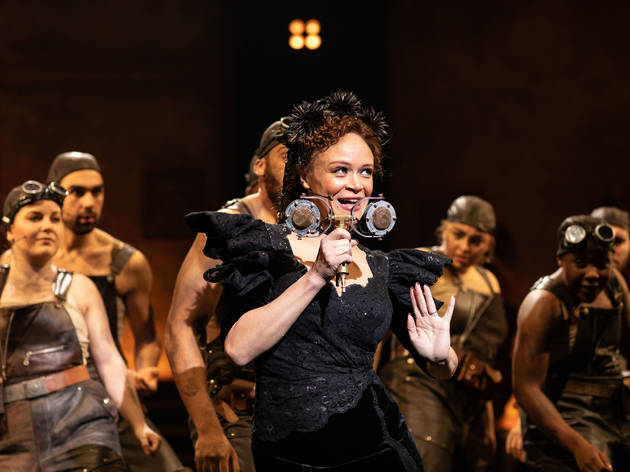 14/15
© Helen Maybanks
Amber Gray (Persephone)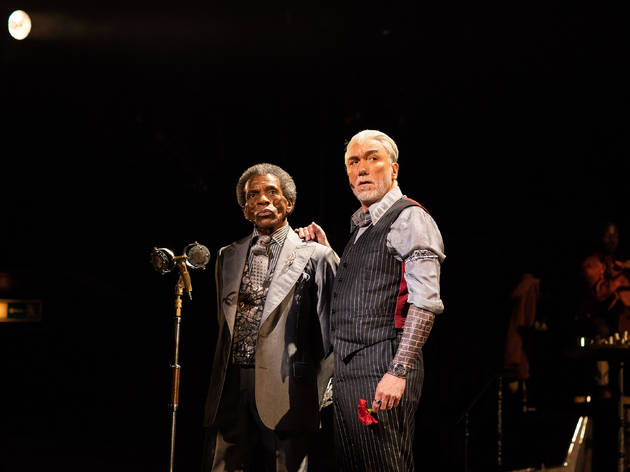 15/15
© Helen Maybanks
André De Shields (Hermes) and Patrick Page (Hades)
Time Out says
Gloriously offbeat musical theatre staging of Anaïs Mitchell's acclaimed concept album
Already lined up to transfer to Broadway in 2019, it would be pretty embarrassing for all involved if Rachel Chavkin's musical theatre staging of Anaïs Mitchell's massively acclaimed 2010 'folk opera' album 'Hadestown' was received less than rapturously at the NT for what is, effectively, its warm-up for New York.
'Hadestown' is not perfect, but it is really, really good. The wonderfully diverse songs of Mitchell's expanded, virtually sung-through soundtrack are the bedrock. From the demonic trombone riff that powers opener 'Road to Hell', through Hades's stentorian authoritarian anthem 'Why We Build the Wall', to the graceful encore some two-and-a-half hours later, it is a musically thrilling, lyrically eccentric articulation of the Orpheus and Eurydice myth that has gratifyingly little to do with musical theatre convention.
As much as anything else, it works because of Chavkin's exceptional casting. Amber Gray, a regular with Chavkin's avant-garde theatre company The TEAM, is boozily magnificent as sozzled party-girl Persephone. André De Shields, the original Broadway Wiz in 'The Wiz', is scene-stealingly brilliant as a suavely shamanic Hermes. Eva Noblezada is a sweetly grungy Eurydice. Patrick Page's bowel-quakingly low voice as Hades is practically a special effect.
The biggest problem with 'Hadestown' is that it feels like a staging of an album. It's a brilliant staging of an album, but nonetheless, the characters and plot are wholly contained within the relatively impressionistic songs. And the central tragic romance of Orpheus and Eurydice doesn't really work on an emotional level: Reeve Carney's bland, toothy Orpheus is difficult to root for and occasionally unbearable when he starts singing. Not totally his fault. On a record (where Justin 'Bon Iver' Vernon sang the role!) it's okay for a character to disappear for a few songs: here Orpheus is kept on stage, blithely composing his masterpiece while a starving Eurydice literally goes to hell while she waits for him to get on with it. It's a difficult relationship to portray sympathetically, for sure, but Broadway star Carney (known for his titular turn in the troubled 'Spider-Man: Turn Off the Dark') feels so poorly cast compared to everyone else that it's hard not to suspect that he's a bit of red meat for punters who might be alarmed by the riotous gang of eccentrics Chavkin's employed elsewhere.
If it does feel like a concert there are plenty more enjoyable bells and whistles piled on: Rachel Hauck's New Orleans saloon-style set is a hoot; the tight crew of dancers putting David Neumann's discreetly pneumatic choreography through its paces give everything a surging sense of perpetual motion. You don't get the full works of a massive Broadway show, but 'Hadestown' is cooler than that, eschewing an orchestra for a jazzy bar band, or massed dancers in favour of a scrappy, punky indie cool that's carried over straight from The TEAM.
A few bits and bobs don't work, and it's a shame Orpheus is one of them, but quibbling over such a joyously different musical feels pretty churlish. Just go along with it – and never look back.
Details
Rating Breakdown
5 star:

4

4 star:

0

3 star:

2

2 star:

1

1 star:

0
Excellent! Gripping, great casting. Advise all to see this. So good I'm buying tickets as gifts this Christmas.
I've seen this production twice. I'm going on the final night too. It's such a shame it doesn't have a longer run, we'd go again! My partner and I both found the original album a while ago before this became a stage show, so we had already known we'd like the music. The stage version of it exceeded our expectations. We loved the diverse and professional casting. We felt that Reeve Carney is an excellent Orpheus, despite the haggard and bitter reviewers opinions.
We've seen many of Londons musicals and this has topped them all for us. A Greek myth, on stage, modernised respectfully, social commentary, brilliant music, brilliant theatre... what isn't to like?! See it now before you regret it.
Thoroughly enjoyed this show, it takes you into another world for a few hours. The music is great, as well as the dancing ensemble. Unlike anything I've seen in a while in London, highly recommend!
Fantastic performance, highly recommend!
We sadly left at half time, as although the musicians and singers were excellent there was no was no emotional tie-in and we weren't really bothered about what happened in the second half. For a musical the choreography was dull and the dancers didn't execute the given movements well (moves lacked extensions and conviction). For a production at the NT the show lacked creativity. Shame.