Heads up! We're working hard to be accurate – but these are unusual times, so please always check before heading out.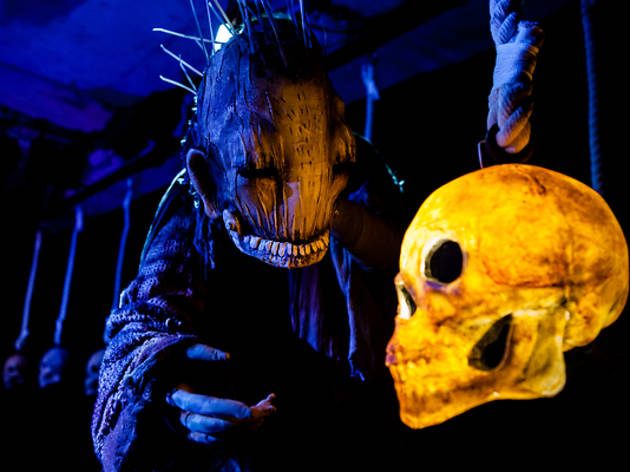 On a dirty, low-lit set surrounded by human skulls sits Baba Yaga, a revolting old woman who promises to eat as many little children as she can get her hands on.
The character from Slavic folklore - a witch from the woods who likes to munch on tots - is at times terrifying and far from anything in the sanitised versions of the fairy tales we're used to. Theatre company The Wrong Crowd have tapped into a dark, threatening story which is more for adults than for children.
That said, this piece will likely appeal to anyone brave aged 10 or over. It's scary, but there's a happy ending of sorts. The innocent but tenacious Lisa (a sweet Sarah Hoare) faces her fears and tries to outwit the nasty Baba Yaga.
Baba Yaga, played with an excellent haunting menace and gruff Scottish accent by Laura Cairns is part actor part puppet. Her huge disgusting head hangs off Cairns like a weird wart-covered alien. The puppets include a strange, charmed doll and are manipulated subtly and beautifully. The rest of the characters, from Lisa's flaccid, useless father to her ugly step-sisters (a la 'Cinderella') are played brilliantly by Tom McCall and Theone Rashleigh.
The characters themselves, which include a hapless, protocol obsessed version of the ferry boat driver from the underworld and Lisa's revoltingly brash and sexually ferocious new step-mother are very funny. They are typical of a production which is infused with a kind of anarchic charm and a strong whiff of magic.
There's poetry too in Hannah Mulder's script, which shows us an occasionally vulnerable Baba Yaga, who, it turns out, is perhaps not the nastiest baddie of this ancient story.
The latest Edinburgh Fringe theatre reviews