1/6
© Tristram Kenton
Harry Melling (Jason)
2/6
© Tristram Kenton
Harry Melling (Jason)
3/6
© Tristram Kenton
Janie Dee (Margery)
4/6
© Tristram Kenton
Jemima Rooper (Jessica)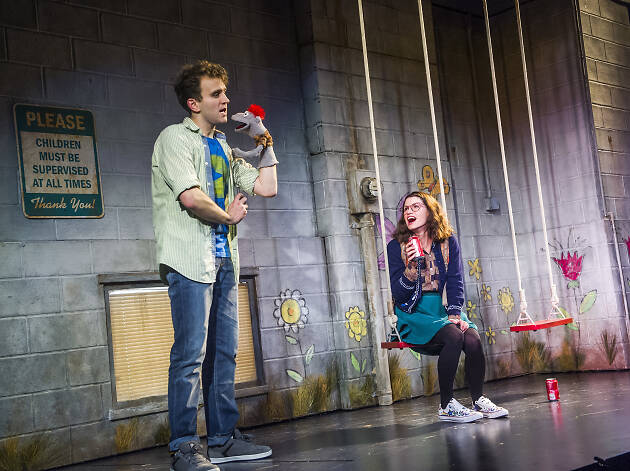 5/6
© Tristram Kenton
Harry Melling (Jason) and Jemima Rooper (Jessica)
6/6
© Tristram Kenton
Neil Pearson (Pastor Greg) and Janie Dee (Margery)
Hand to godawful, more like
Big fans of sock puppets and statutory rape may enjoy this wannabe provocative comedy import from Broadway. But in general 'Hand to God' strikes me as a show squarely aimed at holidaying Bible Belters in search of light blasphemy – not really a huge constituent of the West End crowd.
Jason (Harry Melling) is an awkward American teen enrolled in his widowed mother Margery's (Janie Dee) faintly inexplicable church sock puppet workshop, alongside bad boy Timothy (Kevin Mains) and moderately quirky Jessica (Jemima Rooper). Buzzing around is Neil Pearson's Pastor Greg, fussily attempting to woo Margery with scant regard for the fact her husband only died six months previously.
Anyway, long story short, Jason's hand puppet Tyrone is possessed either by the devil or (more likely) his awkward owner's suppressed id, and sets about causing trouble: battering Timothy, saying inappropriate things to Jessica, denouncing God as a lie and crucifying the church's collection of fluffy animals. Meanwhile virtuous, decent Margery reveals herself to in fact be the wanton hussy that we know all women are – right lads? – and decides to aggressively seduce hapless, clearly somewhat vulnerable Timothy (who isn't exactly unwilling, but is apparantly a minor).
Objecting to Robert Askins's thin, fringey comedy on grounds of political correctness is potentially playing entirely into its hands, but here's the thing: I can't image a London audience possibly being remotely shocked by its lampooning of organised religion, or to fail to grasp the fact that Tyrone is the result of shy, gawky Jason 'acting out'. But the fact that Margery doesn't need any sort of puppet pal to morph into a cougar wank fantasy is troubling – I'm not sure that cartoony misogyny is the sort of provocation we really need in our theatres.
What 'Hand to God' does indubitably have going for it is a first rate cast who lay into material way beneath them with an aplomb that suggests they're at least being paid decently. Melling steals the show as the schizophrenic Jason/Tyrone, but everyone is good: Rooper manages to remind us why she's one of the best comedy actresses of her generation while rocking an almost non-existent part.
The only real intrinsic charm of Moritz von Stuelpnagel's production lies in the puppetry - there are some genuinely funny moments (again, brilliantly enabled by Melling) in which the diminutive Tyrone duffs up much larger humans, plus there's a lengthy puppet sex scene that's almost as funny as it thinks it is (clearly indebted though it is to 'Team America').
But bright spots and a good cast don't save the whole, a flimsy sketch of an idea promoted far, far beyond its means. There's lots of talk of heaven and hell, but this feels a lot more like purgatory.
Average User Rating
3.5 / 5
Rating Breakdown
5 star:

6

4 star:

9

3 star:

10

2 star:

4

1 star:

1
I found this play confused and by then end I was bored and uninspired.
the humor in the first act is fun, rude and crude but not clever, the laugh is simply because it's crude! But the show takes a very different direction second act and becomes less funny and far too poniente, leaving very dark moments where it's no longer funny but uncomfortable. This to me suggests the audience should think deeper than the obvious. Where that leaves you is seeing a clearly mentally ill child with no support from a mother who's struggling with grief. Which to me is not the funny show it billed itself as.
As I said it was confused and I left feeling nothing.
Hand to God - A Haiku: Scattergun jokes miss - Dave from Drop the Dead Donkey - Puppet sex highlight

I enjoyed this show a lot. I felt the script was well executed and the storyline, though at time's predicable, did not drag on and kept me entertained throughout. The cast put in a good performance, Tyrone stole the show. It's not to be taken too serious but a fun night out in a lovely theatre.
My first puppet play and it didn't disappoint, I found myself laughing throughout. The production and acting was top notch.
Hand To God is one of the bests things to see in London (in my opinion) although I would say it's more like Avenue Q crossed with the Inbetweeners rather than Book Of The Mormon as it is a show and not a musical.
The idea to the play about a mans sock puppet that becomes possessed is a little out there but don't let it put you off, as the story unfolds it is simple but brilliant, the actors are amazing and extremely funny.
I had booked the tickets throughTtime Out on allocation and was worried that I wouldn't get great seats but ended up two rows from the front :)
I went into this fairly blind, booking it after seeing it described as "'Book of Mormon' meets 'Avenue Q'". It wasn't quite the light-hearted musical I'd envisage, it wasn't even a musical...
Once you get past that disappointment, however, it was quite refreshing to go and see something that made you think a bit more than some of the other shows on the West End. There was enough humour to keep it from being entirely depressing and slightly disturbed. The actors were excellent, especially Henry Melling who managed to endear himself to the audience despite having a possessed puppet hand, and the set was well used.
I ended the evening feeling slightly shocked, pleased I'd seen it, but not rushing to book tickets to see it again. Although, as I said, I was expecting a light-hearted musical!