Harry Potter and the Cursed Child review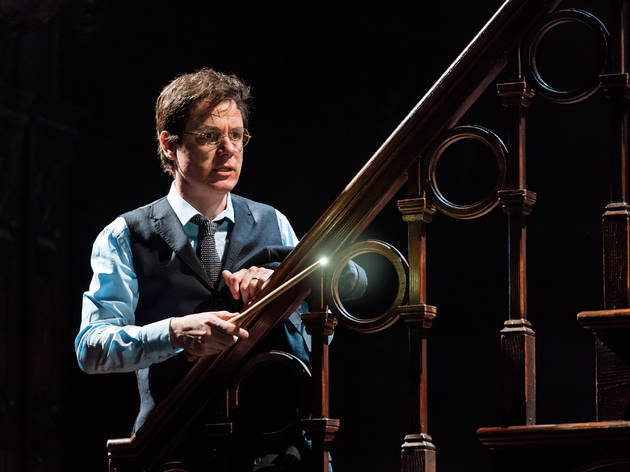 1/10
© Manuel Harlan
Jamie Ballard (Harry Potter)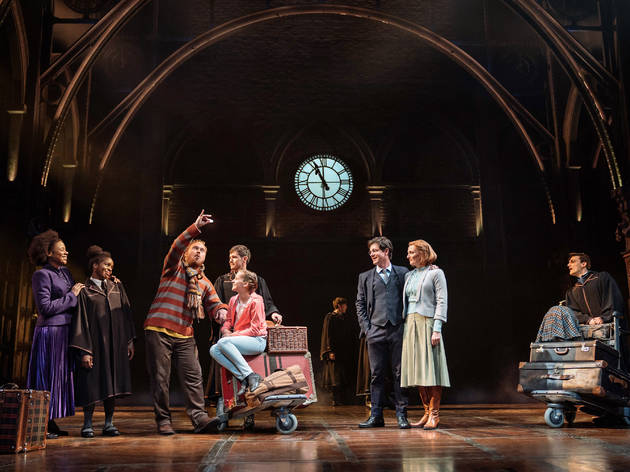 2/10
© Manuel Harlan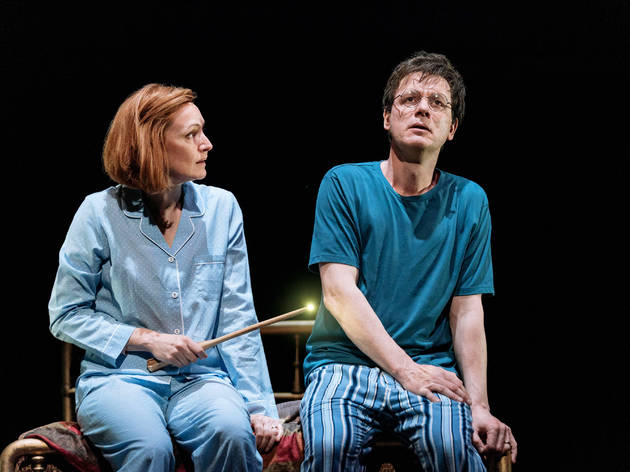 3/10
© Manuel Harlan
Susie Trayling (Ginny Potter) and Jamie Ballard (Harry Potter)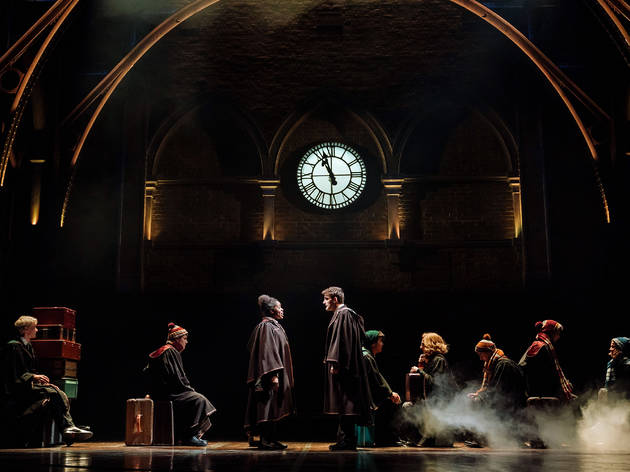 4/10
© Manuel Harlan
Helen Aluko (Rose Granger-Weasley) and Joe Idris-Roberts (Albus Potter)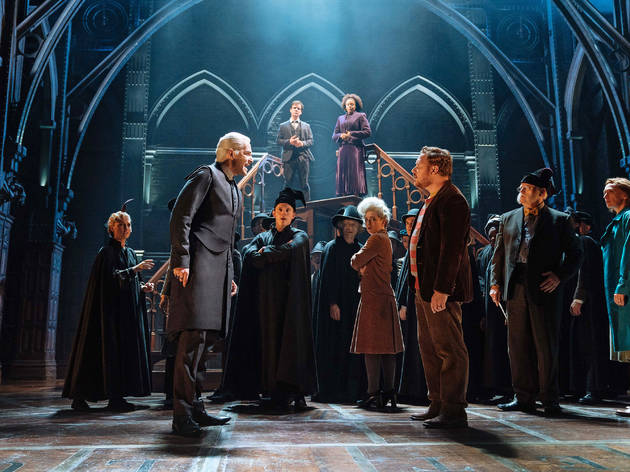 5/10
© Manuel Harlan
James Howard (Draco Malfoy) and Thomas Aldridge (Ron Weasley)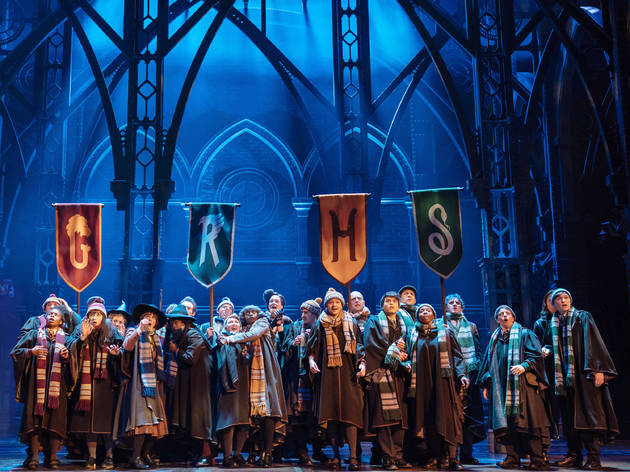 6/10
© Manuel Harlan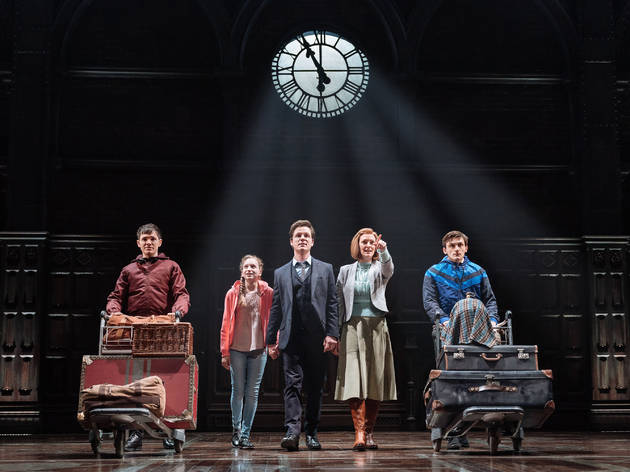 7/10
© Manuel Harlan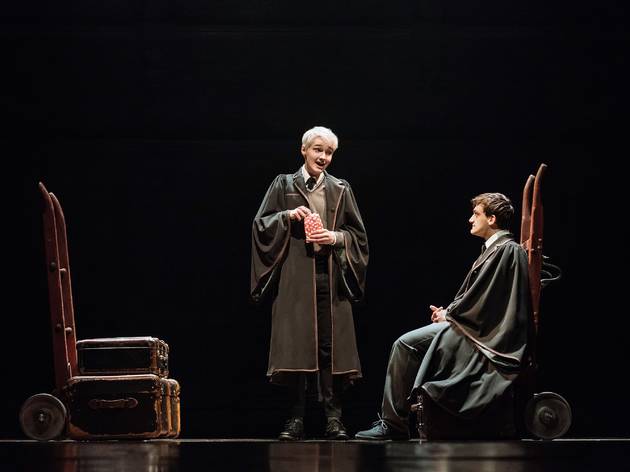 8/10
© Manuel Harlan
Jonathan Case (Scorpius Malfoy) and Joe Idris-Roberts (Albus Potter)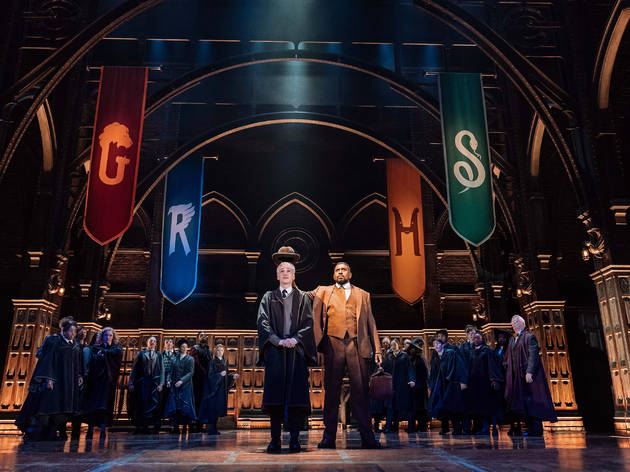 9/10
© Manuel Harlan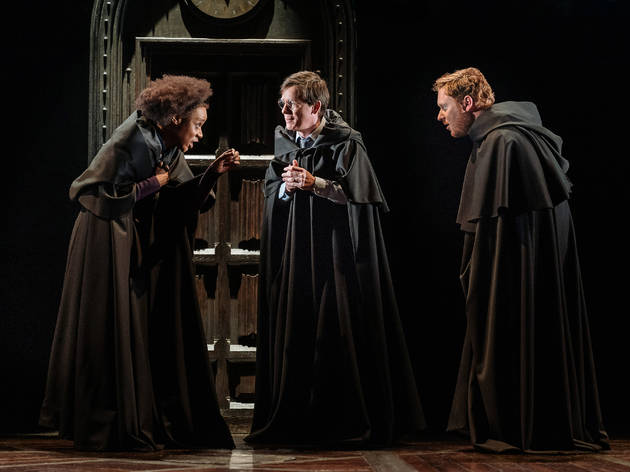 10/10
© Manuel Harlan
Franc Ashman (Hermione Granger), Jamie Ballard (Harry Potter) and Thomas Aldridge (Ron Weasley)
Time Out says
The biggest theatre hit of modern times bar none is Jack Thorne and JK Rowling's epic two-part eighth adventure for erstwhile boy wizard Harry Potter
In the unlikely event you were worried a leap to the stage for JK Rowling's Harry Potter series would result in it becoming aggressively highbrow, self-consciously arty or grindingly bereft of magical high jinks, just chill the hell out, muggle.
'Harry Potter and the Cursed Child' is an absolute hoot, a joyous, big-hearted, ludicrously incident-packed and magic-heavy romp that has to stand as one of the most unrelentingly entertaining things to hit the West End. Writer Jack Thorne, director John Tiffany and a world-class team have played a blinder; if the two-part, five-hour-plus show is clearly a bit on the long side, it's forgivable. 'The Cursed Child' emphatically exists for fans of Harry Potter, and much of its power derives from the visceral, often highly emotional impact of feeling that you're in the same room as Rowling's iconic characters.
There's also a sense that this story of wizards and witches is being treated with the respect its now substantially grown-up fanbase craves. No disrespect to D-Rad and chums, but the leads here are in a different acting league to their film counterparts': Jamie Parker and Alex Price are superb as battered, damaged, middle-aged versions of old enemies Harry Potter and Draco Malfoy. Sam Clemmett and Anthony Boyle are a fine, puppyish, sympathetic engine to the play as their awkward sons Albus and Scorpius, trying to escape their parents' shadows. It is a bit of a sausage (wand?) fest in terms of the lead parts, although in the most prominent female role Noma Dumezweni is effortlessly shit-kicking as a middle-aged Hermione Granger.
Encouraged by Rowling, quite an, ahem, 'enthusiastic' anti-spoiler cult has sprung up around 'The Cursed Child'. And I'm honestly not going to give anything major away, but if you feel learning anything about the plot whatsoever will ruin your life, it's probably best to stop reading now.
'The Cursed Child' packs a lot in, but it's basically a time-travel caper revolving around teenage misfits Albus and Scorpius, miserable at Hogwarts, stealing an experimental Time-Turner (a magical time-travelling device) from Harry. It's a well-worn fantasy conceit, and Thorne is guilty of mining a few genre clichés. It's also somewhat episodic, occasionally having the air of an old adventure serial, as the heroes flit between locations and times, generally delineated by reliably massive cliffhangers. But it does allow Thorne to dip into the length and breadth of Rowling's universe in a way that will surely satisfy pretty much every fan.
I won't dwell on the exact nature of the special effects, but they are astonishing, albeit sensibly restrained. Certainly Jamie Harrison deserves his own special Olivier for his illusion work, while Neil Austin's lighting design is stupendous and absolutely key to the success of the magic. There's a trio of puppets that are pretty much the best puppets I've ever seen. And Steven Hoggart's startling movement direction adds an intense, ritualistic air that heightens everything: even minor characters ambling through the grounds of Hogwarts look intensely magical.
Looking backwards more than forwards, 'The Cursed Child' is as much a monument to the Harry Potter series as its continuation. But that's fine, because never before has Rowling's world felt so vividly, gaspingly, joyously real.
RECOMMENDED: All the latest 'Harry Potter and the Cursed Child' news and exclusives
HOW TO GET CHEAP AND LAST-MINUTE TICKETS: Every Friday at 1pm 40 tickets will go on sale on line at www.harrypottertheplay.com for each of the following week's performances for £20 (£40 for both parts). It is also well worth checking the website for short notice returns.
This review is from 2016. The current cast is Jamie Ballard (as Harry Potter), Susie Trayling (as Ginny Potter), Joe Idris-Roberts (as Albus Potter), Jonathan Case (as Scorpius Malfoy), Thomas Aldridge (as Ron Weasley), Rakie Ayola (as Hermione Granger), Helen Aluko (as Rose Granger-Weasley), and James Howard (as Draco Malfoy).
Details
Venue name:
Palace Theatre
Address:
109-113
Shaftesbury Avenue
London
W1D 5AY

Transport:
Tube: Leicester Square/Piccadilly Circus
Price:
£20-£350. Part one: 2hr 40min. Part two: 2hr 35min
Dates And Times
Average User Rating
4.7 / 5
Rating Breakdown
5 star:

25

4 star:

7

3 star:

2

2 star:

0

1 star:

0
If you like spectacle and are a Harry Potter fan, you will love this show. If not, it's a long 5 hours and 20 minutes of show. I've seen most of the movies and like them. You really need to know the Harry Potter characters and stories to understand and fully appreciate the two plays. The special effects, lighting design and sound design are all very impressive. There's a lot of plot to the show and it goes on and on. Not a lot of subtext or nuance or thought-provoking emotion. The first show is 2 hours and 45 minutes and the second show is 2 hours and 35 minutes. I kept wishing that they could have come up with a simpler and shorter story in the 2-3 hour range. I saw this show on 7 March with the replacement cast. The guy playing Scorpious Malfoy (Draco Malfoy's) son was very good.

After waiting a whole year to finally watch both parts, all I can say is that it was definitely worth the wait. One of the best productions I've ever seen - although this may be slightly biased because I am a Harry Potter fan.
You definitely don't need to be a fan of Harry Potter or understand the story to follow the play as there are flashback scenes throughout both productions. This is a spin-off following one of Harry potter's son through some of his time at Hogwarts. Without giving too much away, the production is full of special effects that leave you wondering how these are executed; with a brilliant plot that's easy to follow with great acting. The costumes are a spectacle and every scene has been thought out and staged so well. My favourite character was Scorpius (Malfoy's son) who forms an unlikely bond with Potter's son; and he brings humour to the otherwise quite production.
My only quibble would be that the theatre isn't the most comfortable. I was sat in the grand circle in the first row and I didn't have much leg room. Just to point out I'm not that tall. In addition to this I spent most of the 5 hours leaning over the balcony. But, if I could see the production again I'd sit anywhere!! I think I'm going to start looking for another ticket for next year!
Ok as it's in two parts, part 1 was just jaw droppingly brilliant! So many special effects come to life which is surprising when most people are just so used to CGI at the cinemas whereas here, it's like they incorporate magic into the mix! Therefore part 1 was just full of surprises! Part 2 has less of that surprise element, still some magic but not as unexpected. A slight overacting by one of the characters (not one of the main characters luckily)! I have to say though... the actress that plays Hermoine stole the show, she's bloody brilliant! In terms of getting tickets, I totally got mixed up between Thu and Fri and randomly found tickets on Thu afternoon for part 1 & 2 (evening shows) that was two weeks from purchase... so it wasn't that hard and it was a brilliant view too!
Strangely only saw the second half of this after a friend not being able to take the ticket so probably didn't experience the full the wonder of this show. I certainly enjoyed it, and there were elements which I loved but for me I couldn't help but want a little more magic and illusion. I imagined more strobe lights and adventurous effects, but was left a little dissapointed. Definitely a good show though, and bold to take on such a loved story and adapt the characters. Great music from Imogen Heap too.

One has to admire JK. She writes books like bibles , releases 8 films - soon to be 9 - and now puts on a stage show in two parts that means you have to part with well over a hundred quid if you want to know the whole story. That's art meets business as I have never known it before. But here's the kicker .... It's brilliant .
The audience are sworn to secret , so out of respect I share no storyline but suffice to say the magic goes on. Its a slightly complicated plot , and I found the pace dragged a little at times. However , I did both shows in one day and found the overall experience to be rewarding , bordering on thrilling.
I hear the next 250,000 tickets have sold out. That's quarter of a million people headed to London from all over the world. I think JK will soon be up for an award for exports as well as a number of Oliviers.
'Trio of puppets'- definitely not puppets- people! And it's costume that deserve a huge pat on the back for that one...
Ok I have vowed to #KeepTheSecrets so here's what I can say:
- I recommend seeing both parts in the same day because if not you wont be able to sleep thinking about what's going to happen next
- It's an absolutely phenomenal story much better than what I expected
- You'll actually feel that you are witnessing magic - some efects are outstanding
- You will laugh, cry and fall in love
I worth the wait!