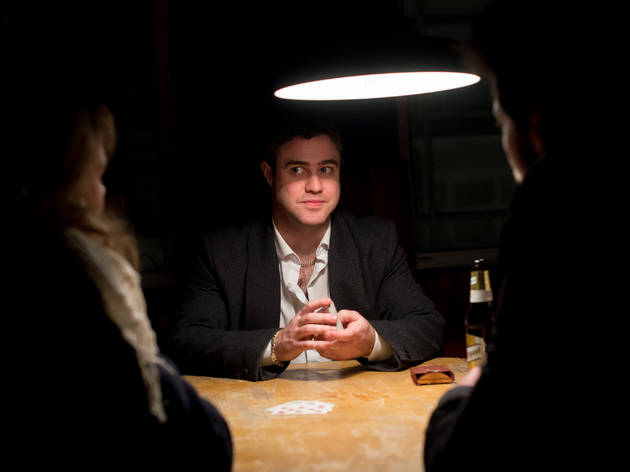 Ever fancied yourself as a high-class crook capable of pulling off an 'Ocean's Eleven'-style robbery? Here's a show that will put your half-inching skills to the test. But be prepared: the job is not easy and it's also distinctly lacking in any George Clooney glamour.

What 'Heist' is, though, is a lot of fun. DifferencEngine's production returns after a short run earlier in the year. It's essentially the same as before, with the addition of a gloomy underworld bar. In a group of around five, you're taken through some dimly-lit rooms and talked at by gang boss Doyle and his associate AJ. Doyle has a job he wants done by first-timers – just to really piss his nemesis off – and he helps heist-ees plan their way to a valuable George Stubbs painting on the fourth floor of these former BBC studios. The goal is to snatch it off the wall and swiftly exit the building without being caught out by sundry angry guards, CCTV, codes, keys or hiding places. Oh, and the painting is pretty large.

In some ways 'Heist' isn't a million miles away from 'You Me Bum Bum Train' – the extraordinary ride of a show where you pretend to be anything from a hairdresser to a builder. 'Heist' is less detailed, but unlike 'Bum Bum Train' your actions actually matter, and the outcome could go several different ways. We made a rookie error just before the end and failed in our mission, but we did meet a group back in the bar who were gleefully high on the success of their caper.

At times your cover and the storyline get a little implausible – the guards would surely have cottoned on to the impressively dramatic break-in from the word go. But once you're caught up in the task, you'll pay little heed to the plot's more far-fetched points. Through radios you keep in touch with your fellow crims and AJ and Doyle, and the pace is kept up by some dedicated actors, who improvise with you and harang you into thinking on your feet. It's all exceptionally tightly planned, with the right balance of keeping to the plot restrictions and having the freedom to just make stuff up.

By the end, the idea of being caught becomes pretty unbearable and you'll be running up stairs, sneaking under cameras and squawking at your group through the earpieces as if you were a pro. I was a convert – watch out Bank of England, I'm coming for you.