Horrible Histories: Terrible Thames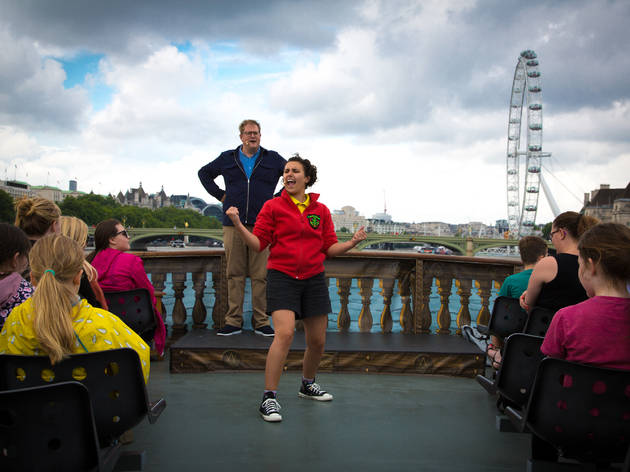 Time Out says
It's a Horrible Histories river cruise!
The stage versions of Terry's Deary's enormously successful 'Horrible Histories' franchise – that's history for kids with a heavy emphasis on the naughty bits – are now so successful in and of themselves that they're starting to wrack up a 'Fast & Furious'-volume of sequels – summer 2021 will see the West End debut of the lengthily-titled 'Horrible Histories – Barmy Britain: Part Five'.
Not content with that, they're now taking to the high seas (well, river) with 'Terrible Thames'. It's an enjoyable hour-long clipper tour that forgoes humdrum observations on London's great waterway and instead focussed on the darker stuff.
To do so, there's a dramatic device. Billie, a schoolchild, has earned a special trip on the Thames with her teacher, and the two of them spend the trip engaged in a duelling dialogue of facts, putting the awkwardly blokey teacher's more conventional wisdom against Billie's knowledge of the darker stories or the Thames, as handed down to her by her family.
It's not exactly 'Long Day's Journey Into Night', and if I were being particularly annoying I might point out that they become fairly interchangeable after a while, with each of them being well-informed or pig-ignorant on whatever we happen to be sailing past on a strictly alternating basis.
Nonetheless: it's fun! Written by Deary and the show's director, Neal Foster, the facts are understandably quick-fire, given you can't, for instance, explain the background to the 1014 Viking incursion into London that (possibly) resulted in London Bridge being torn down in the time it takes to sail under London Bridge (about ten seconds). Instead a zippy, agreeable barrage of statistics and facts tumble out entertainingly, giving a sense of the vast weight of history of London in a way that's intriguing rather than crushing.
London-dwelling adults with a reasonable grasp of the history of the county and capital will probably find it more diverting than revelatory. But I think it would be great for grown-up tourists with a good grasp of English but only a few basic facts about our history.
Of course, the real target is kids. Mine are maybe both a little younger (six and three) than the quintessential Horrible Histories fan: the little one didn't really know what was going on, and the big one was somewhat aghast at the sheer volume of executions the tour describes. But they both enjoyed themselves, and loved the fart jokes and the singing, especially the rousing 'What Shall We Do with the Drunken Sailor?' that wraps up proceedings.
'Horrible Histories' may be increasingly ubiquitous. But its inaugural boat trip still feels like a spirited alternative to more po-faced London tourism - may it sail on and on.
Sailing times vary slightly, but usually six per day between 11.45am and 16.45pm.
Details
Venue name:
Tower Bridge Quay
Address:
50 St Katharine's Way
London
E1W 1LA

Price:
£22, £14 concs. Runs 1hr
Dates And Times
Best selling Time Out Offers