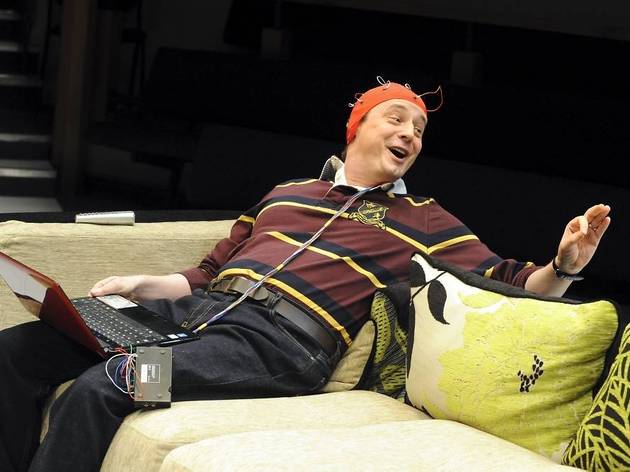 The bluebird of happiness proves typically elusive in David Lewis's new play – and adman-turned-novelist Paul clearly isn't going to catch it during a late night playing Angry Birds on his iPhone.
A breakdown led to his penning of a self-help book – but it proves impossible to follow his own advice on how to lead a fulfilling existence in a consumer society.
Life is little more blissful for his ex-wife, Emma, now married to his erstwhile colleague with a new baby; while his daughter Daisy, suffocating in a surfeit of material comforts, stirs up trouble between her mother and stepfather, hoping her parents will reunite.
All the action takes place on and around one smart sofa, with scenes from both households overlapping. The writing, which owes a massive debt to Alan Acykbourn, is heavy on polemic, and Lewis's well-acted but over-deliberate production ultimately fizzles rather abruptly out. Still, it's shrewd and sourly funny.
Rating Breakdown
5 star:

1

4 star:

0

3 star:

0

2 star:

0

1 star:

0
What a great great production. From beginning to the end I was captivated. It took me the first 5 minutes to figure out that two scenes were being played out simultaneously, and after that I absolutely loved the play. It tackles all kinds of current issues, but most of all those around the "modern family" which for many of us means a broken marriage, new partners & all the challenges of the increasingly difficult times we find ourselves in. The writing is marvellous & there is incredibly clever interplay between the 2 scenes. There were huge laughs, and moments that were really touching & emotional. I left The Orange Tree Theatre exhausted & thrilled at the same time. The performers were extremely good too. Kate Miles, playing Emma, the exhausted mother of a new baby & a teenaged girl was truly exceptional. These are all too familiar issues for me & many others I know & they were portrayed beautifully. Paul Kemp playing Paul was also very good, but there was no one in the cast who did not add real feeling & laughs in equal measures. Loved it.