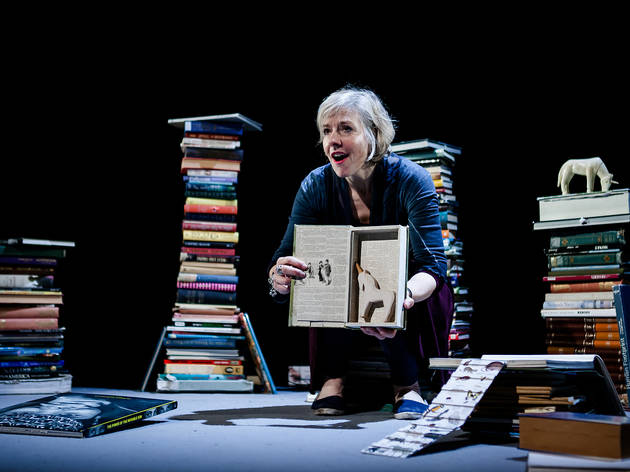 A stage adatpation of Michael Morpurgo's story that's a love-letter to books.
Books that turn into kites, books that hide sweets, books that become houses, books that hold little books within them: in this simple but entrancing adaptation of Michael Morpurgo's tale about a little boy and a librarian, run-of-the-mill tomes are magically transformed into unexpected delights.

'I Believe in Unicorns' is essentially Morpurgo's love letter to books: a warm-hearted tribute to the transformative power of stories. Company Wizard Presents tap beautifully into the tale's centre pages with their adaptation, which arrives in the West End for the summer.

Little Tomas learns the joys of reading when he begins to visit the library and listen to the tales the unnamed librarian narrates to a crowd of enraptured kids. Where she narrates Tomas's tales, the librarian (played by Danyah Miller) also narrates this tale to us in this one-woman show. She explains how Tomas is a book sceptic before he becomes a lover, and then how one day he saves the library from a terrible fate.

Kate Bruce's enchanting designs offer a world of surprises: Miller navigates through towering piles of novels, reference books and kids' stories which, once opened, help to tell her stories. A discarded book becomes a pop-up of Noah's Ark; another holds within it an umbrella; lengths of pages are drawn across the set and bright animations are projected onto them. Like the librarian in Morpurgo's story, Bruce makes unassuming books seem alive with possibility.

Wizard Presents puts the focus on the simple power of storytelling. Miller is unassuming and understated in her performance, which makes the set's many surprises leap out at us. Where in a bigger show their subtlely may mean they are swallowed up, here they stand out.

It's a show for ages six and up, for sure, but don't go accompanying a child and expecting to be immune to this story's charms. It will, without doubt, tug on parents' heartstrings too.