In the Republic of Happiness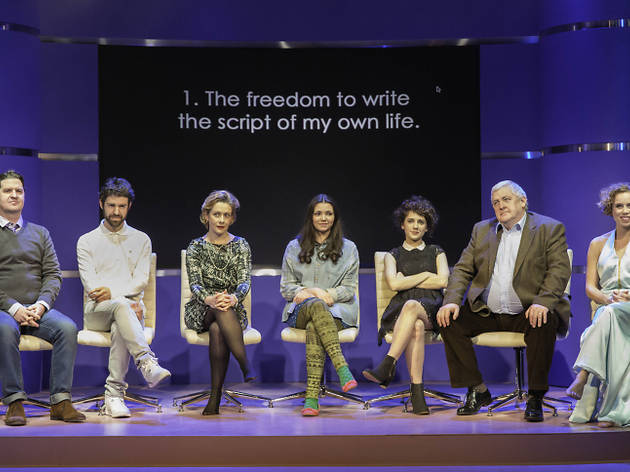 If you're looking for something really, truly, alternative to see over the holidays, look no further than the hallucinogenic otherness of Martin Crimp's new drama, which has taken up residence in the Royal Court main house for the festive period.
It's a Christmas show of sorts – at least, the first scene is set on Christmas Day. A semi-dysfunctional family bicker, strangely, over dinner while the room gradually darkens, Dad (Stuart McQuarrie) having removed all the lightbulbs as part of a penny pinching initiative. Then through the window comes Uncle Bob (Paul Ready), popping in to slag off the entire clan on behalf of his wife Madeleine (Michelle Terry), before the two abandon their lives for a fresh start overseas.
Except there is never any escape in a Crimp play. The next scene, following a shift in Miriam Buether's superb set, finds the entire family – Bob and Madeleine included – sat in a sleek, futuristic room. Here they spout their personal philosophies in banal, sometimes upbeat, sometimes violent screeds. And in the final scene, in a stark white chamber, a bolshy Madeleine harangues a tired, bewildered Bob, telling him he must focus 'for the sake of our citizens'. Oh, and there are songs, lots of songs, sung by the cast in a sweetly feisty karaoke style.
What does it all mean? I think perhaps Crimp is trying to satirically suggest a future society in which the cult of positive thinking and 'give it 110 per cent' mentality has come to insidiously warp and define human social values. Or perhaps not: 'In the Republic of Happiness' is Crimp to the max: hilarious, playful, maddening and cryptic.
Dominic Cooke's production is superbly acted, brilliantly deadpan and often furiously intimidating – I'm not sure he has really unlocked this play's full potential. Or has he flattered a wilfully obtuse mass of Crimp-isms? Whatever the case, the genuine winsomeness of the songs ensures this challenging show has a heart. 'Crimp: the Musical', anyone?
Rating Breakdown
5 star:

4

4 star:

3

3 star:

0

2 star:

1

1 star:

19