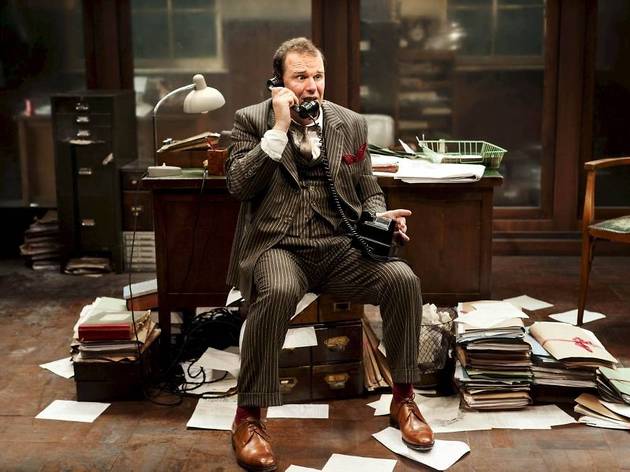 John Osborne invented the angry young man. But this lesser-known play, written eight years after 'Look Back in Anger' and two years before Osborne's nervous breakdown, is an acute, painful portrait of a middle-aged man who cannot relinquish his anger or his youth.
'Inadmissible Evidence' is a nasty but brilliant piece of work which pulses with self-disgust and sexual cruelty. It's a wise decision of Jamie Lloyd's alert revival to trim it to a near-bearable two-and-a-half hours: this is less a well-made play, more one man's coloratura mental breakdown.
Douglas Hodge is extraordinary as solicitor Bill Maitland: popping pills and booze and hurling his burly pinstriped body around with manic flair. He approaches midlife meltdown as if it were sour stand-up comedy, a sketchy framework for rants and sarky impressions of period icons like Harold Wilson and Bugs Bunny.
He's like a lustful, sexist Toad of Toad Hall – especially in the initial Kafka-esque trial scene where he tries and fails, in a dream, to 'acquit myself better'.
The surreal horror of the opening lingers in the 24 hours of office tragi-comedy that follow, housed to slightly soiled perfection in Soutra Gilmore's set. Simon Gray's 1971 'Butley' owes a lot to Osborne's Maitland, who is just clever enough to despise his own mediocrity.
But Osborne digs darker and deeper and Hodge, trembling on the edge of his desk, shows you a monster cursed with sufficient compassion to feel the pain that he inflicts on others.
Women – his wife, mistress and miserably screwed secretaries (Amy Morgan and 'Doctor Who's Karen Gillan) – bear the brunt. They extract poetic justice in the form of a trio of divorce clients (all unnervingly and gracefully played by Serena Evena). The women's testimony against their husbands maddens Maitland and counterpoints the futile argument of his own furious quest for 'the good fortune of friendship and the excitement and comfort of love'.
But it is his bitter final-act rant at his teenage daughter, played by Alice Sanders as a mutely gorgeous flower child on the cusp of sexual revolution, which reveals him – and Osborne – most fearfully. Like Philip Larkin, Osborne's Maitland stands between 'the Chatterley ban and the Beatles first LP', in the sudden glare of a new generation whose youth and insouciance he hates, envies and desires.