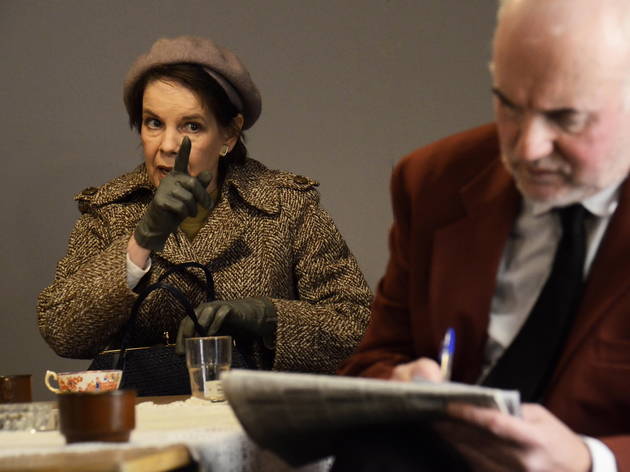 This review is of the show's run at the Print Room in 2013. The show returns to Jermyn Street Theatre in 2015.
Boutiquey Notting Hill fringe theatre The Print Room has a new space, the Balcony, and it's ripe with potential. Intimate as a living-room, yet, thanks to the mini proscenium-arch of a knocked through wall, distant as a cinema screen.
It's a combo that suits James Hogan's elegiac diptych – a transfer from the Jermyn Street Theatre – beautifully. A fine-tuned Lynne Miller plays two women, Ivy and Joan, both attempting conversation but blocked by disinterested grunts and patronising dismissal.
In Simon Usher's production, the two throw one another into relief; light and shade, ying and yang. Ivy's your typical bus stop bore, grumbling about 'young people today' and diminishing standards. It's tempting to join her colleague Victor (Steven Beard) in wishing she'd shut up, but seeing Joan – all wistful positivity to Ivy's nostalgic sourness – trying to connect with her cruelly curt husband proves a powerful corrective. At base, both are well-meaning and agonisingly lonely.
Hogan's plays might be unfashionable – mere whiskers away from an Alan Bennett Talking Head – not to mention over-insistent, but they're also deeply empathetic. It's quietly crushing to see Joan constantly seek her husband's grudging approval.