The first-ever female artistic director of the Bush Theatre in her twenties. The first-ever female artistic director of the Donmar Warehouse in her thirties. Josie Rourke hails from Salford but for a long time she was a cornerstone of London's theatrical landscape.
She's not only a damn good director with a terrific way with big names – she's scored hits with the likes of David Tennant, Judi Dench and Tom Hiddleston – but an inspiring leader who successfully thwarted a massive Arts Council cut to the Bush and masterminded its move to its present building. And it's easy to forget now how few women had ever run theatres in this country when she started out: there are more female ADs in London now than there had ever been before she took over at the Bush.
But after almost two decades of ubiquity, she seemed to disappear with the pandemic. The West End transfer of her Donmar hit 'City of Angels' had just entered previews when the theatres abruptly closed. Until last month, there had been little sign of her in the three years since, beyond the curious case of 'The Nan Movie', the critically panned Catherine Tate vehicle that Rourke had her name taken off.
In fact, disappearing had always been the plan.
'I had been so busy running theatres that I hadn't had time to do a lot of the stuff that people generally do in their thirties,' she says over a Zoom call. 'Which is to get married, buy some property, get a car – I really didn't own anything more expensive than a coat. Although it was a really nice coat. So in a way, I had optimistically stopped being an artistic director in the hope that I could do some of those life things that had mainly not occurred for artistic directing reasons.'
Those are some casually damning words about theatre's work culture right there. But Rourke's not looking for sympathy. Although a chunk of the pandemic was spent developing a (still unmade) Westminster-set Christmas film with playwright James Graham, more significant personally was lockdown leading to her getting to know her Kentish Town neighbours: 'I met a bunch of them, including somebody five doors down – and we fell madly in love and moved to the countryside.'
There's no way that I would be a theatre director without the last Labour government
This isn't, however, an interview about Josie Rourke's love life, but rather how she's back professionally in a big way, directing three plays in four months, which is, frankly, pretty crazy. Her starry revival of Shakespeare's 'As You Like It' is at the swish new @sohoplace theatre until the end of this month, and she'll be helming a massive National Theatre production of Brian Friel's classic 'Dancing at Lughnasa' in April.
Before that – and the project we're officially here to talk about – is 'Lemons Lemons Lemons Lemons Lemons'.
The premiere of the idiosyncratically named play was a big-buzz hit at the 2015 Edinburgh Fringe, kicking off the career of its graduate playwright Sam Steiner. Still, its eccentric but moving vision of a young couple struggling with their relationship in a world where language has become legally rationed felt very… fringey. You wouldn't have put money on a celebrity West End revival. But that's exactly what it's getting, with Jenna Coleman and Aidan Turner playing couple Bernadette and Oliver, in a reworked version of the play that follows their relationship over the course of seven years.
'I read it and thought it was amazing,' says Rourke, who'd already been talking to Steiner about a different project. 'I said to him: That play is really great and would take a proper big revival. It's a romantic comedy, and you'd be hard-pressed not to see something in it that relates to you. And the idea is just devastatingly great.'
In its weird, brilliant central premise, Bernadette and Oliver live in a Britain in which legislation goes through limiting everyone in the country to speaking 140 words a day maximum – a limit that for whatever reason the couple observes precisely. It's a conceit that almost feels too surreal for a big glossy West End play, although Rourke has absolute faith 'Lemons' can take it.
'It's a play about language and how we relate to one another,' she says. 'There isn't an evil scientist, nobody's wearing a metal bracelet where you get zapped, we don't explain how you'd actually enforce a hush law. There are certain questions that would probably crash the play, but we try to ignore them. We call them the "Batman v Superman questions", because my brother – who is very logical – once drew me a diagram of why "Batman v Superman" doesn't work.'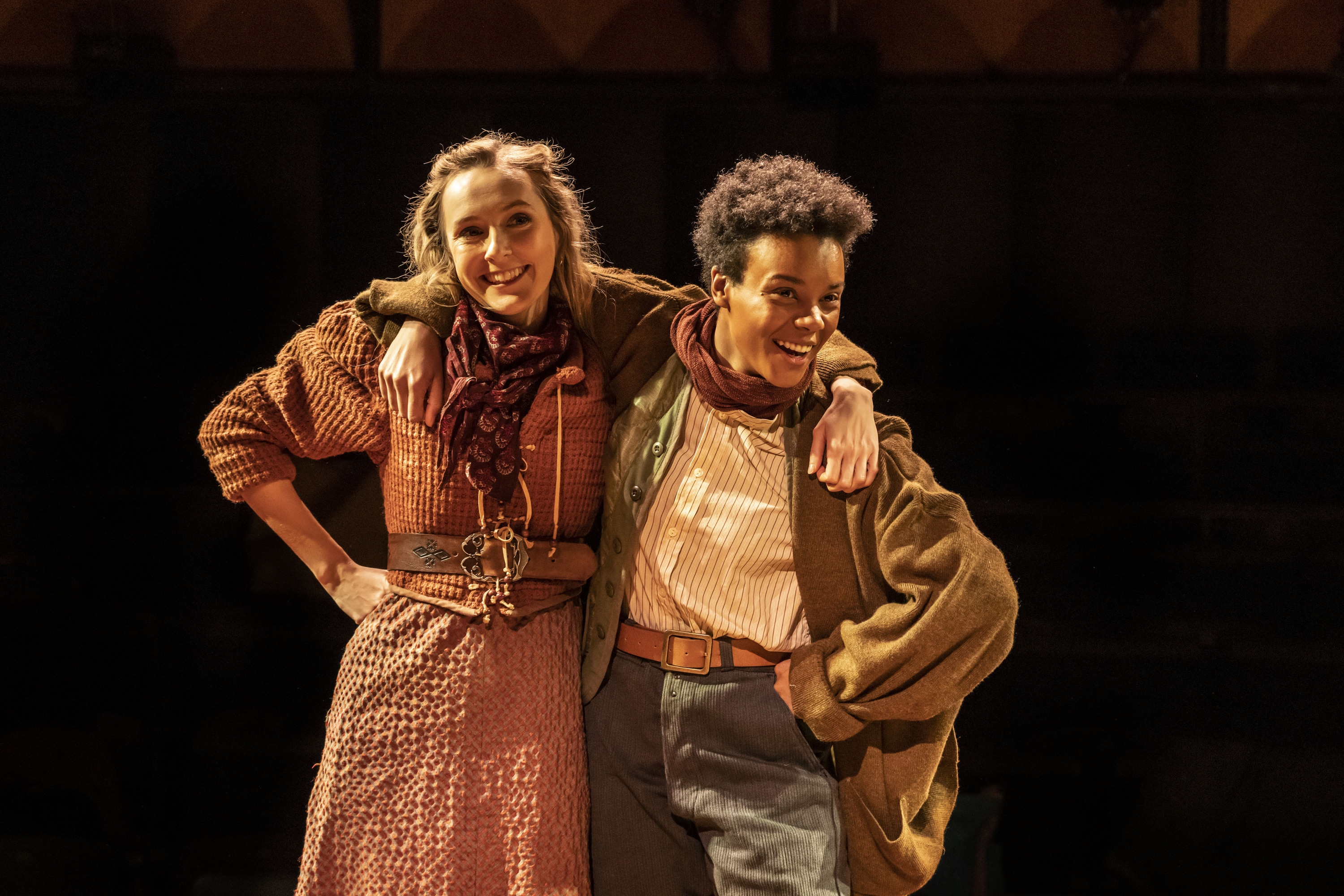 Rourke famously saved the Bush from having its Arts Council funding cut by 40 percent – so I wonder how she felt about the Donmar recently losing 100 percent of its subsidy?
'The Donmar should be a part of the conversation about public art,' she says. 'It should be publicly funded, even if it is a relatively small amount. It's a massively significant theatre: you will never stop people loving the Donmar, caring about the Donmar, wanting to work at the Donmar – because the space is so extraordinary. It will continue being all those things. But it's a place everyone in the industry aims for. So it should be part of the public conversation.'
There are some pretty weird vibes in UK theatre generally at the moment: it's an industry made jittery by the aftershocks of the pandemic, the culture-war rhetoric of the current government and controversial recent funding decisions from ACE. Rourke is not one to be drawn into bridge-burning pronouncements – there's no goss on 'The Nan Movie' beyond amicable artistic differences, alas – but as something of an industry veteran, I wonder how Rourke sees the state of theatre these days versus when she took over the Bush at the end of the New Labour era?
'As somebody who came from a non-theatre family from outside London, there's no way that I would be a theatre director without that Labour government,' she says. 'That's very, very clear. I graduated from university in '98 and I'm so aware of how possible things felt and a lot of those opportunities I had early on are because theatre felt energised, in terms of funding and desire for change. Arts funding is a crazy argument compared to any other portfolio because the numbers are so small and the benefits are so clear, both in terms of money generated and the impact on cities. Were it not a place you could war culturally it would be a total no-brainer.'
Rourke probably doesn't quite qualify as an elder stateswoman yet: she remains earthy and accessible, and hasn't yet transcended to the same plane of well-paid transatlantic theatre and film work that her Donmar predecessors Michael Grandage and Sam Mendes now occupy. Her hyper-busy run of plays was thrown together at the last minute, while trying to get the James Graham film made, which is her only other big current project. Her name frequently comes up when people speculate about who'll run the National Theatre next, but I don't get the impression there is any great masterplan (she only applied for the Donmar job after she read she was a candidate). Her career has been defined by both seizing opportunity and knowing when to step back. And lucky us that she's back in full seizing mode, if only for a few months.
'As You Like It' is at @sohoplace until Jan 28.
'Lemons Lemons Lemons Lemons Lemons' is at the Harold Pinter Theatre until Mar 18 then tours to Manchester and Brighton.
'Dancing at Lughnasa' is at the National Theatre, Apr 6-May 27.