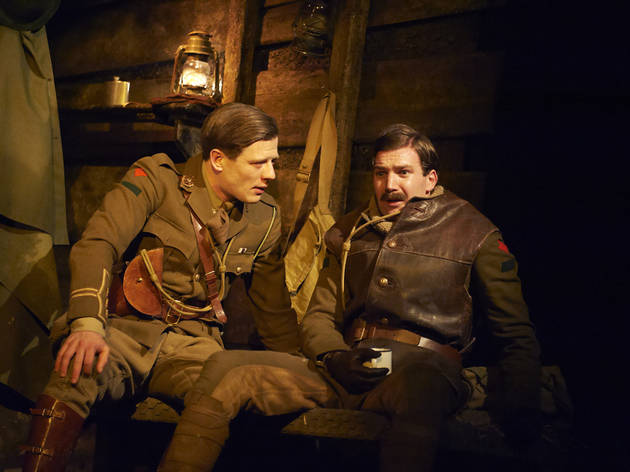 Tossed into the West End for a short silly-season run, David Grindley's revived production of RC Sherriff's 'Journey's End' hadn't drummed up much trade on a Friday press night. It would be sad if timing, gloomy subject matter and a lack of big names kept audiences away from the venue where it played triumphantly in 2004, because this is thunderously powerful stuff.
Set in an Allied dugout in 1918, 'Journey's End' is based upon Sheriff's own experiences of World War 1, and follows a small group of officers as they try to cope with six days on the frontline.
Hardy (Tim Chipping) deals with the fear and boredom by running earwig races. Trotter (Christian Patterson) pretends it's all a big game. Fresh to the lines, Raleigh (Graham Butler) finds it all terribly exciting. Heroic Captain Stanhope (James Norton) gets his courage from a bottle. Only avuncular schoolmaster Osbourne (Dominic Mafham) retains his grip on himself, despite being aware that he will likely die for no good reason.
It takes a while to warm to these moustachioed young men with their stiff upper lips and talk of 'rugger' and public school. But as a non judgemental depiction of humanity and masculinity under unbearable pressure, both text and Grindley's scrupulous production are devastating, with a nerve-shredding clarity that belies the play's age.
Norton and Mafham are excellent, and much credit must go to Jonathan Fensom's set, a claustrophobic antechamber to an unimaginable outside. And Gregory Clarke's sound design is spectacular: the final minute, where we are blasted with the sound of shells, loud as any rock concert, is a coruscating sonic coup de theatre.  
If it creaks just a little at the start, 'Journey's End' remains a plangently powerful depiction of war's dehumanising grind; it's hard to imagine Grindley's precise, visceral production being bettered.
Average User Rating
4.5 / 5
Rating Breakdown
5 star:

1

4 star:

1

3 star:

0

2 star:

0

1 star:

0
I've seen many films and documentaries on the First World War but the play brought home for the first time the reality, the horror of the worst physical pain imaginable, the terror of the barrage, the courage of the leadership shown by officers like Stanhope in appalling conditions, and the anguish of loss of comrades. The silent scene where Osborne removes his belongings and finally his wedding ring before leading the useless raid on the German trench from which he knows he will not return is deeply moving. The play is all the better for being performed by actors who are relatively unknown; you are able to focus on them as wholly believable characters rather than as actors. It should be required viewing for all those with the reponsibility for committing us to war.
powerful stuff - faultless acting