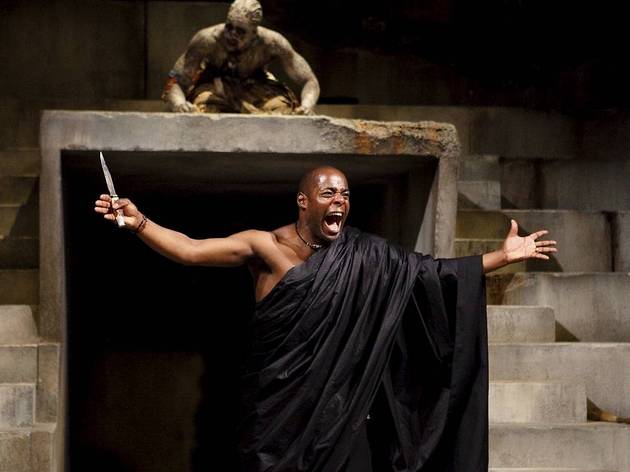 What a jolt of new life the RSC's African setting gives to 'Julius Caesar'. Gregory Doran's electrifying production transforms Shakespeare's Roman tragedy from an exercise in oratory with a problematic second half to a visceral and profound analysis of the dynamics of revolution. Set in an unnamed African state, it subtly references everything from Idi Amin (with a mischievous allusion to his favourite fruit, the orange) to the Arab Spring, from Mugabe to Mobutu. Yet there's no sense of straining for relevance: on the contrary, this is a zesty reminder of how the Bard has always spanned continents, inspiring historical leaders from Theodore Roosevelt to Nelson Mandela.
The setting – potent though it is – would mean nothing were it not for the exceptional acting, which is both raw and measured, as rigorous in its verbal delivery as its physical execution. Jeffery Kissoon's Caesar is a man simultaneously elevated and burdened by his power. When he asserts himself vocally, it's almost as if he grows a foot taller, yet he also conveys the crotchety paranoia of a man uncertain where the currents of politics will sweep him next. Paterson Joseph and Cyril Nri play off each other superbly as Brutus and Cassius respectively, the former a morass of introverted moral wrangling, the latter shifting schematically between confidant and agitator.
The sense of a world on the verge of apocalypse is intrinsic to the play's atmosphere, and Michael Vale's compact yet monumental design lends itself to this elemental vision. Cement block steps, like those in an amphitheatre, lead up to a skyline dominated by the head and shoulders of a Saddam Hussein-style statue: cleverly the face is turned away from us. An open doorway is etched into the bottom of the steps, transmuting easily from household entrance to army camp. Vince Herbert's lighting allows the mood to shift from ceremonial to sinister in a heartbeat.
What's most surprising about this 'Julius Caesar' is how often you find yourself laughing as the cast slyly teases out the ironies in the text. These sudden ambushes of levity make the moments of tragedy all the more intense, keeping the momentum sustained right to the bitter end.
Rating Breakdown
5 star:

2

4 star:

0

3 star:

0

2 star:

0

1 star:

0
Saw the production last night, and thought it was outstanding, from start to finish. Great performances, especially Ray Fearon as Mark Antony. The African setting gave it a real freshness. But also echo other complaints below about lack of seating plan, booking through Timeout. (Seats were fine though!)
Just got back from this fantastic production. It was absolutely brilliant. The acting was first class and the musicians were great. This should not be missed. Shakespeare as relevant today as ever. Go see it!!