Heads up! We're working hard to be accurate – but these are unusual times, so please always check before heading out.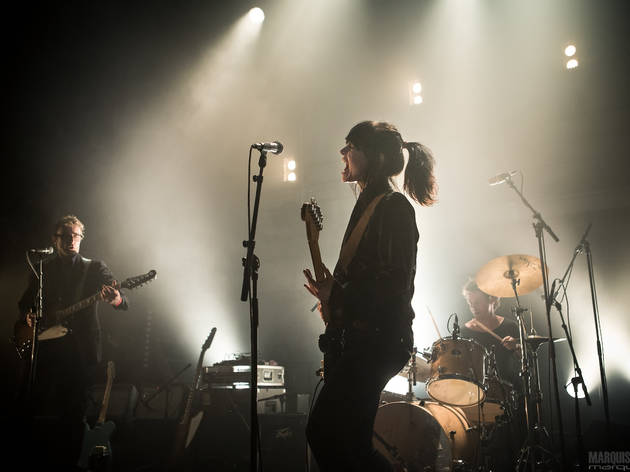 KlangHaus review
Summerhall
So it turns out that the greatest gig venue in the world is the former small animal hospital at the hulking medical school-turned-arts megalopolis that is Summerhall. Or so art-rockers The Neutrinos and artist Sal Pittman make it seem with this splendid new show – actually in the music section of the Fringe programme – which turns a series of shadowy rooms above the Summerhall's pub into a dark, clanking wonderland through which an audience wanders to enjoy an eclectic series of songs performed in an unforgettable series of settings.
It's an agreeably disorientating experience, in part because it takes so long to get a measure of the music. In the first room a trio of band members whip up a foreboding industrial racket with distorted guitar sounds and heavy percussion - which includes battering on the cell-like doors of whatever the hell this room was formerly used for (locking up unruly guinea pigs?). We're then encouraged to another room to hear band singer Karen Reilly launch into a fragile, Portishead-like torch song, another for old style rock'n'roll, another for stomping noise, and so and so forth before the band shimmy through a hatch in the ceiling and bid goodbye to us with an a cappella hymnal.
The music is appealing, but it's the setting that makes it truly special – I'm not sure if we had a capacity audience, but there were only five of us when I went, and to feel the roar and screech and sigh of a band who almost outnumber you performing a foot away a succession of tiny alien spaces is really quite something. Moreover, each new room is dominated by Pittman's semi-inscrutable projections that sometimes seem to sync eerily with the rhythm of the music, sometimes reflect hauntingly on the (presumed) history of these rooms, loops of chicks or baby mammals, a room full of glowing model rabbits. 'KlangHaus' isn't a concert - it's a little world.

By Andrzej Lukowski
The latest Edinburgh Fringe theatre reviews