Heads up! We're working hard to be accurate – but these are unusual times, so please always check before heading out.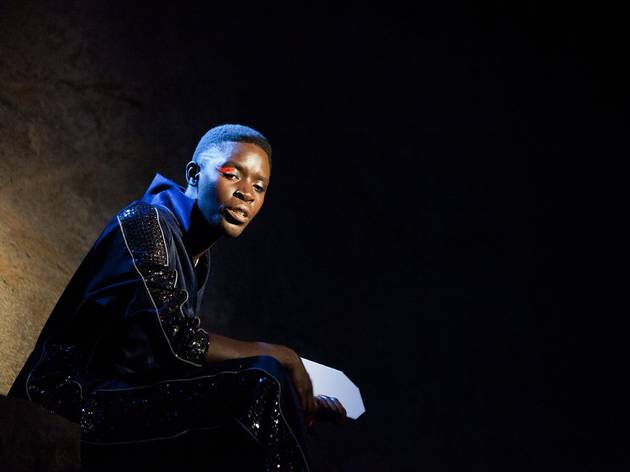 Leaving Planet Earth review
EICC/Edinburgh International Climbing Arena
Fans of the wobbly sets and make do budgets of '70s 'Doctor Who' should be in about the right sort of mental ballpark to enjoy site specific theatre specialists Grid Iron's latest show, a haunting sci-fi epic that purports to take us on a journey from our own, ravaged planet to the paradisiacal colony of New Earth.
That we take this journey by hire coach is indication of the sort of production values we're talking about. Not that this logistically impressive show feels cheap; but the actual budget required to create a genuinely convincing immersive sci-fi would clearly bankrupt the Edinburgh International Festival, which would be silly.


Still, suspension of disbelief is key to all science fiction. There's a wealth of online background material to dip into beforehand, and once we 'arrive' and the show gets underway, I found writer-director Lewis Hetherinton's story rather compelling.


'Leaving Planet Earth' is a perambulatory affair, where the audience is led through a series of vignettes throughout the massive International Climbing Arena. This is a parallel universe in which interplanetary teleportation ('jump') technology has been devised, and a large number of people – including us - have made the permanent move to New Earth to start humanity again after Old Earth has descended into perpetual warfare. But there is a price to pay: The Pull is a psychological malaise wherein an inexplicable link to the old planet renders émigrés catatonic. New Earth leader Vela (Lucianne McEvoy) has a drastic idea to eliminate The Pull forever – but is she herself in danger of succumbing?


Spectacular as the huge climbing walls, bleak landscapes and odd, glowing towers of this well-chosen site are, I wish it might be possible to do this kind of thing without the site-specific bells and whistles seemingly needed to legitimise this dabbling with the world of sci-fi. There are some plot holes, but I really did find the story engrossing, and it's well-acted, too – I'd really be fascinated to see somebody try something like this as a stage play. Here, we spend so long traipsing around that we get relatively little of the story in three hours and for all the mounting intrigue, the ending is a typical site specific cop out, a bit of empty spectacle that ducks actual resolution.


For all the show's wonkiness, though, I liked it – maybe not a giant leap for sci-fi theatre, but a small step.
The latest Edinburgh Fringe theatre reviews