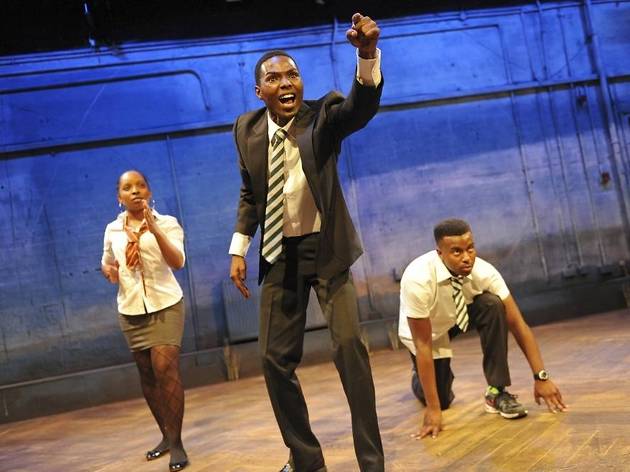 In other hands, this could so easily have been facile: three coming-of-age stories about self-acceptance and standing up to the crowd ought to be flatly moralistic. Instead, thanks to the delicacy and fizz with which Arinze Kene writes, 'Little Baby Jesus' is utterly magnetic.
Kene's vivid text works like a zoom camera, picking out details from a panorama. His three entwining monologues combine into a vivid teenage view of a black inner-city community – its grandmas as influential as its gangs – without reverting to 'Into the Hoods'-style archetypes.
If anything, Kene avoids high drama. The only knife to appear never gets pulled. Stones and spit are the weapons of choice. Kehinde, Jodie and Rugrat all come into contact with local gang the Cally Road Boys, but each shirks their responsibility to speak out. Kehinde (Fiston Barek) betrays his sister over an impromptu race; Rugrat (Akemnji Ndifornyen) stands by as his peers pelt an abandoned baby with pebbles.
The direct parallel with Edward Bond's 'Saved' is fiercely accusatory. Today's black gangs are no different from yesterday's white ones; both fester when failed by society. Narrative connections can prove elusive, but Kene's text thrives on its skilful association of ideas, which Che Walker's crisp direction brings out beautifully.