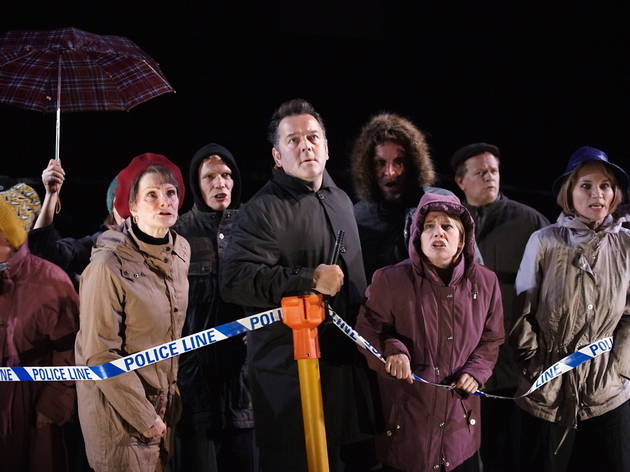 SPECIAL SUMMER OFFER: 31% discount on top price tickets
The musical as a genre has been guilty of many assaults on good taste. When Alecky Blythe and Adam Cork's musical about the real-life murder of six prostitutes in Ipswich was first announced for the National Theatre's Cottesloe studio in 2011, there were worries it might join the likes of 'The Fields of Ambrosia' (a jolly '90s US cringe-fest in which a state executioner falls for the woman he's due to fry) in the hall of shame.
It wasn't to be. Blythe and Cork's verbatim musical, which returns enlarged for the Olivier stage, has now been called 'groundbreaking' so often that it could plough its way to East Anglia and back.
It isn't really about Steve Wright or his victims. Instead, 'London Road' is all about Wright's neighbours and every word comes – with 'ums' and 'ahs', intact – from Blythe's interviews with them.
'London Road' is the story of a 'community': that is, disparate folk, brought together by crisis, a media siege, self-interest, their aspirations for a better life and their rejection of the 'foul-mouthed slags' who were ruining their neighbourhood.
Rufus Norris's production is festooned with bright flowers and metal cut-outs of a faceless man: the 11 actors are equally brilliant and queasy. It's occasionally guilty of patronising its characters. But largely this is scrupulous, revelatory – and as gripping as the tragedy it skirts.
Cork's music is an extraordinary document which heightens the characters' voices without altering them. Its melodic jumps are so well tailored to their speech rhythms that you hardly notice when the residents' association AGM bursts into song around the tea urn.
Nervy asides become shimmering choruses: lines like 'Yeah, it's quite an unpleasant feeling, everyone is very, very nervous…' become a devastating musical portrait of the group-mindedness that creates 'community' and rejects those who don't fit in. (A long tableaux of three silent prostitutes is as moving a sight as you're likely to see in the theatre this year.)
All human life is here: vivid; worried; comical; queasy; generous and cruel. And Cork and Blythe have woven their scraps together with a skill that transforms real banality into genuine art.