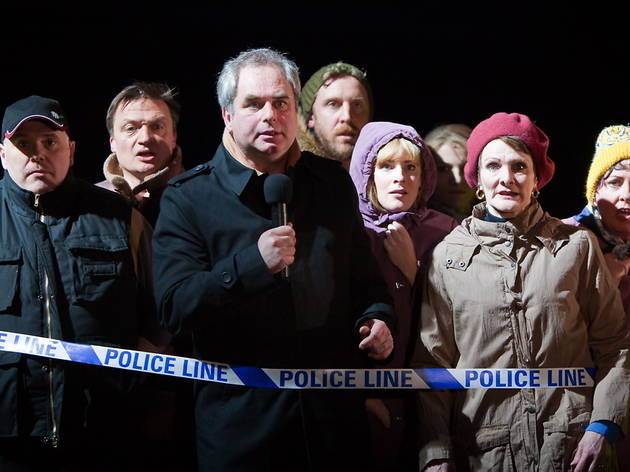 Time Out says
Friendly warning! We're working hard to be accurate. But these are unusual times, so please check that events are still happening.
With garlands of critical praise now wreathing Alecky Blythe and Adam Cork's flower-drenched documentary musical, it's a measure of how genuinely ground-breaking it is that 'London Road' remains a hard sell on paper.
A journey through four years in the life of the street in Ipswich where Suffolk Strangler Steve Wright lived, the book and lyrics are derived from interviews conducted with the residents of London Road. (Verbatim is Blythe's modus operandi – she wrote a residents'-eye view of a Hackney gunman in 2003.)
Beginning with a Neighbourhood Watch meeting, ending with the second annual London Road in Bloom competition and directed with low-key sparseness by Rufus Norris, this is as far away from chorus lines and jazz hands as it gets.
Three things make 'London Road' extraordinary. First are Cork's verbatim songs. If you can make something with the chorus 'Everyone is very, very nervous and unsure of everything, basically' sound both beautiful but also true to the original sentiment – and Cork does – then that is raw humanity captured in music.
Second is the outstanding ensemble: unlike previous Blythe productions, where actors parrot the recorded voices which they hear via headphones, here Cork's manipulation of words means the cast have had to learn every intonation, sung and spoken, by heart. This they do flawlessly, conjuring a vivid, bustling world.
But the real brilliance of Blythe and Cork's musical is its troubling portrayal of community as an entity. Individually, the 11 central characters and 52 additional interviewees channelled by the cast are a diverse bunch – some witty, some slow, some placid, some mischievous, some likeable, some bigoted.
But as a community unit, bound by song, they take on a childlike simplicity, melodiously repeating opinions and turns of phrase over and over again like animals in a herd. And a herd is neither good nor evil, but wants what's best for the herd.
What seems to be argued over the course of 'London Road' is that, as a unit, the community did not care for the prostitutes and that, ultimately, the killings improved their lives.
The working girls are excluded from the community song, something underscored by the devastating moment where the score stops and three prostitutes simply stare out at us in silence, abandoned. And as the community celebrates in the closing minutes, a recording of scared sex workers plays out, unheeded by the revellers in their scrubbed up, flower-filled Eden.
Blythe has been here before with her verbatim dramas, but this is something very new for the musical form, a powerful, beautiful and unsettling articulation of the ambivalence that underpins all communities. Wright may be gone and the streets may be clean, but a chill lingers in the air.
Details