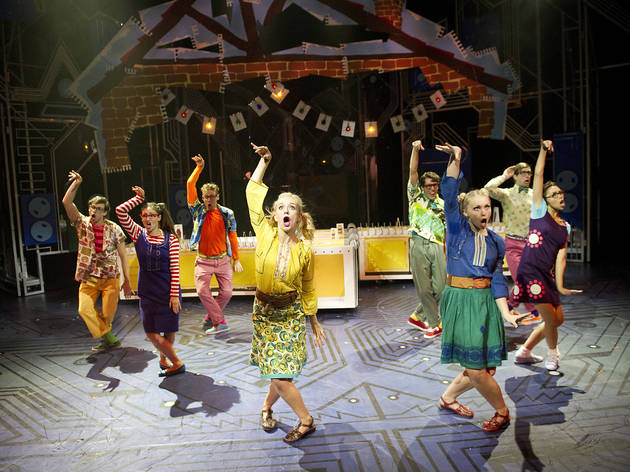 Former Busted member James Bourne has long since left his boyband role behind, but has finally found another with this vibrant new musical, which he's penned with award-winning composer Elliot Davis.
'Loserville' is set in 1971: the nerds can't stop quoting 'Star Trek', brainiac Holly Manson (Eliza Hope Bennett) has just discovered 'The Female Eunuch' and there's no such thing as electronic messaging – unless 17-year-old geek Michael Dork has anything to do with it that is. Cue Aaron Sidwell in garish ankle grazers and specs hacking into the school's computer in a desperate bid to prevent the father of school bully Eddie (a fantastically loathsome Stewart Clarke) from inventing email before him.
It's farcical stuff but fun all the same, in the way that 'High School Musical' is unashamedly cheesy and so impossibly lovable. The fast-paced storyline is as saccharine and as predictable as its pop-punk soundtrack – the nerds claim victory over the cool kids, learn how to talk to girls and acknowledge the importance of friendship – but it remains amusing and fluid throughout. Even the set changes are incorporated into the high-energy dance routines, ensuring there's never a lull in the action. And you can rest assured that in 'Loserville', action means that the geeks always end up on top.
Average User Rating
2.8 / 5
Rating Breakdown
5 star:

2

4 star:

0

3 star:

0

2 star:

1

1 star:

2