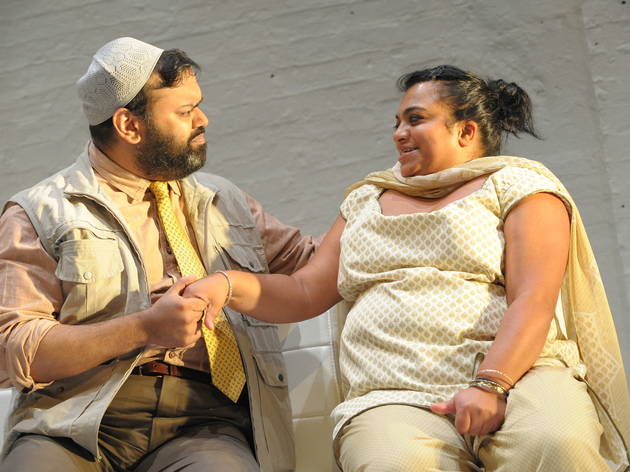 Love N Stuff will return to Theatre Royal Stratford East in June 2016. This review is from the 2013 run.
Self-mockery may be under threat for Tottenham Hotspur fans at White Hart Lane, but at least other communities continue to enjoy a liberal licence for caricaturing themselves. British Indian writer Tanika Gupta's new play follows on from last year's 'Wah Wah Girls' and once more sends up Indians and their 'funny ways' in a show built around the vaudevillian acting styles of Rina Fatania and Tony Jayawardena.
They play a fiftysomething couple who emigrated to London after marrying 35 years before. However, husband Mansoor however is fed up with English rain and wants a return to sunny Delhi – cue a confrontation in Heathrow Terminal 3 where wife Bindi comes after him bearing a Tupperware box of pakora with tamarind and date sauce that she has no intention of sharing.
Gupta's play trawls amusingly through the couple's past as they wait for his delayed flight. Kerry Michael's multi-location production on an all-white set with colour projections is as well rounded as the two actors, who playing 16 parts. It even features a Bhangra version of 'You're the One that I Want' from the musical 'Grease'.
Fatania is particularly fun as the indignant Bindi who wallops Mansoor the moment she walks on stage. But she slips gorgeously into her other roles too – including a batty Bradford neighbour who walks and talks like Donald Duck, a hippy sex maniac from the '70s and, best of all a limping, tooth-sucking, would-be Yardie.
Bouncing off her in more ways than one, Jayawardena also plays a host of hearty roles. None is better than his grumpy Mansoor who is a sentimental giant with florid shirt and threadbare cargo pants accessorised with sandals and socks. One suspects that only an Indian playwright could get away with taking the piss out of Indians so much. But if laughing along sometimes feels a bit uncomfortable, it's good-natured enough that you can shrug it all off.
By Patrick Marmion
Rating Breakdown
5 star:

0

4 star:

1

3 star:

0

2 star:

0

1 star:

0
Maybe not as grand as 'Wah! Wah! Girls' but "Love N Stuff" is a charmingly witty story about everyday love, with all the ups and downs it brings. Bindi and Mansoor are ceaselessly adorable, and you just can't help but love them even if they mixed some of the lines. They are pure impersonation of the neighbourly warmth and closeness, that we all yearn for living busy and often anonymous life in London. Maybe smaller in scale "Love N Stuff" but great performance from Rina Fatania and Tony Jayawardena.