Lovesong of the Electric Bear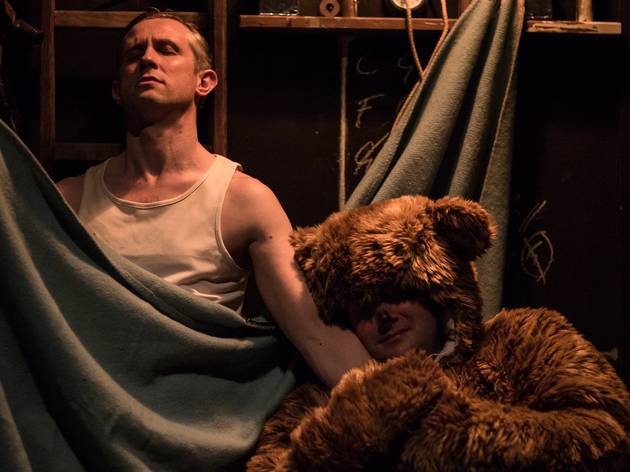 1/3
© Scott Rylander
'Lovesong of the Electric Bear'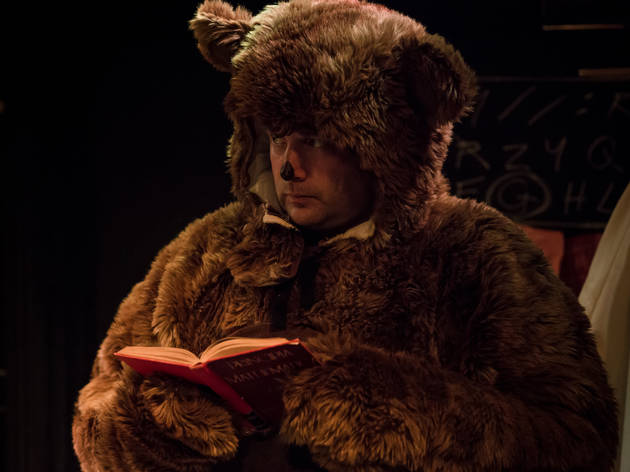 2/3
© Scott Rylander
'Lovesong of the Electric Bear'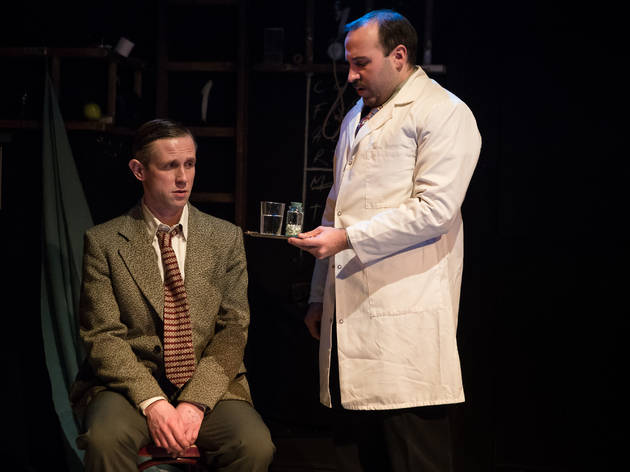 3/3
© Scott Rylander
'Lovesong of the Electric Bear'
A surreal journey into the world of genius mathematician Alan Turing and his teddy bear.
'Lovesong of the Electric Bear' returns to London in November 2015. This review is of the show's original February run
Alan Turing's teddy bear didn't feature in 'The Imitation Game'. Maybe that's because Benedict Cumberbatch wanted to make sure a stuffed animal wouldn't beat him to an Oscar nomination. But in the late Snoo Wilson's winding, surreal play about the life of oddball genius mathematician Turing, there are no such qualms. Porgy the bear is one of the leads – and almost steals the show.

Wearing a huge furry bear suit, Bryan Pilkington takes on the role of Turing's friend, confidant and protector Porgy (the inanimate version of whom was Turing's teddy in real life). With a swish of his paws, Porgy rewinds time to Turing's childhood in France then we stumble though skits about his life at school, Cambridge, his seminal work during the war to crack the German Enigma code and his unhappy life after.

It's a weird and often bumpy ride with the bear acting as a kind of jolly master of ceremonies (invisible to the rest of the characters). And despite Turing's tragic end – he took his life after being chemically castrated to 'cure' his homosexuality – Wilson's play treats the story with much off-the-wall humour. Mostly it aims to give us an insight into what may have been going on in this remarkable man's head. It's what the bland movie lacked: the quirky spirit of its hero.

But there's a lot skipped over in the script. Perhaps everyone does now know Turing's story, but 'Lovesong of the Electric Bear' is vague enough on the details to confuse someone who doesn't. There's a wilful attempt to mess with structure and the narrative takes too many diversions into bizarre dream sequences to be entirely coherent.

Matthew Parker does brilliantly reinvent the tiny Hope Theatre for his first production as its artistic director, having the cast perform in every nook and cranny of the venue. Zoe Hurwitz's handsome designs have light bulbs hanging from the ceiling, old wooden ladders used as shelves and mathematical numbers and equations chalked on to the wall. The ensemble cast are great, including Ian Hallard's ink-splashed, nail-biting Turing. Pilkington's polite Porgy has a palpable warmth emanating from his benign smile.

It's a flawed play, but at least it's not the smooth, unreal Hollywood-ised version of Turing presented in 'The Imitation Game'. Maybe including a teddy bear would have won Cumberbatch the Oscar. Here, it certainly adds some bear necessity.