Heads up! We're working hard to be accurate – but these are unusual times, so please always check before heading out.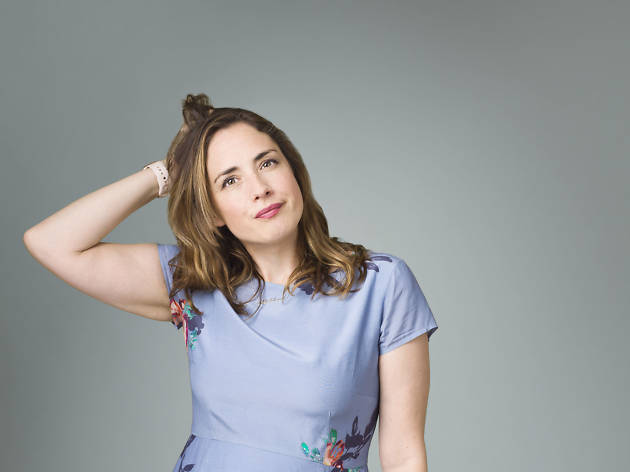 Lucy Prebble: 'I think I've been courageous'
Seven years after her last masterpiece, the 'Enron' playwright is back with a head-spinning epic about the 2006 Russian spy poisoning
'It's a real fucker,' says Lucy Prebble, reasonably, of her fourth play, 'A Very Expensive Poison'. 'It's like doing an incredibly complicated dive every night: if you don't get it right then BANG, you smack straight into the surface of the water. But if you do it right it's very impressive, because people go "oh, I see – it's not that, it's that."'
Very loosely adapted from Luke Harding's eyebrow-raising book account of the 2006 radiation poisoning of the Russian defector Alexander Litvinenko with the rare element polonium, Prebble's play is not 'that'. 'That' would be the straightforward spy thriller she briefly toyed with writing.
But really, the author of the landmark play 'Enron' was always going to write that. Her take on 'A Very Expensive Poison' is a fiendishly complicated, totally out-there metacomedy that juxtaposes the touching relationship between Litvinenko and his wife Marina with the madness of the malevolently bungling Russian mafia state and the feeble British intelligence response. Reece Shearsmith stars as Vladimir Putin, imagined as a hysterically petty vaudevillian. On the page it is angry, mad, brilliant… and alarmingly contemporary.
Prebble says her head wanted to write a play that invoked the craziness of late-'90s Russia as a way of looking at the present state of politics in the UK and the US, while her heart was drawn to both 'the frequent ridiculousness of this story' and the 'passionate sorrow' of Marina (consulted for the project).
It is almost certainly not the way any other playwright would have approached things. But the affable, chatty, slightly neurotic Prebble is not any other playwright. Her body of stage work is tiny. But she has a towering reputation, mostly based on the brilliance of 2009's 'Enron' and 2012's 'The Effect', the former an audacious experimental drama about the financial scandal, the latter a dazzling interrogation of the nature of love itself.
In the years since 'The Effect' she's become a minor celebrity: guesting on 'Have I Got News for You' and Frankie Boyle's 'New World Order'. There have been no plays, but lots of other stuff, including writing for HBO's 'Succession', a happy experience that causes her face to light up at the mention of it.
By contrast, she laughs when asked if writing a play makes her happy. 'I find it incredibly stressful and anxiety-making! But I keep doing it! I genuinely really, really care and I'm really pained when it's not working'. And she admits 'A Very Expensive Poison' may not work: it is a hugely ambitious, almost uncategorisable play that's been given an extra-long preview period because it's so weird and complicated. 'I think people will see it as a big swing,' she sighs, 'and I want to take some solace in that. If people don't love it, I don't want to worry, because I think I've been courageous'.
Whatever happens, absolutely do not hold your breath for play number five, which Prebble thinks will be years away again. 'For me plays are like kids. It'll take me a while to get over it and even then I'm not sure. It's really, really meaningful and I love it, but I'm honestly quite exhausted.'
'A Very Expensive Poison' is at the Old Vic. Until Oct 5.
New theatre this month
London's theatre calendars are flooded with acclaimed shows, big names and hotshot directors, and there's no way anyone can see them all. As a starting point, the Time Out theatre team have picked ten shows opening in London this month that you won't regret booking for.