Meow Meow's Little Match Girl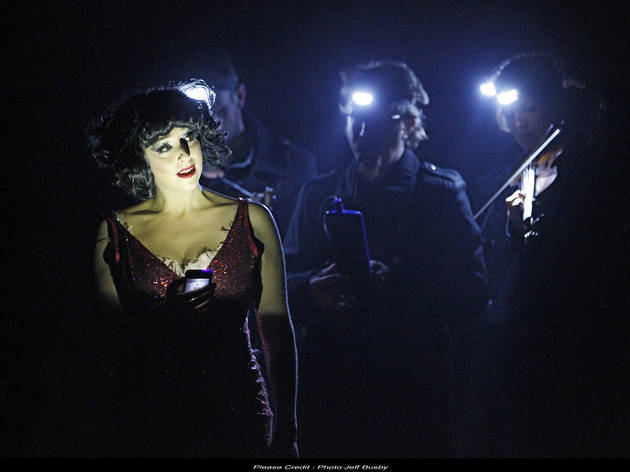 'Welcome to your future!' Meow Meow purrs during her festive spectacular, and she might be on to something. One of the world's outstanding cabaret artists, she is a past master at the cocktail of talent, charisma, humour and constructive audience engagement that marks the form at its best.
Developed at Melbourne's Malthouse, 'Meow Meow's Little Match Girl' hangs upon Hans Christian Andersen's tale of wintry starvation, delirious wish fulfilment and luminous rapture, plus music by Cole Porter, Serge Gainsbourg and Wagner, as well as original material (the show's superb musical director is Lance Horne). Meow Meow's voice is rich in musicality, always present and expressive, turning on a dime from stomping razzle-dazzle to heartbreaking vulnerability.
Marion Potts's production uses the Queen Elizabeth Hall to great effect, from grand chandeliers to Meow's roving perambulations. The lighting design, by Paul Jackson, is consistently ingenious – at one point, our heroine harvests audience members' mobile phones for use as light sources.
Still, this is primarily a Meow Meow showcase. Audiences who have seen her before will know to expect a sequinned time-bomb; an artistic kamikaze in high heels; live performance as a lurch for the lifeboat. Her humour is as dextrous as her singing – now bawdy, now self-deprecating, now sardonic – and her regular corralling of audience members for logistical support triumphs because, rather than humiliating the public, she asks them to mitigate her own humiliation, to offer their energy to keep afloat a show that appears to be perennially on the brink of implosion.
The production's treatment of child poverty and homelessness never quite satisfies as a cohesive engagement with the realities of social injustice, but such reservations hardly intrude upon enjoyment of an evening overflowing with talent, laughter, charisma and light. Follow this 'Match Girl' – your future awaits…
Rating Breakdown
5 star:

0

4 star:

0

3 star:

0

2 star:

1

1 star:

0
I was left very disappointed by this show. I saw Meow Meow about a year ago or so in London in her one woman show and she was phenomenal, the show was thrilling and I was left in stitches. I was so excited to see her in Little Match Girl but just did not enjoy it at all, I found it lacked laughs and fluidity. Sorry Meow Meow.