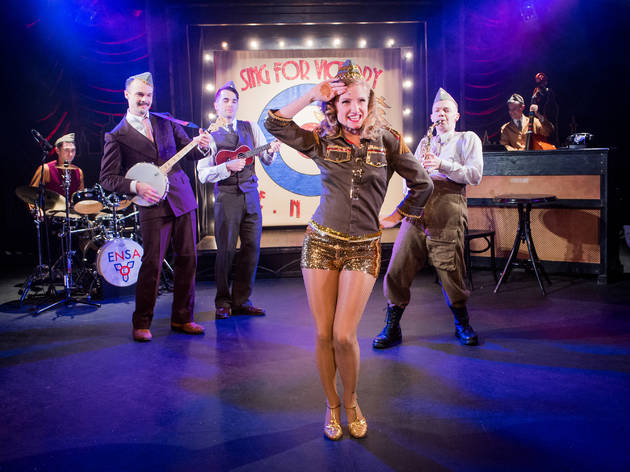 1/5
© Robert Workman
Nicholas Coutu-Langmead, Tamar Broadbent & Conor O'Kane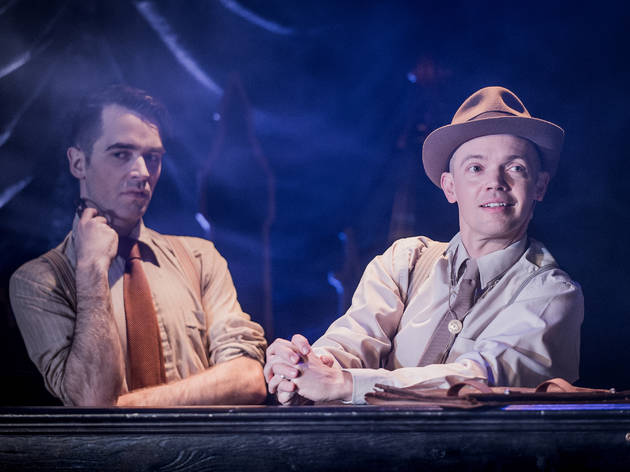 2/5
© Robert Workman
Conor O'Kane & Matthew Bugg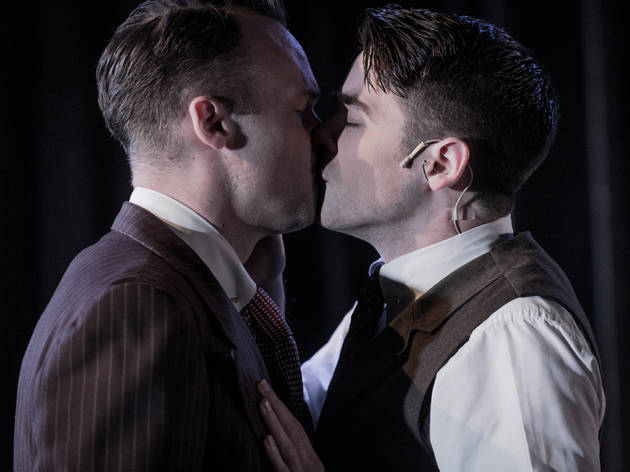 3/5
© Robert Workman
Nicholas Coutu-Langmead & Conor O'Kane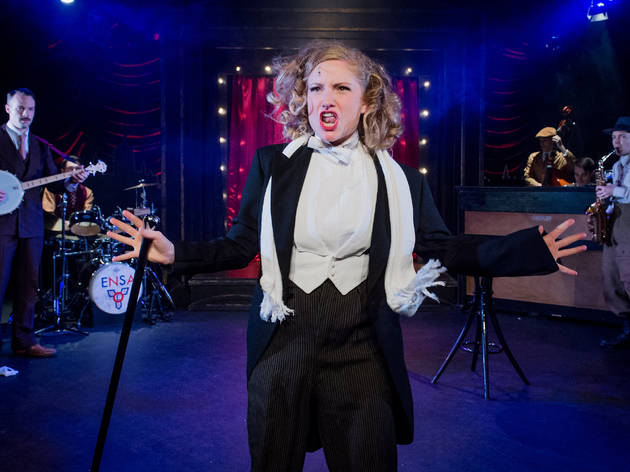 4/5
© Robert Workman
Tamar Broadbent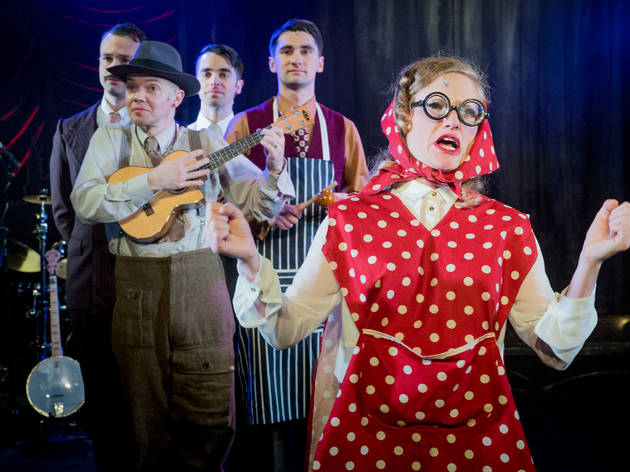 5/5
© Robert Workman
Tamar Broadbent
This diverting cabaret-style musical is a story of gay love and wartime showbiz
'Miss Nightingale' transfers to London Hippodrome in March 2018. This review is from 2017.
A bunker-like auditorium in The Vaults – the multi-performance space created out of the network of tunnels under Waterloo Station – is an atmospherically subterranean location for this Blitz-set new musical. It's steeped in an almost reverent nostalgia for the music hall, with the cast playing instruments as well as characters.
Writer and director Matthew Bugg's production is awash with charm, as it dips into the culture of wartime musical revue. From 'Let Me Play on Your Pipe' to 'The Sausage Song', the tunes have an authentic sense of innocent cheek. Their playful innuendoes are what 'saucy' was coined for.
The effect is completed by designer Carla Goodman's lightbulb-ringed proscenium arch, through which the titular Miss Nightingale – the stage name of no-nonsense Northerner Maggie Brown – entertains, while her closeted manager, Frank, and her best friend, George, try to keep their relationship under wraps.
Conor O'Kane relishes every eye-roll as Jewish-Polish immigrant, George, and Nicholas Coutu-Langmead stiffens his upper lip admirably as posh boy Frank. Tamar Broadbent, meanwhile, gives Maggie grit and vulnerability, while beautifully pitching her showstoppers.
But the show's wholesale buying into a bygone era also results in a soft-focus, old-fashioned feel, flattening out the dramatic stakes of George's tragic backstory and the edginess of the first song, 'Cruising'. The murmuring lyrics and languorous awakening of instruments, pulsing in time to the men's first encounter, leads only to chaste kisses.
Bugg (who clearly knows his history) packs his script with grim background details, such as the mass arrests of gay men as 'enemy spies', but in tone and temperament, his characters feel like they're from a '40s film. They might do and say things uncensored, but a working-class guy is still the blackmailer.
'Miss Nightingale' began life a few years ago as a chamber piece and there's a sense of bloating now, of a few too many songs that – while buckets of fun – don't add much to the plot. There are times when it seems caught between the story it's telling and being an actual music hall revue.
Average User Rating
4.1 / 5
Rating Breakdown
5 star:

8

4 star:

3

3 star:

6

2 star:

0

1 star:

0
Fantastic seating, delicious cocktails and delightful music
The show takes place during WWII and tackles many issues facing England at the time, both abroad and on its own shores. The cast was full of energy and really brought the characters to life. I went in expecting slapstick comedy and left pleasantly surprised with the many different turns the plot took.
While I enjoyed the music, towards the end I found myself wondering if some of the earlier songs could have been cut.
If you're near the Hippodrome Casino, and prefer a show-tune to a slot pull, I would definitely recommend a cocktail at the Lounge-like theatre as you enjoy Miss Nightingale.
Cabaret, fun, cocktails, laughter - an unexpected show that blew my mind! The lead actors were brilliant and I couldn't recommend this more, what a show!!!!
I've seen the show a couple of times and its a fantastic piece of theatre. Both times I got completely wrapped up in the story and didn't eant it to end. I was certinly humming a few of the tunes on the way home - they're pretty catchy!