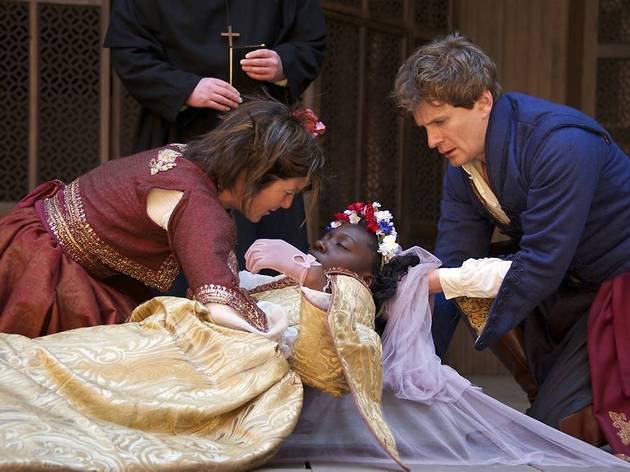 Beatrice and Benedick are Shakespeare's ripest, wittiest lovers. But if David Tennant and Catherine Tate have first-night nerves about playing them in this week's other major production of their sunkissed comedy, they should avoid the Globe like the plague.
Eve Best and Charles Edwards are gorgeously well-matched and sublimely ridiculous as the couple who, in denial about their mutual attraction, make war like others make love.
Under Mike Britton's graceful orange trees, Best's Beatrice is a sunburned, eccentric singleton who loves the sound of her own voice so much that she's utterly comfortable in her role as comedienne-in-chief to her less gifted family.
There's obviously history between her and Charles Edwards's wonderful, debonair Benedick, who's smooth enough to be a man for all ladies rather than a man for none. But each reveals a heart of gold beneath the hilarious vanity and one-upmanship. They deserve each other so completely and misunderstand each other so persistently that it's no wonder the audience burst into rapt applause when they finally complete their brilliantly reluctant trip to the altar.
Jeremy Herrin's energetic, over-directed production overdoes it on the slapstick. The more conventional nuptials between Beatrice's cousin, Hero, and Benedick's best pal provide drama and danger when Claudio is duped into chucking her at the altar. Philip Cumbus's Claudio is a chastened young hothead, but it's ludicrous to have Ony Uhiara's Hero impersonating her own corpse to punish him.
The joi de vivre is dampened by a bunch of 'comic' policemen who are anything but: Paul Hunter ingeniously plays Dogberry as a strutting vertically-challenged try-hard with Tourettes, but it doesn't make these long-winded scenes pass any faster. As always at the Globe, the final dance is a treat: it, and Best and Edwards are the only things worth making much ado about.