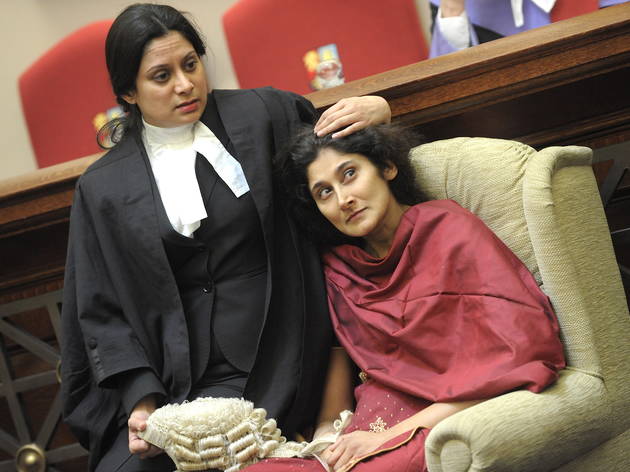 Site-specific theatre tends to be at its driest when a play gets plonked in the actual setting of its story. Playing Jabine Chaudri's legal drama in the disused courtroom above Brown's restaurant mainly serves to show it 'My Daughter's Trial' as unconvincing, bloated and overstewed.
Defence barrister Parveen Akhram (Goldy Notay) is having a terrible day. In court, she's up against an ex – the man she left for an arranged marriage that subsequently crumbled – and the case in hand is all too close to old wounds. At home, her mother is suffering from paranoid schizophrenia and her father is suffering from her mother. She's no choice but to take mum to work.
Chaudri, a barrister herself, concentrates on arranged marriage, but presents too clear-cut a case against. It's also too blinkered a focus, ignoring fascinating – and pressing – questions about the law in multicultural Britain.
Mostly though, 'My Daughter's Trial' fails as drama. It's crammed with handy conveniences, heavy with exposition and psychologically unpersuasive: the stuff of soap, really.
Even as straightforward legal drama, it falters: the defendant opts not to testify and the case remains rather unresolved. Janet Steel's production is neat and tidy enough, particularly when handling two locations simultaneously, but her cast tend towards emotional outpouring. Matt Trueman
Rating Breakdown
5 star:

0

4 star:

3

3 star:

0

2 star:

0

1 star:

0
Had the pleasure of seeing this on Wednesday night. Great production - superb cast - innovative/ compelling - highly recommended!
Exceeded my expectations, a very moving storyline. I thought the acting was brilliant, I agree with Abdul's review the 3 who stood out were Parveen (Goldy Notay) & her parents (Sakuntala Ramanee & Narinder Samra) I loved the venue, it was very small & intimate & I really felt part of the courtroom. Would totally recommend people to go and see this.
Wasn't sure what to expect but happy to say that this was a great play - very evocative and emotional. Not seen a play covering the theme of mental illness - usually a taboo subject and felt the play brought to life the actual reality of a family living with someone who has schizophrenia and the impact it has. The 3 characters that stood out were Parveen, the mother and father. Great acting from all 3. Loved the way the play wove 2 story lines together. Whilst the subject matter may be hard to digest, the fact that some tough emotional scenes were interspersed with humour ensured that you didn't leave the show feeling depressed - rather quite the opposite. The ONLY part that i can agree with Trueman's review is the actual setting of the play in a courtroom - feel that this was a bit OTT and would be better staged in a theatre making full use of stage lighting etc. Definitely recommend to all.