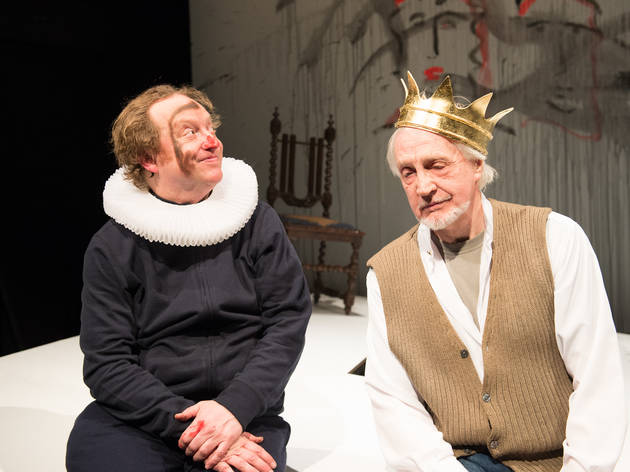 Time Out says
Told by an Idiot's devised comedy 'My Perfect Mind' is a sort of bonkers deconstructed version of those raconteur style shows that pop up at the Edinburgh Fringe, wherein a dignified elderly thesp shares long-winded tales of their usually very former glories.
Here, the thesp in question is 76-year-old Edward Petherbridge: former RSC stalwart, recent stroke sufferer and originator of the part of Guildenstern in the original 1967 National Theatre production of Tom Stoppard's 'Rosencrantz and Guildenstern are Dead'. And certainly there is more than a splash of Stoppardian mischief to Kathryn Hunter's highly amusing production, which gleefully concerns itself with Petherbridge's failures over his successes.
Gamely parodying himself as a dapper, distracted luvvie, Petherbridge is paired on Michael Vale's skewiff set with Paul Hunter, his co-star in the disastrous 2010 West End musical 'The Fantasticks'. Through a series of extravagantly self-mocking vignettes, silly wigs, 'borderline-offensive' accents and rampant fourth-wall breaking, the pair re-visit various key moments in Petherbridge's life and career, most notably the stroke he suffered while in rehearsals to play the title role in a 2007 New Zealand production of Shakespeare's 'King Lear', which left him temporarily paralysed but strangely able to remember the entire part.
There is an earnest intent behind 'My Perfect Mind''s madcap cocktail of memory and imagination, but its celebration of a life in the theatre is the very antithesis of stuffy luvvie backslapping. Spry as he is, odds are this will be Petherbridge's last great role, but talk about a blaze of glory. Andrzej Lukowski
Details
Best selling Time Out Offers