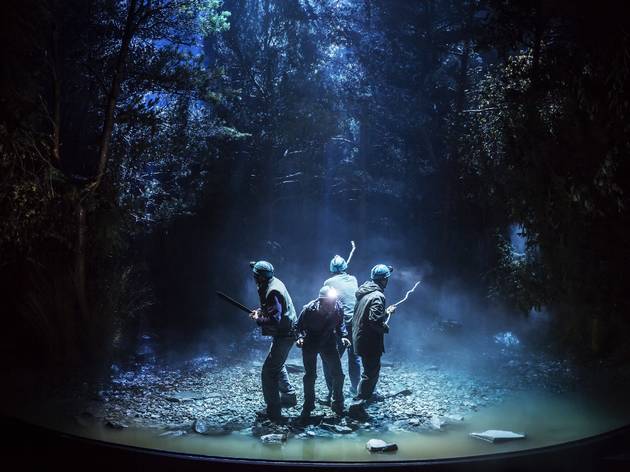 1/5
© Johan Persson
Adrian Edmondson (Gordon), Miles Jupp (Angus), Neil Morrissey (Neville), Robert Webb (Roy)
2/5
© Johan Persson
Adrian Edmondson (Gordon), Miles Jupp (Angus), Neil Morrissey (Neville), Robert Webb (Roy)
3/5
© Johan Persson
Adrian Edmondson (Gordon), Miles Jupp (Angus), Neil Morrissey (Neville), Robert Webb (Roy)
4/5
© Johan Persson
Adrian Edmondson (Gordon), Miles Jupp (Angus), Neil Morrissey (Neville)
5/5
© Johan Persson
Miles Jupp (Angus)
Comedy gods Ade Edmondson, Neil Morrissey, Miles Jupp and Robert Webb appear in the West End transfer of this play about businessmen on a doomed bonding trip.
Q: Is there a collective name for a group of second-favourite members of beloved sitcom double-acts?

A: There is! It's 'The cast of "Neville's Island"', the West End comedy revival staring 'Bottom's Ade Edmondson, 'Men Behaving Badly's Neil Morrissey and 'Peep Show's Robert Webb – plus versatile comic and small-screen stalwart Miles Jupp.

This comforting assemblage of familiar blokes ensures things rarely slips below 'likeable'. But it doesn't get much better than that.

Concerning four middle managers on the away-day from hell, the enduring popularity of Tim Firth's 1992 play can be attributed to the fact that the concept of corporate bonding – a newish thing back then – has stubbornly refused to crawl back into the hole it came from. And Firth has taken some care to update his work, tweaking the text to explain things like the hapless quartet's lack of mobiles as they accidentally strand themselves on a remote Lake District islet.

But Firth's sub-Ayckbourn script is by far the biggest problem with Angus Jackson's production. Initially fun, it turns into a monotonous succession of false alarms, red herrings, and the veritable deus ex machina factory that is the prodigiously well-stocked rucksack belonging to Jupp's highly strung Angus.

The best thing about the show is Edmondson's snarling, bitter Gordon, a miserable loner who needles everyone around him with a mix of mean-spirited bullying, rancorous self-loathing and undeniable accuracy. You can feel his anger, his misery, his isolation – he's a snarling old tiger in Robert Innes Hopkins's lush, wooded set.

Though it's hard not to derive some delight from their mounting misery, Jupp and Morrisey's Neville feel too much like interchangeable everyblokes. Webb is decent but a touch wasted in the role of Roy, a born-again Christian with a shady past who doesn't have that much to do until the end.

If they'd all chew on their characters with the same relish as Edmondson then maybe we'd have something a bit more piquant. But as it is Angus Jackson's production rolls by in an unmemorable blur of half-smiles and almost-schadenfreude.