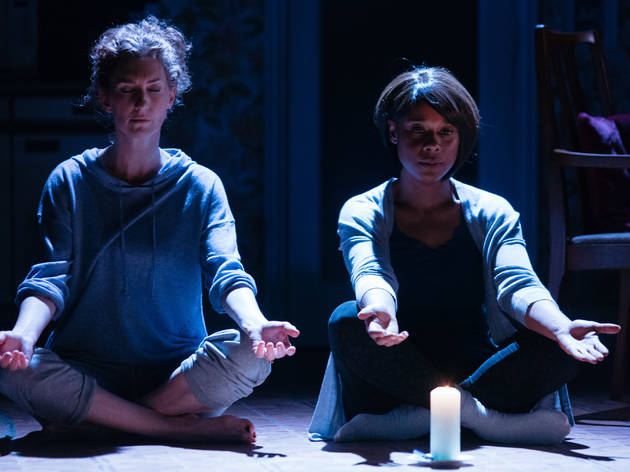 1/11
© Helen Murray
Franc Ashman as Lorraine and Hattie Ladbury as Sophie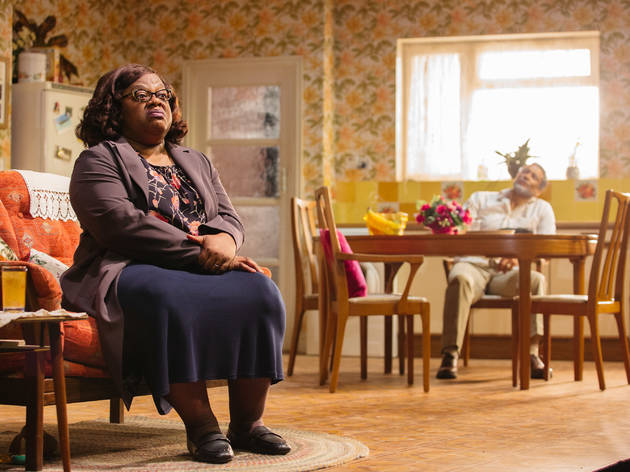 2/11
© Helen Murray
Cecilia Noble as Aunt Maggie and Ricky Fearon as Uncle Vince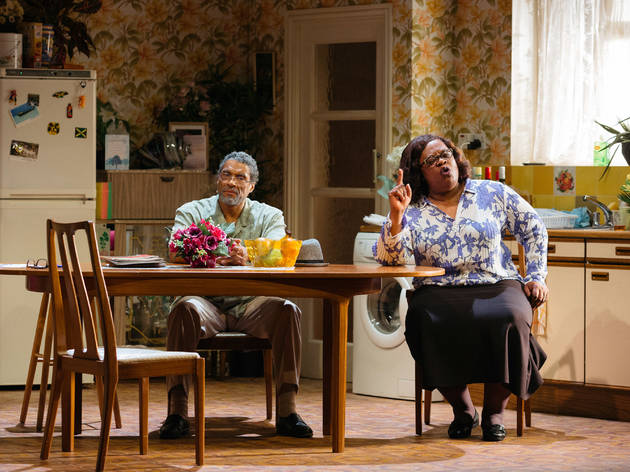 3/11
© Helen Murray
Cecilia Noble as Aunt Maggie and Ricky Fearon as Uncle Vince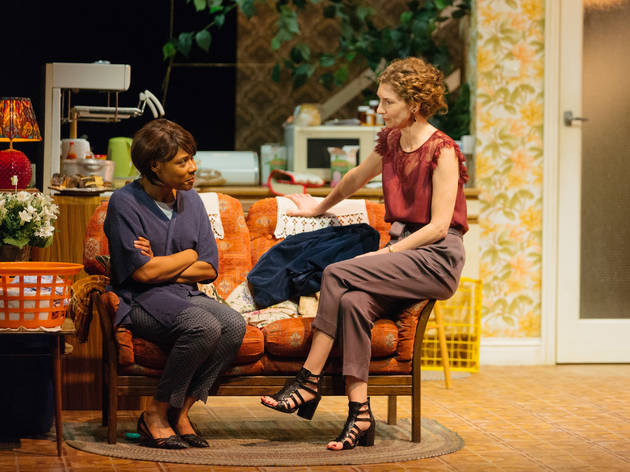 4/11
© Helen Murray
Franc Ashman as Lorraine and Hattie Ladbury as Sophie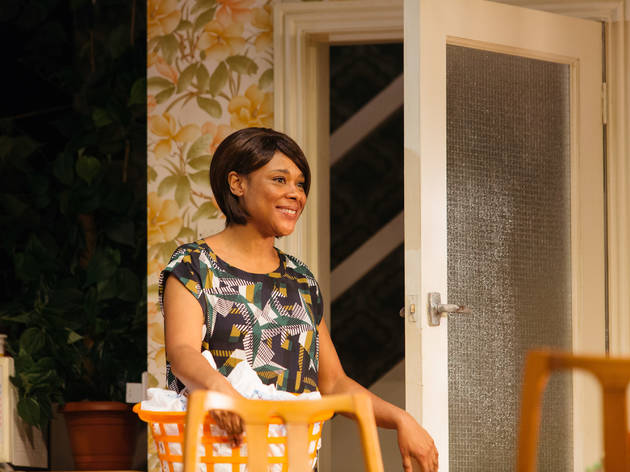 5/11
© Helen Murray
Franc Ashman as Lorraine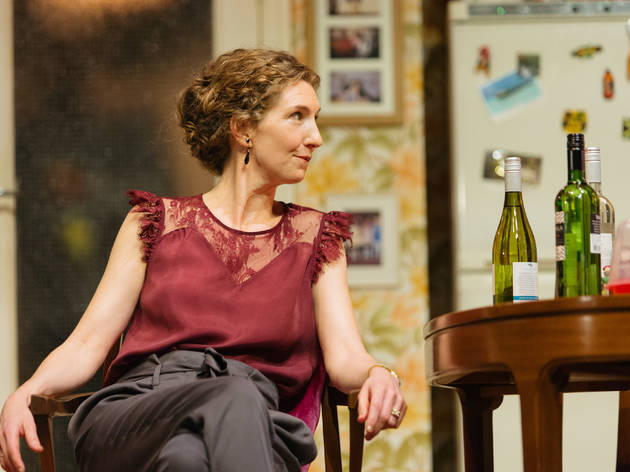 6/11
© Helen Murray
Hattie Ladbury as Sophie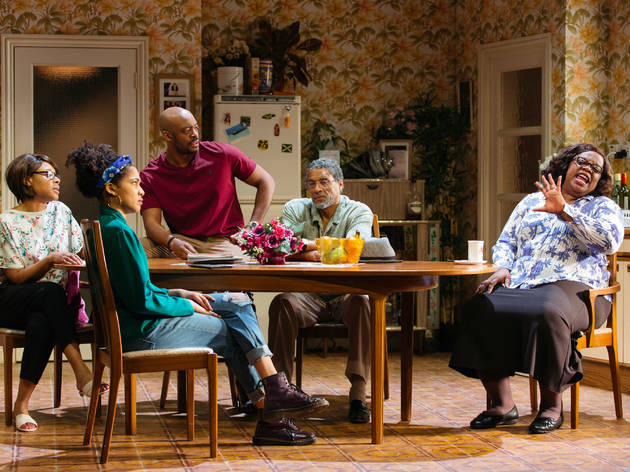 7/11
© Helen Murray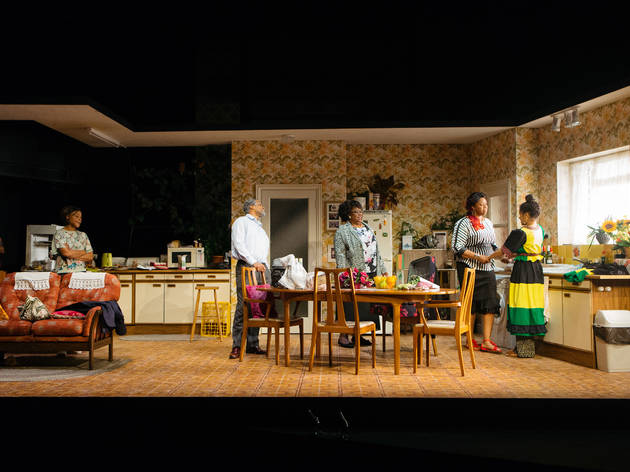 8/11
© Helen Murray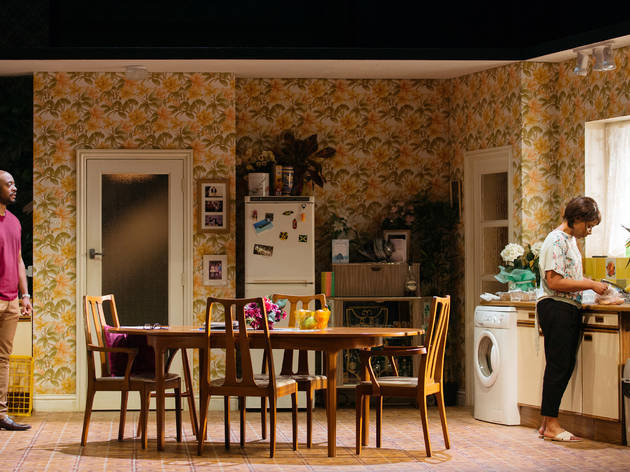 9/11
© Helen Murray
Oliver Alvin-Wilson as Robert and Franc Ashman as Lorraine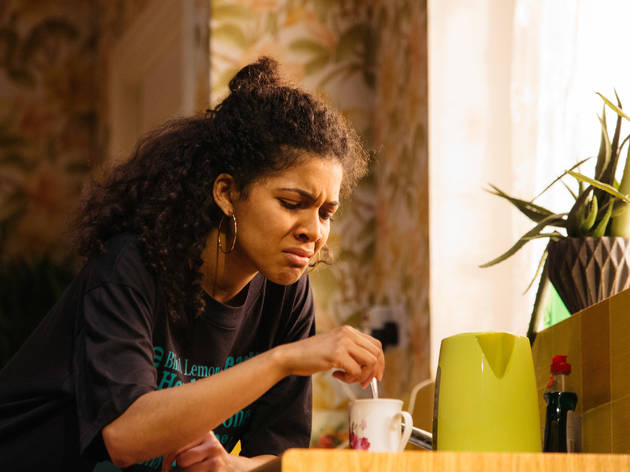 10/11
© Helen Murray
Rebekah Murrell as Anita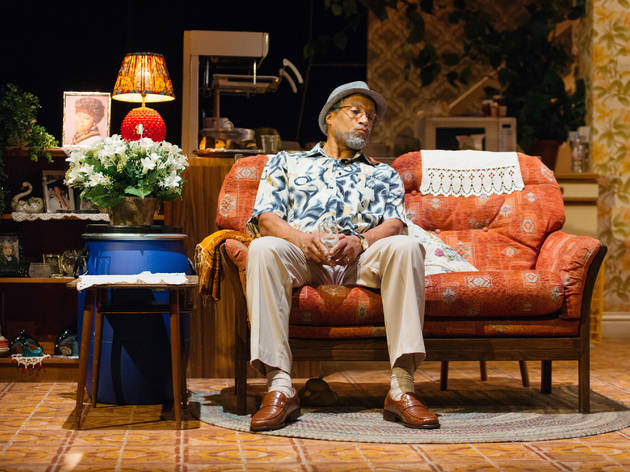 11/11
© Helen Murray
Ricky Fearon as Uncle Vince
Natasha Gordon's intense, moving debut play set at a Jamaican wake
'Nine Night' transfers to Trafalgar Studios in December. This review is from its run at the National Theatre, Dorfman, in May
The hectic sounds of dancehall music bleed into the British kitchen in which Natasha Gordon's play unfolds. It comes from a room beyond, where an unseen crowd are celebrating the Jamaican mourning tradition of Nine Night. By staying on the edges of the party, Gordon's intense, moving play pulls the focus tightly on a grieving family, and the mingled strains and comforts that tradition offers.
For Lorraine (Franc Ashman), hosting the nine nights is a grind, a final torment after her long stint nursing her dying mother, and it means being treated like a skivvy by her extended family and friends. She's affectionately bullied into keeping tradition alive by her mother's cousin Maggie – with her broad patois pronouncements, delivered in a high tone of seriousness and punctuated with appeals to God and the heavens, Cecilia Noble gets audience laughs pretty much whenever she opens her mouth. Her narrative about putting Vaseline on her dead friend's feet to get the stockings on sent shocked convulsions through the audience. As does her biting remark that her Freedom Pass is the only thing she ever got out of discrimination-ridden Britain.

Gordon's humour isn't cautious: it's unafraid to poke at racism, colourism and the insults traded as Jamaica and Britain stare each other down, across centuries of brutal and oppressive history. This history is embodied in British-born Lorraine and her brother Robert's (Oliver Alvin-Wilson) fraught relationship with their Jamaican sibling Trudy (Michelle Greenidge), each side envying the other, each seeing the other's opportunities. Lorraine's daughter Anita (Rebekah Murrell) starts out frustrated by the wake that's taken over her grandmother's house. Then she's swept up in the whirlwind joys of belonging, embraced by a culture that claims her for its own.
At under two hours, 'Nine Night' is just too short to explore all the ideas and stories it gestures at. It throws out strands that don't get resolved, particularly Robert's ambitions to buy the house, and his wife's surprise pregnancy. Roy Alexander Weise's naturalistic production has a screened-off upstairs space that feels strangely underused – I kept expecting it to burst into haunted life.
But these issues are small next to the (literally) knife-edge power of a final scene where Maggie, guardian of traditions, becomes possessed by departing spirits. It says so much about how we rely on family for validation, for confirmation of our identity, placing a weight of need on them that they sometimes just can't fulfil. It also points to the cathartic power of ritual in a culture whose burial rites are miles away from traditional England's sad, grey funeral teas.
Rating Breakdown
5 star:

0

4 star:

2

3 star:

0

2 star:

0

1 star:

0