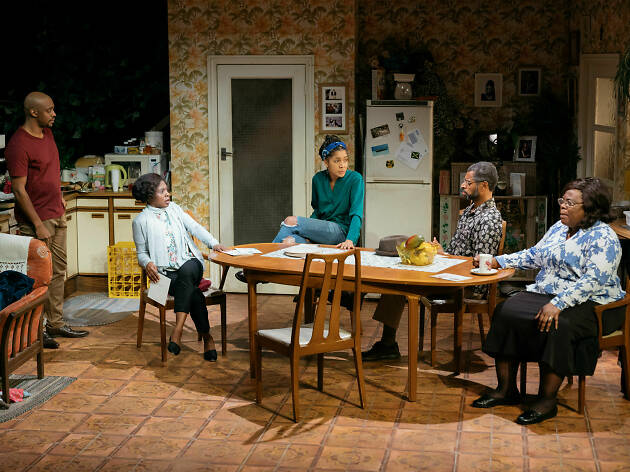 Time Out says
Nine Night review: Natasha Gordon's powerful family drama deservedly hits the West End
The fact that actor Natasha Gordon's debut play as a writer is the first by a black British woman to hit the West End is both wonderful and shaming. 'Nine Night' is an extremely good piece of writing; still, only the most demented champion of Theatreland would possibly suggest that no previous work in the long history of drama by black British women deserved this.
Still, it's happened at long last and it's cool to see Gordon enjoying this victory lap herself. She didn't star when 'Nine Night' premiered at the National Theatre' earlier in the year. But now she takes over the role of Lorraine, turning in a sturdy, eventually heartbreaking turn as the sensible youngest daughter of Gloria, a beloved Jamaican matriarch who passes away, unseen, in her suburban London home at the start of the play.

In fact a lot happens offstage in Roy Alexander Weise's beautifully judged production. The play takes its name from a Jamaican mourning ritual, but we never see the wake itself. Gloria's immediate family are forever taking refuge in her kitchen as the treacly throb of music filters in from busier rooms – there is the sense that they are the restless, displaced spirits, while the unseen Gloria remains the assured lynchpin of the family.

'Nine Night' is absolutely not the first drama about a fractious, semi-estranged family who drip drip revelations out over the kitchen table. But few feature so many characters drawn so exquisitely. From Gordon's Lorraine, outwardly the sensible, sane one, but inside screaming with loss, to Oliver Alvin-Wilson as her blokey, pathologically ill-at-ease brother Robert, every character is sharply and sensitively created piece of the emotional puzzle. The play has a lean 100-minute run time, and a couple of characters only have comparatively minor roles. But what they do say, matters – Gordon has a great sense for the bizarre dynamics of family.

And, of course, it's a Jamaican family. Anybody from an immigrant household (hello!) will be able to relate to Gordon's acute evocation of a generation gap that yawns across actual nationalities. But 'Nine Night' is more specific than that. It is a look at the legacy of the Windrush generation, what they took with them, and what they left behind. And it features a comic masterstroke of a performance from Cecila Noble as Lorraine's stony-faced Jamaican auntie, Maggie. Her outrageous self-importance and constant, largely useless advice are so consistently sidesplitting there's the worry she might overpower the rest of the play. But actually the general sense of hysteria her presence engenders is effective in keeping us subtly unbalanced throughout, to such a point that a pivot towards the supernatural at the end feels both reasonable and powerful.

It's important that 'Nine Night's place in history is appreciated: but it's at least as important to remember that it's a bloody good play.
Details
Best selling Time Out Offers