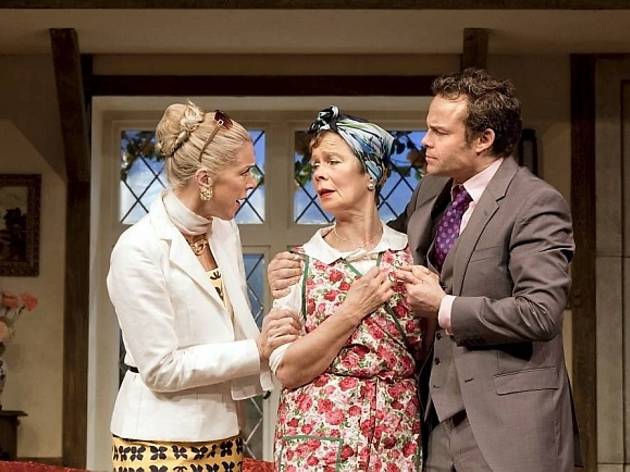 Michael Frayn's trouser-dropping sex farce about a bunch of hopeless actors stuck on tour in a trouser-dropping sex farce is infinitely superior to the crap comedy it portrays. Deliciously witty and painfully accurate, it is, in a parochial sense, the ultimate West End comedy – a brilliantly structured three-act in-joke about luvvies backstage.
It's also casting-couch gold: packed with gloriously gosspiy cameos in which the great and the good can transform years of pain at the hands of egotistical directors and two-timing colleagues into door-slamming, slapsticking fun.
Lindsay Posner's tightly wound revival, which transfers from a sell-out run at the Old Vic where it was well-oiled by critical praise, goes down like an eager starlet with the willing audience – many of whom evidently remember it from its five-year run at the Savoy in the early 1980s.
But there's nothing lonelier than shared laughter when you don't quite get the joke. Frayn's award-winning play is performed with military precision, stuntsmanship and vintage style by the highly committed ensemble, which includes Celia Imrie and Janie Dee. Peter McKintosh's set, which spins around to show you the actors doing the play from the front, the back and then the front again, is perfectly awful and awfully perfect. And I doubt I will ever see a finer interpretation of a cuckolded actor jumping up a staircase with his shoelaces tied together then falling spectacularly down it than Jamie Glover, playing Frayn's dim, cocky leading man.
But farce can be vulgar, sadistic and very stagey. The characters are types; the verbal wit a blunt instrument in the hands of the violent plot. Frayn's contribution to the genre gets its kicks the old-fashioned way: by sticking a cactus up the director's arse or having the fit-but-dim leading lady (played to gorgeous, goldfish-like perfection by newcomer Lucy Briggs-Owen) crawl around in all fours in her scanties looking for her contact lenses.
To be as great as its five-star reviews proclaim it is, the actors need to add real feeling for the characters to the virtuosic technical ability that helps them pull off the scene when the actors, seen backstage at a grim matinee, slaughter their play and come dangerously close to murdering each other – a masterpiece of mime. That feeling for the characters – their motivation, their rivalries, and the precise reasons that they follow each other over the top into sardine-hurling madness – just isn't quite strong enough for my taste.
The pratfalls are amazing. But this hit production of 'Noises Off' offers all the convulsions without all of the pleasure.