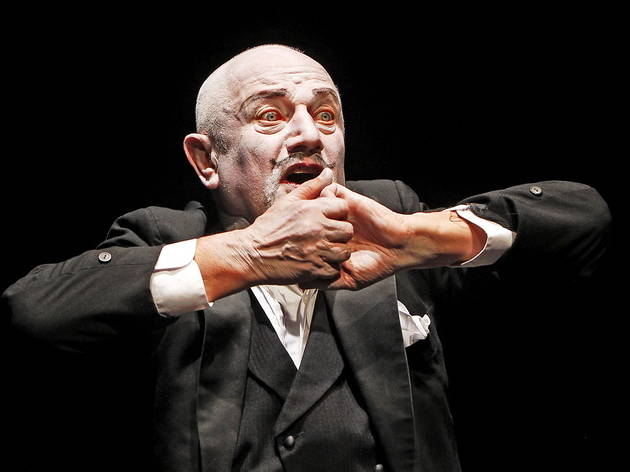 Thanks to his inclusion in Theatre Studies A-level alongside Brecht and Stanislavsky, Steven Berkoff has long enjoyed a reputation out of all proportion to his achievements. The flipside is that he also suffers more cynicism.
'One Man' presents two short monologues, padded out to 90 minutes with a generous interval.
The first is an adaptation of Edgar Allan Poe's 'The Tell Tale Heart'. In white face and an antique black tie, pinned in the bright circle of a single spotlight, Berkoff, with his sonorous voice and trademark physicality suggests an animated monochrome painting by Francis Bacon. And it fast becomes clear that, for Berkoff, narrative is simply something off which one hangs a progression of tics and turns.
It is the second piece, 'Dog' (written and performed by Berkoff) which has really dated, though. It depicts an '80s football hooligan living in pre-gentrification Shoreditch with his dog, Roy, whom Berkoff also plays. For all the actorliness going on here, and there is plenty, 'Dog' is little more than
a kind of proto Al Murray, Pub Landlord, inducing in the audience the aggressive laughter that suggests they might be just as happy watching a real racist doing impressions of 'pakis'.
Berkoff is very good at what he does, but, since what he does is being Steven Berkoff, this isn't much of a revelation.