Open-air theatre in London
Dig out the kagoul; London's open-air theatre is worth risking the rain for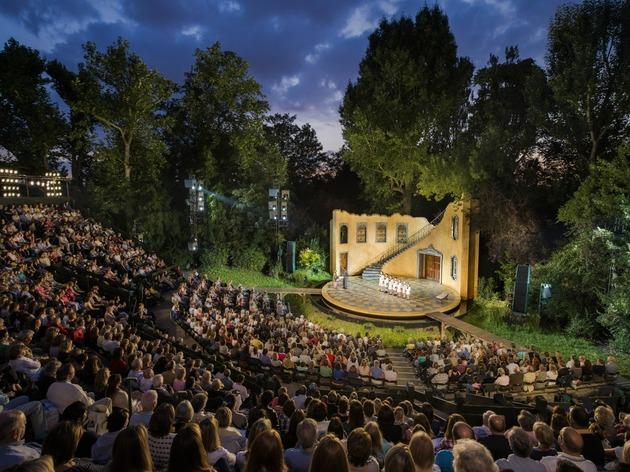 Welcome to our round-up of open-air theatre events and venues in town. You'll find London's best outdoor productions at venues as world-famous as Shakespeare's Globe, in parks as pretty as Regent's Park or at festivals as vibrant as the Greenwich and Docklands International Festival. Not sure what you'll need for an open-air theatre trip? Then don't miss our guide to practical open-air theatre info, and be sure to check back here as soon as the weather improves for all the best open-air theatre in London.
Shakespeare's Globe
As if Michelle Terry wasn't giving herself a difficult enough job by kicking off her tenure at the Globe with an actor-led (ie there's no formal director) production of 'Hamlet', then she's having the same company of actors – including herself – tackle 'As You Like It' in a similar style, to run in rep…
Read more
Michelle Terry is opening her inaugural season at the Globe with a populist one-two of 'Hamlet' and 'As You Like It' that should get bums on seats no problem. But this is a bit more of a risk: Barrie Rutter – formerly of Northern Broadsides, and one of the few people in the Terry season to work with Emma Rice – tackles Shakespeare and John Fletcher's little-loved late romance 'Two Noble Kinsmen'…
Read more
One of Shakespeare's most enigmatic plays, 'The Winter's Tale', is a story that's tinged with magic. A jealous king destroys his family, until the passing of time and the power of the gods helps reunited this royal clan…
Read more
Shakespeare addressed many of his sonnets to 'The Dark Lady'. But who was she? One likely candidate is Emilia Bassano, a published poet and member of court. Morgan Lloyd Malcolm's new play reveals a forgotten woman, and pulls her out from Shakespeare's shadow to reveal her life and work. Nicole Charles directs.
Read more
Matt Hartley's new drama is a fictionalisation of the remarkable true events that took place in the Derbyshire village of Eyam (pronounced Eem) in 1665, wherein the local Reverend William Mompesson took a series of remarkable decision to attempt to combat the spread of bubonic plague in the village and beyond…
Read more
See more on open-air theatre in London
Other open-air shows in London
This swashbuckling family show will fill the hidden gardens of St Paul's Church, in Covent Garden. Iris Theatre's gender-swapped adaptation of Dumas's novel follows plucky young d'Artagnan as she fights to become the first female musketeer. Sword fights, masked balls and and adventure ensue. Paul-Ryan Carberry directs.
Read more