Open-air theatre in London
Dig out the kagoul; London's open-air theatre is worth risking the rain for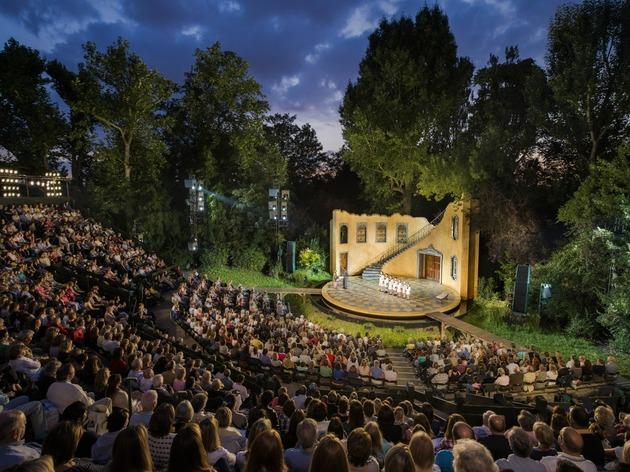 Welcome to our round-up of open-air theatre events and venues in town. You'll find London's best outdoor productions at venues as world-famous as Shakespeare's Globe, in parks as pretty as Regent's Park or at festivals as vibrant as the Greenwich and Docklands International Festival. Not sure what you'll need for an open-air theatre trip? Then don't miss our guide to practical open-air theatre info, and be sure to check back here as soon as the weather improves for all the best open-air theatre in London.
Shakespeare's Globe
You would have to have been exiled to Verona to be unaware of the Globe's recent troubles…
Read more
Here it is, then. Barely a year after she directed her first Shakespeare play for the Globe, this 'Twelfth Night' marks current theatre boss Emma Rice's last Shakespeare in the main theatre, and probably - pending on her final, indoor season - her last one at the Globe generally (and perhaps ever)…
Read more
A Cornish King marries his enemy's sister in 'Tristan & Yseult', a reimagining of the classic medieval romance that's seen through the eyes of a cuckolded husband…
Read more
After his explosive gangland reimagining of 'Cymbeline', last year's 'Imogen', Matthew Dunster is reimagining well-loved comedy 'Much Ado About Nothing'. It's a play that's famous for its pair of warring lovers, Beatrice and Benedick. Dunster's amped up the tension by relocating their sparring to 1910 Mexico, a country locked in revolution.
Read more
See more on open-air theatre in London
Other open-air shows in London