Heads up! We're working hard to be accurate – but these are unusual times, so please always check before heading out.
London's open-air theatres: what you need to know
Plan ahead and find out what you can and can't do at the city's alfresco performance spots
We provide the answers to your questions about picnics, booze, kids, camping chairs, rain, tickets and more. You'll be the most prepared visitor at any of London's outdoor performance venues.



Regent's Park Open Air Theatre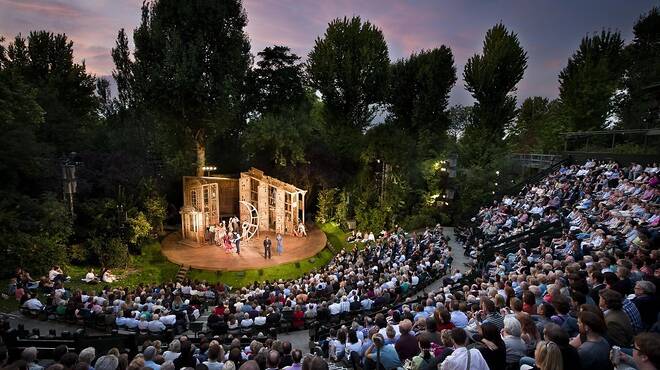 Can you take in your own drinks?
Yes, drinks can be purchased elsewhere however the theatre boasts its own picnic lawn, barbecue, buffet and the West End's longest bar, stocked with all your favourite summer drinks – including plenty of Pimms! Drinks can be taken into the auditorium.

What should you wear? What if it rains?
You are welcome to dress as casually or as smartly as you like. However, the theatre is entirely outdoors so please remember to come prepared for all types of weather, including sun cream, waterproofs and jumpers. The theatre also sells rugs, caps and ponchos. On average, 94 per cent of our performances are completed each season. In the event that the performance doesn't go ahead, or is abandoned due to bad weather, you can exchange your tickets for a future performance. No refunds are given.

Can you bring the kids?
Yes, although a ticket must be purchased for every person attending the performance regardless of age. Student discounts are available but babes in arms are not permitted to the theatre for any production.

Can you drop in on the off chance and get a ticket?
Yes, although we would highly recommend booking in advance for weekend performances as they are particularly popular.

Visit openairtheatre.com for more information.
The Scoop


Can you take in you own drinks?
Yes, but no glass is allowed. Some people bring picnics and food and drink is available at the entrance, including popcorn, crisps, and a selection of hot food, plus a bar selling soft and alcoholic beverages.

What should you wear? What if it rains?
It is an outdoor amphitheatre with no cover so dress for the weather. In the event of heavy rain the show may have to be cancelled; in light to medium rain, the show normally continues. A cancellation decision will be made 30 minutes before the performance is due to start. We do allow umbrellas but ask for consideration as they can block the view.

Can you bring the kids?
Yes, absolutely. Parents are asked not to bring prams to the venue as we cannot guarantee ample space for these. Whilst most performances are suitable for families with kids of all ages, some have particular age recommendations. Please check the website for more information.

Can you drop in on the off chance and get a ticket?
All events are free so no tickets are required. Seats will be allocated on a first come, first served basis. Once capacity is reached, admission will be on a one out, one in basis.

What is the seating arrangement?
The Scoop is a sunken amphitheatre and the seating consists of rows of deep stone steps (with no back support) made of Irish Blue limestone. People can bring their own cushions or hire them at The Scoop at More London. The venue has wheelchair access – to ensure a suitable space can be reserved for wheelchair users, please contact More London on 020 7403 4866.

Visit www.morelondon.com/scoop for more information.
Shakespeare's Globe


Can you take in your own drinks?
Yes you can, however glass isn't permitted inside the auditorium, so make sure you transfer any drinks into plastic bottles or containers before entering. Refreshments are available from the Swan at Shakespeare's Globe Bar, as well as the coffee cart in the main foyer and carts outside the theatre on the piazza area.

What should you wear? What if it rains?
Performances carry on regardless of the weather. All seats are covered, but the theatre (especially the standing area) is open to the elements. Please come prepared for all weather conditions. Umbrellas are not permitted but rain macs may be purchased in the theatre.

Can you bring the kids?
Under-threes are free when admitted. A ticket is required for anyone aged three and over, irrespective of whether they occupy a seat or not. If your child cries or causes a disturbance you may be asked to leave until they are rested so as not to disturb the performance. Please advise the ticket office at the time of booking.

Can you drop in on the off chance and get a ticket?
This would be entirely dependent on the performance (evenings and weekends are particularly popular). We would always advise booking in advance to avoid disappointment. If a show is sold out, Shakespeare's Globe does operate a returns queue which starts roughly an hour before the performance.

What is the seating arrangement?
Seating consists of wooden benches, many without back supports. Cushions and back supports may be rented. Sitting is not permitted in the yard. Please do not bring shooting sticks or folding chairs.
Visit www.shakespearesglobe.com for more information.