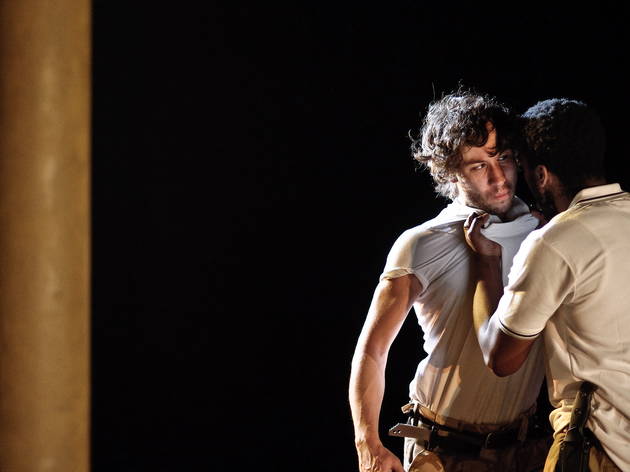 The Peckham-based CLF Art Cafe continues to impress as a valuable new space with this confident staging of Shakespeare's tale of murderous obsession and sexual intrigue. After a slow start, it rarely puts a foot wrong.
Anthony Green, making his directorial debut, doesn't ignore the plot's pall of racism. But his production is most vivid in its testosterone-fuelled vision of a Venetian army stuck in Cyprus, far from home and suffering from a dangerous case of cabin fever.
A sickly atmosphere of pent-up machismo pervades this khaki-clad, unobtrusively modern update. The talented young cast restlessly pace the sparse traverse stage, swigging beer and falling into short, nasty fights. Othello does press-ups as Iago poisons him against Desdemona.
Harriet Green gives the maligned wife some backbone (and sexual sizzle with Othello), but her situation among this fractious band of brothers feels precarious from the outset. She and Izabella Urbanowicz's Emilia are moving in their final scene together as two women shadowed by violence.
Stagings of Othello can too easily substitute volume for passion, which is sometimes also a problem here. Zackary Momoh is a powerful, muscular presence as the titular Moor, but the pitch of his performance leaves him little else to do after the interval but shout.
Momoh is at his best in his scenes with Jack Johns's open-faced Iago – cautious but conflicted. For his part, Johns is believably likeable as the vengeful, calculating ensign, with flashes of cruelty that make his charm all the more disturbing.