Our Ladies of Perpetual Succour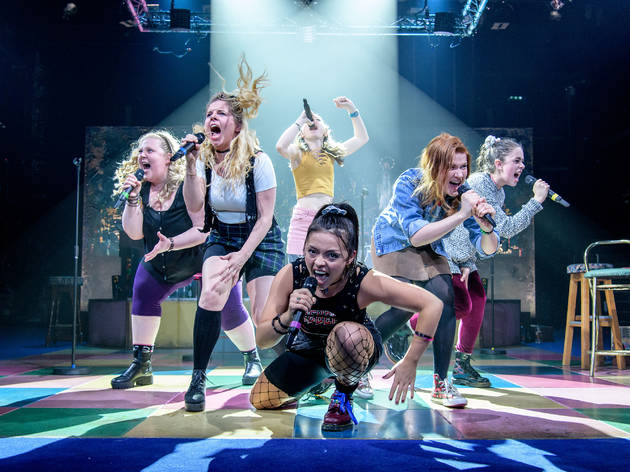 1/4
© Manuel Harlan
Caroline Deyga (Chell), Dawn Sievewright (Fionnula), Frances Mayli McCann (Kylah), Kirsty MacLaren (Manda), Karen Fishwick (Kay) and Isis Hainsworth (Orla)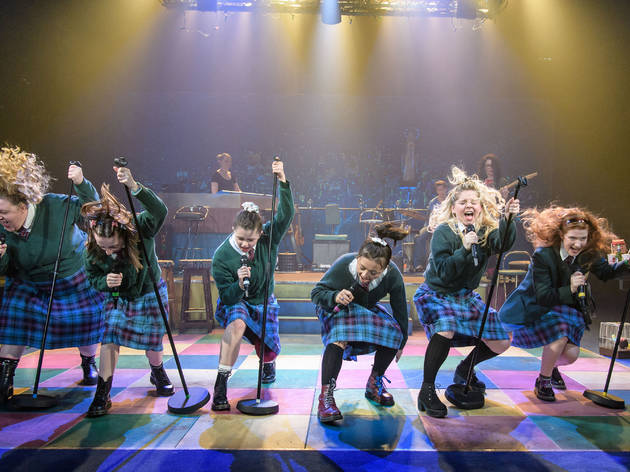 2/4
© Manuel Harlan
Caroline Deyga (Chell), Kirsty MacLaren (Manda), Isis Hainsworth (Orla), Frances Mayli McCann (Kylah), Dawn Sievewright (Fionnula) and Karen Fishwick (Kay)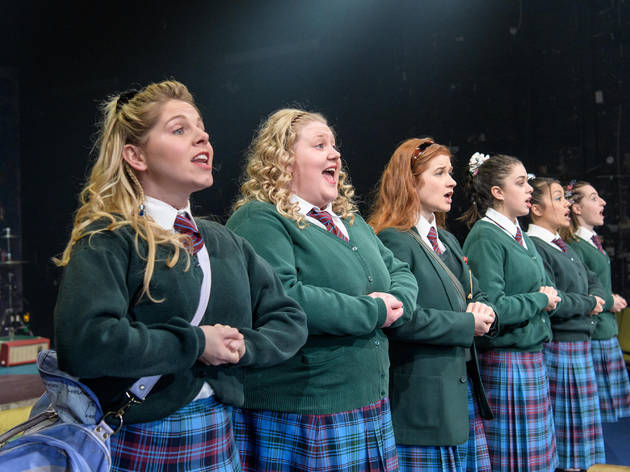 3/4
© Manuel Harlan
Dawn Sievewright (Fionnula), Caroline Deyga (Chell), Karen Fishwick (Kay) Isis Hainsworth (Orla), Frances Mayli McCann (Kylah) and Kirsty MacLaren (Manda)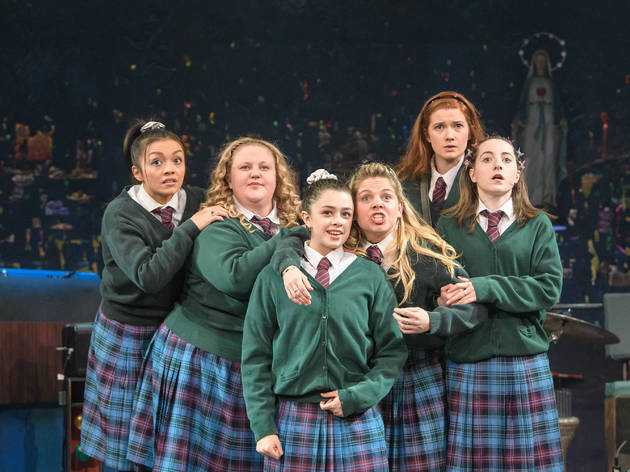 4/4
© Manuel Harlan
Frances Mayli McCann (Kylah), Caroline Deyga (Chell), Isis Hainsworth (Orla), Dawn Sievewright (Fionnula), Kirsty MacLaren (Manda) and Karen Fishwick (Kay)
The National Theatre of Scotland's joyously raucous production finally makes it to the West End
After a hit run at the National Theatre – and a 2017 Olivier Award for best new comedy – 'Our Ladies of Perpetual Succour' is back to smash up the West End.
And its sextet of Catholic schoolgirls heroines on their way to a choir competition in Edinburgh are still a sweary, funny, brilliant breath of fresh air. The joy of Lee Hall's adaptation (of Alan Warner's novel 'The Sopranos') is its lack of judgement. The six teenagers knock back Sambuca shots and curse like troopers, and there's not a sniff of moralising.
Hall doesn't soften the hardships in their lives, but they're individuals, not Daily Mail scare headlines. The cast – most of whom originated these roles – blaze across the stage. They're a tremendous ensemble, with Dawn Sievewright particularly stand-out as Fionnula. She movingly peels back her tough-girl act as she falls for Karen Fishwick's Kay.
Vicky Featherstone's swagger of a production rocks upwards and outwards, with tables on the Duke of York stage for some of the audience adding to the club atmosphere. An all-women, three-piece band blast out ELO numbers as the girls swap close-harmony choral arrangements for karaoke. It's a soundtrack you'll want to sing along to, a joyous punch in the air.
These six loud and funny girls, with their flashes of vulnerability, might be at a Catholic convent school, but 'Our Ladies of Perpetual Succour' is about love and friendship, not guilt. This big-hearted show captures that giddy head-rush of being young, fearless and living in the moment. It's a musical mic-drop with moments of real tenderness.
Average User Rating
3.3 / 5
Rating Breakdown
5 star:

12

4 star:

9

3 star:

8

2 star:

6

1 star:

7
I was so excited to see this show- the premise was so appealing. However I was really disappointed. The cast are all very talented but their characters were so unlikeable. I found these ladies foul mouthed bullies who scorned intellect & aspirations. Really disappointed that they all got drunk into a stupor & engaged in sordid sexual activity that they would never consent to if sober. Girl power this is not. I found it a depressing reflection of peer pressure leading to self destructive behaviour. There's nothing liberating or life affirming in this sorry squalid tale. I expected a joyous musical celebration but although the musical numbers were great they were too few & far between. However I seemed to be in the minority. A lot of my fellow theatre goers seemed to love it & there was a decent standing ovation at the end.
I don't think I was really the intended audience for this play. I am certainly not prudish, and love a good smutty-joke, but saying f**k and sp**k twenty five times in a single sentence does not comedy make. I thought there were very nice moments, the naked man upside down with an arm for a ding dong was a particular highlight, and there were sad and touching moments too. Unfortunately, the plot was weak, the staging poor, and the characterisation brash. Certainly, the audience seemed to love it, and I am sure there is a big audience for this play, I just don't think I could, to use that awful term 'relate' to the situation or characters.
We walked out of this apology for a show and joined the conversation on the pavement outside with others who had done the same. As the great Stuart Francis's one-liner says: this play, like a fart in a lift, was wrong on so many levels. It was neither witty, intelligently written, or moving. It was disrespectful to working class kids. The play as far as we could bear to stay in our seats, had no dramatic development and no sympathetic characters, rather cartoons designed to a formula. We stuck it as long as we could, but eventually decided to leave when one character's soliloquy, designed to elicit our empathetic response, centred around her commentary on sexually abusing a dying cancer patient in hospital. There are many forms of good entertainment in London, some frivolous, some hard-hitting social commentaries. This isn't one of them. This is in my opinion the degrading adolescent fantasy of a fevered brain. The one-note joke was that Scottish working class convent schoolgirls are bawdy. Shock? Really.
The singing was OK and the music not memorable. I have given this one star simply because there isn't a space for Zero.
Above, you will find a button to click through that reads: Find Tickets. My advice is: Don't.
Ok, so the singing is great. But:
1. I'm Irish and even I struggled to follow their diction - many an American afterwards exited confused
2. If you are going to curse, learn from the likes of Roddy Doyle, The commitments (film) is a good example as to how a group of people use cursing, as part of their vernacular, with charm
3. There is nothing funny about raping a dying man, nothing....I nearly walked out at this point, but there was no easy way to do this.
4. Script was lacking and the decent jokes were lost in awkward change overs to sub-stories. Perhaps better character development may have happened with an interval. Therefore allowing time to set up the characters and hire a couple of male actors to smooth out clunky, male roles done by the girls.
5. Slightly tired of musically recycling songs to 'create a musical'. Perhaps a straight play, with some singing. Anyone who saw 'The Travesties' would have seen music used in a innovative and entertaining way.
6. I went to a catholic school and we were never allowed to go off without supervision before school events. So far more realitic first act,have them sneaking in booze into their drinks en route and character set up ending with them getting kicked out of the competition. Second half being the gang going on the batter in Edinburgh and how their journeys ends, as they move onto to life after school.
If you want real gross out comedy, save your money and go to Book of Mormons. Least there is a coherent story and real social commentary about religion....
I absolutely loved this show, it felt very new and unlike anything I have ever seen. I laughed continually for the entirety of the show (as did everyone at the performance I viewed) and can only assume that the people complaining in the comments section are prude. Every person I've spoken to about this show has praised it beyond belief, Fantasic! Great Cast too.
I went today with my partner. We both felt disappointed, 'though for different reasons. His hearing problems prevented him from comprehending much of what was being said, but he loved the music and singing which is really good, and he fell fast asleep for much of the 1 3/4 hours. I found the band music far too loud and had to hold fingers in my ears; worse I was bored and annoyed. There's almost story or plot, just the girls' individual teenage 'stories' about drunken, abusive or imagined sexual encounters, with nothing to redeem their sorry, sad, confused state. There are no 'grown-ups'- parents, teachers, nuns or priests present for the girls to either properly rebel against or to inspire and comfort. I have come away thinking that the worst excesses within the 'stories' point more to the (male) writer's own twisted fantasies about school girls and that deeply annoys me. It's telling at one point toward the end of the show that one girl says no one has ever taught them what love means. For me this isn't a comedy - tragedy is more like it.
No, I wouldn't go again, nor recommend it.

Went last night with sister. We were both Catholic Convent girls in the 80's when the play was supposed to be set.
Yes it was lewd with F***k every other word; the accents were very difficult to understand; the research poor - nobody had tuition fees to pay in the 80's, and all sorts of references were completely wide of the mark including the popular bands around at the time.
There were some funny moments but all ruined by the swearing and OTT behaviour. We had rough girls at our school none of whom behaved like that and as the commentator says below nobody would be allowed to go out alone. The play must have been written by a sexually frustrated bloke with clouded ideas about how teenage girls behave. A missed opportunity to create a funny play about friends on the cusp of change (as the play blurb says).
Good thing there was no interval - I think most of the audience would have not come back for the second half.
First, the good. The cast and orchestra are undoubtedly a very talented group and have extremely strong vocal abilities which are demonstrated in many of the featured songs (particularly Mr Blue Sky). Unfortunately, that for me is where the good finishes.
As for the actual play... it's hard to know where on earth to start. It feels very poorly written and is very clumsily staged, with the small cast at times taking on multiple roles, which as a result makes it extremely difficult to follow. None of the main characters are especially likeable which has the effect of making it practically impossible to feel any sort of empathy towards any of them, and the so-called "humour" in the piece ranges from the sometimes lavatorial to the downright grotesque, the likes of which I can't even bring myself to describe. Some people in the audience did seem to enjoy some of it, but they were very much in the overwhelming minority.
I frequently found myself wondering how something this utterly crass and vulgar has managed to earn a place on any stage at all, let alone the London stage. Warnings are given beforehand as to the content being explicit, and with frequent use of foul language - but when said foul language occurs as virtually every other word in just every sentence and said explicit content being totally beyond the realms of any conceivable kind of decency, it can't help but detract from the storyline of any piece... or at least it the case of this piece, it would have been had actually there been a strong enough storyline to follow. Avoid, avoid, AVOID.
Some spirited performances but ill served by a hackneyed and lazy script lacking in character development, mediocre musical arrangements and worst of all, no funny jokes! We wanted to walk out but didn't want to disrespect the performers. My 16 year old daughter wondered who this show was meant to appeal to - people who think hearing pretty girls saying the C word is hilarious? Or like others have said, those who enjoy a grotesque monologue about sexually abusing a dying cancer patient? Awful. Avoid.
Very disrespectful to Catholics. Not entertainment. Disgusted.
The writer and producers of this appalling show must be very sick to think a failed rape and b job perpetrated on a man dying of cancer is in any way entertaining. My rating is no stars .. This site disallows any fewer than 2 stars
A realistic throwback to adolescence and all the emotions that come with it.
Fun, lively and not too much like a musical to be irritating, despite the singing.