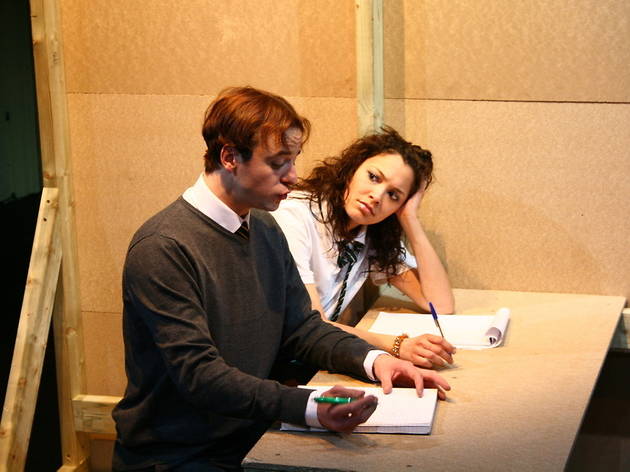 Fringe theatre can sometimes seem London-centric , so it's great to see Daniel Hoffman-Gill's East Midlands-crafted (and casted) coming-of-age drama bedding in for a three-week stint.
It traces the lives of rebellious middle-class kid Danny (Jarrod Cooke) and his cheery but troubled estate friend Michael (Dimeji Sadiq), from the moment they (literally) bump into each other in the street as 12 year olds in 1988, until a funeral four years later.
Nimbly directed by Laura Farnworth, it's crisply evocative of a time and place: Hoffman-Gill has a good ear for Notts dialect, '80s slang and the peculiar conversational tics and logic of teenage boys, but he doesn't lay it on too thick. He makes effective deployment of the rise of rave culture as a backdrop to Michael and Danny's difficult, in many ways depressing, advance toward adulthood.
Evocative as it may be, however, it never musters an exact point. And James Hooten's Frank-from-'Shameless'-alike narrator The Swinging Man is a distractingly superflous embellishment.
Average User Rating
4.7 / 5
Rating Breakdown
5 star:

2

4 star:

1

3 star:

0

2 star:

0

1 star:

0
I thought it was wonderful. Writing was both poignant and laugh out loud funny. Fantastic, refreshing performances. As for the Swinging Man character, I felt he gave those out the loop, such as myself having only passed through Nottingham once in my life for a late night curry, a sense of perspective and understanding of the time, the city, and its people.
Blimey. 3 stars. You dullard I thought it was great.
A fair review I suppose but not sure why the reviewer didn't get the The Swinging Man, far from being superfluous he is essential to the play, provides context, gives us the city of Nottingham as a living breathing person and he was my favourite bit! Oh well, guess that's why I'm not a reviewer!