Out There on Fried Meat Ridge Road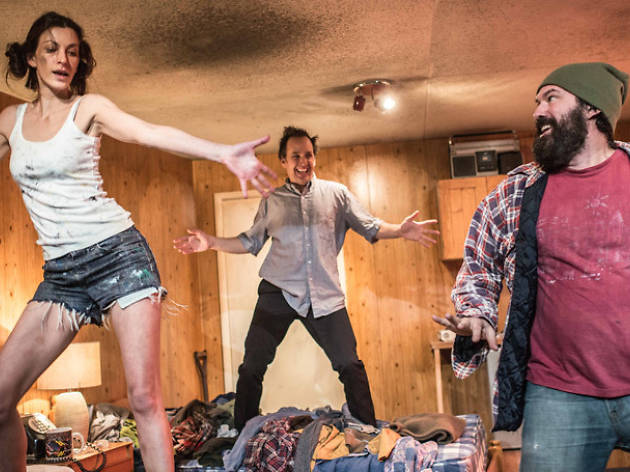 Time Out says
Enjoyable, undemanding American comedy
If you're of the opinion that fringe theatre ought to be challenging, profound and stylish, do yourself a favour and stay away from this unapologetically entertaining comedy by Keith Stevenson. In it, five actors, who each play the same characters throughout, work through a simple, linear narrative, on a set that actually looks like what it's supposed to look like. What do they think this is, the bloody West End?
The action takes place entirely within a pokey motel room (imagine a Travelodge that's got leprosy) in bumfuck West Virginia, where jittery, uptight factory worker Mitch (Robert Moloney) has responded to a roommate ad from friendly, bear-like bum JD (writer Stevenson). Just as the odd-couple bants are wearing thin, a trio of well-trodden stereotypes turn up: racist old codger Flip (Michael Wade), philandering Jersey boy Tommy (Dan Hildebrand) and Marlene (Melanie Gray), Tommy's screeching, hysterical on-off girlfriend.
As a semi-farcical hostage situation ensues, the show's off-the-peg characters begin to build a subtle message about defying personal assumptions (JD turns out to have a knack for Latin, Tommy is of Latvian, rather than Italian heritage). LOLs are still very much the priority here – of which the sharply written script delivers plenty – but this dash of warmth goes a long way.
Okay, so the decision to make the play's only female character its most one-dimensional is a touch troubling. Crucially, though, 'OTOFMRR' is the least intellectually considered thing I've seen in a room above a pub in ages, and that's very much meant as a compliment.
Details