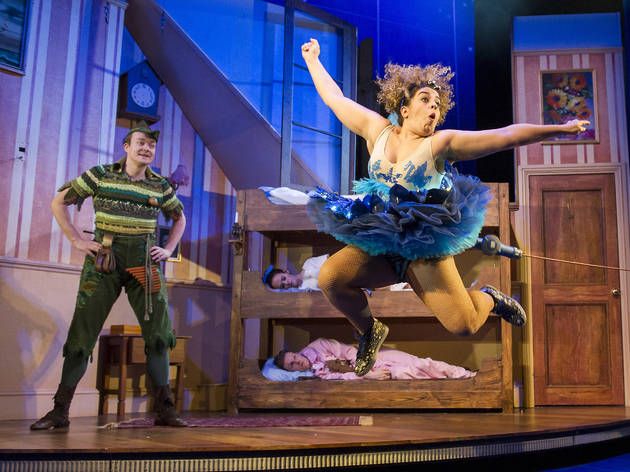 1/8
© Alastair Muir
Greg Tannahill (Jonathan & Peter Pan) and Nancy Wallinger (Annie, Lisa, Tinker Bell & Tiger Lily)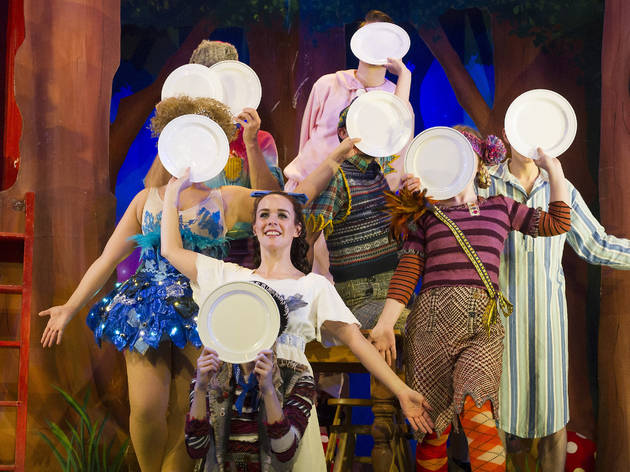 2/8
© Alastair Muir
Charlie Russell (Sandra & Wendy Darling)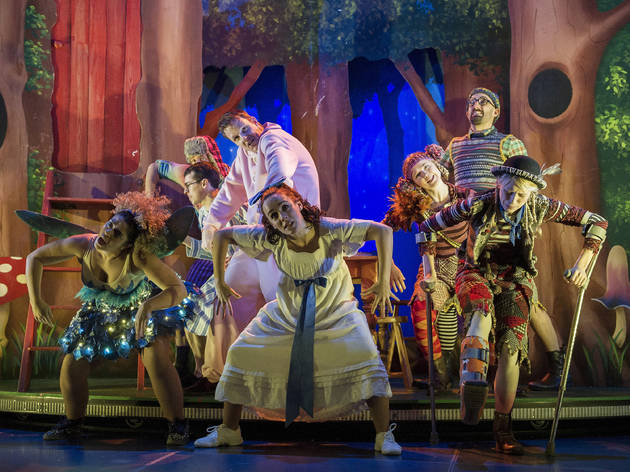 3/8
© Alastair Muir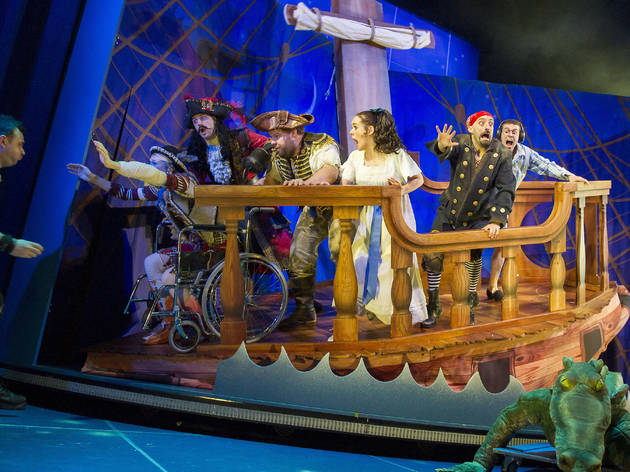 4/8
© Alastair Muir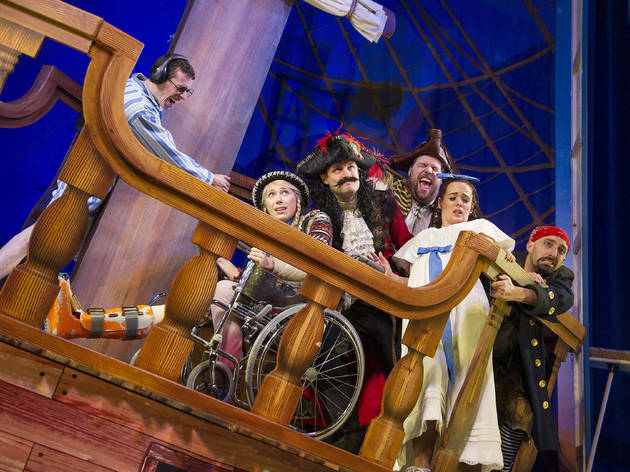 5/8
© Alastair Muir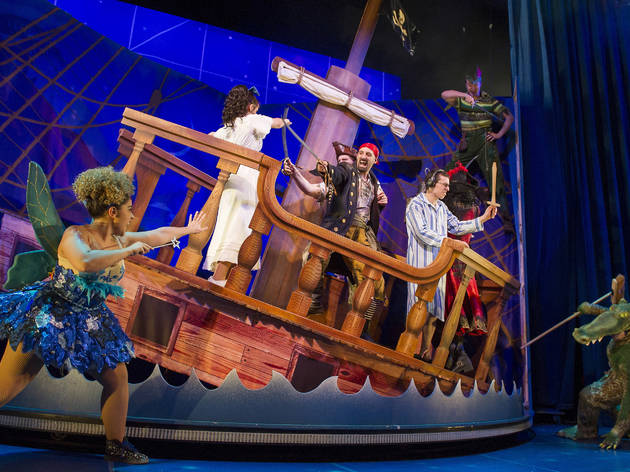 6/8
© Alastair Muir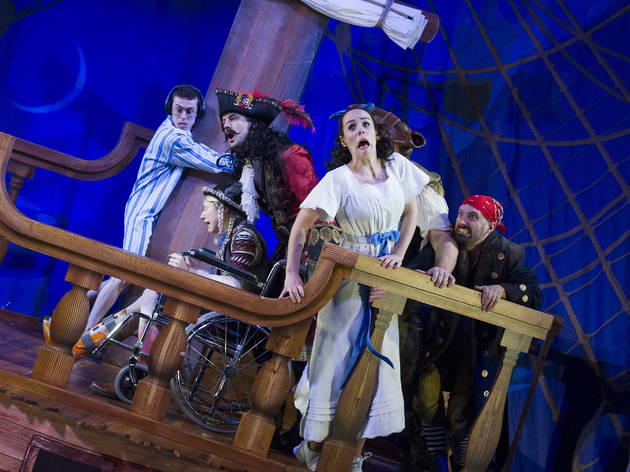 7/8
© Alastair Muir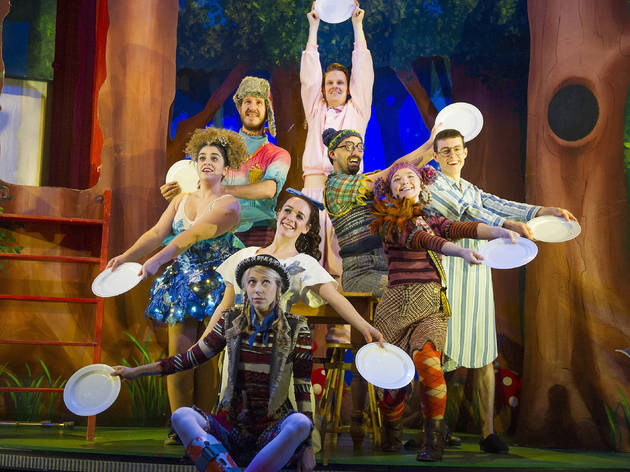 8/8
© Alastair Muir
Another fine mess from the team behind 'The Play That Goes Wrong'
This review is from 'Peter Pan Goes Wrong's 2015/16 run. It returns for 2019/20
Peter Pan soars! Or doesn't, in this extremely funny follow-up to 'The Play That Goes Wrong', which transferred from a fringe venue to the West End, won an Olivier for Best New Comedy earlier this year and gladdened the hearts of theatre-makers everywhere. The original cast are back for this production.
If you saw 'The Play That Goes Wrong', there are few surprises here. It's an ingeniously simple premise: drop an audience into a fourth-wall-breaking performance of a show that falls apart spectacularly from the first scene. Here, that's an adaptation of JM Barrie's 'Peter Pan', directed and starring the pompous Chris (Henry Shields), who – in spite of his amusingly seasonal, pissed-off insistence that this is 'not' a panto – is properly boo-hissable. And not just as Captain Hook.
The real director of 'Peter Pan Goes Wrong', Adam Meggido (who's just had huge West End success as co-creator of 'Showstopper! The Improvised Musical'), stages everything beautifully, creating a breathlessly chaotic atmosphere that distracts us from the obvious technical skill and sophistication necessary in order to make everything break down so hilariously.
There's some inevitable flying-related japery, with the 'actors' swinging haplessly into scenery or abruptly disappearing. But while this – and the various set malfunctions – are good for quick laughs, it's the cast's comic timing that really powers it, from Nancy Wallinger's absurd, interpretive dance as Tinkerbell, to Jonathan Sayer's headphone-saddled Dennis, repeating everything from his lines to an off-stage break-up.
It all feeds into a delicious fantasy of theatre's worst excesses, with petty rivalries, aching artistic pretentiousness and Peter and Wendy's back-stage bonking all 'accidentally' exposed to us like someone caught with their pants down. Mean-spirited? Not really. It's so deftly exaggerated, it's the real panto here. And in the sweetly sincere Max (Dave Hearn), so proud of being the crocodile, we have someone to root for.
To succeed, this kind of play – with its successive catastrophes – needs the same suspension of disbelief as a found-footage horror film. When the latter's good, you forget they could just drop the camera and run. Same here. This is a joyfully silly show that unpacks itself like a festive treat, about a production whose stream of failures you won't want to end. Bah haha humbug.
Venue name:
Alexandra Palace
Contact:
Address:
Alexandra Palace Way
London
N22 7AY

Transport:
Rail: Alexandra Palace; Tube: Wood Green
Price:
£20-£49.50. Runs 2hr 5min
Average User Rating
4.3 / 5
Rating Breakdown
5 star:

10

4 star:

3

3 star:

1

2 star:

2

1 star:

0
I was sooooooooooooo disappointed! I went to see The Play That Goes Wrong and The Comedy about a Bank Robery and both were hilarious! I think the plays are brilliantly written, but what makes it fun to watch is the wonderful cast! I decided to go see Peter Pan Goes Wrong as I left the other two plays laughing and feeling fascinated. Terrible surprise for me was to find out that Peter Pan has changed cast for 2016. I asume it's because the original cast is busy with the other plays...
I found the new cast to be less than acceptably funny. You could see they were trying to imitate their original fellows... and they failed in achieving it. Jokes were "overly acted", reactions and acting were ridiculously fake... it was just not funny at all. I didn't laugh ONCE. I smiled, yes, but didn't laugh. And it is definitely not what I was expecting to see. I feel as if I had been tricked, because it was not these "copy-guys" I paid to see.
Very VERY disappointed.
Anyone thinking of watching this play in 2016 - my advice: don't bother. If you really want to have a good laugh until your stomach hurts go see the other two plays, but first make sure it's with the original cast - otherwise it's not worth your money.
Sadly, have to agree with Isa N- simply not as funny as the other two productions. Although the cast gave it their all, the genius of the other productions is the laughs come almost entirely from well-intended actions going horribly wrong when on-stage, and at such a breathtaking pace and accuracy of mishap that leaves the audience incapacitated.
Everything here was too knowing, you could see the gags a mile off, and based on last night's performance, there were several awkward silences and misfires that simply didn't work.
Ambitious, but an ever-revolving stage does not a great comedy make!
That said, The Play That Goes Wrong with the original cast remains one of the funniest 90 mins of my life.
Highly entertaining show. Very funny with great comic timing by all of the cast.
Best thing I saw in 2015. Made me laugh out loud and I really hope they bring it back in 2016. rip roaringly funny show.

We had seen the play that goes wrong and this was fantastic too. The actors are brilliant and the scenery so clever. Had to keep wiping the tears of laughter away. cant wait to see their next production
A friend recommended this to me - I, in turn, recommend it to your readers. It is hilarious! I haven't laughed that much in a long time. The production is a wonderful mix of well known children's story expertly blended with some side-splitting West End style farce. The result is a riotous evening of laughter and physical humour. One for all the family. Lastly, it was my first visit to the Pleasance. What a great little theatre with Shillibeers next door for a pre or post show supper.
A humorous comedy, with an original story going wrong. I found this amazing and absolutely hilarious. I definatly rate this a 5 star show, I bet most adults and many children would love this production. By Tami Snyder, age 10, in London
Snap up exclusive discounts in London
Time Out's handpicked deals — hurry, they won't be around for long...