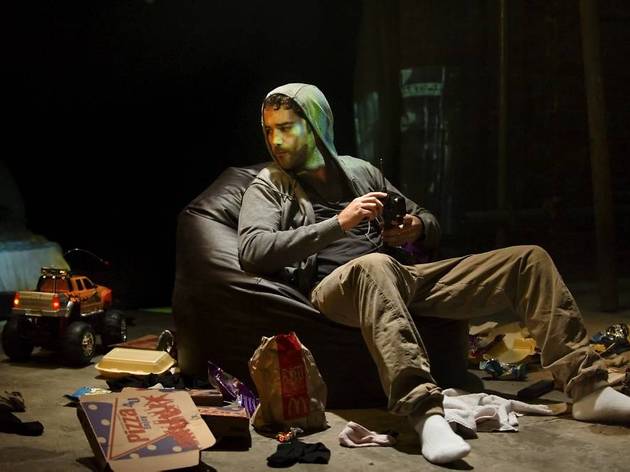 Even the most devoted fan of Sarah Kane's short, shocking body of work would have to concede there's some minor stuff in there. Certainly 1996's 'Phaedra's Love' – a glib, violent reworking of Seneca's 'Phaedra' – feels somewhat in-yer-face by numbers next to 'Blasted', 'Cleansed', et al. Still, it's not like Kane was ever boring, and Bronwen Carr's atmospheric production is worth an hour of the strong-stomached theatregoer's time.
'There's nothing wrong with him medically,' a court physician tells queen Phaedra (Joanna Roth) of her stepson Hippolytus (Nicholas Shaw), 'he's just very unpleasant.' Kane's black comedy reduces the agonised longueurs of Seneca's tragedy to short, sharp bursts of human nastiness and animal instinct.
It opens with Hippolytus in his disgusting lair, glumly tending to his jaded appetites as he wanks into a sock and munches a tepid Big Mac whilst watching 'Scarface'. A few scenes later Phaedra professes her desire for him: he remains glued to Sky News as he dispassionately accepts a blow job; she tearily slinks off to kill herself.
Though solid in most respects, the cast don't really get the measure of Kane's spare, surreal dialogue, which tends to flop out with limp naturalism. But this vision of squalor is stunningly designed and lit by Anna Bliss Scully and Tom White. Sitting in darkness, overwhelmed by filth and technology, sullenly resentful of his appetites and instincts, this Hippolytus is a potent symbol of Western exhaustion.