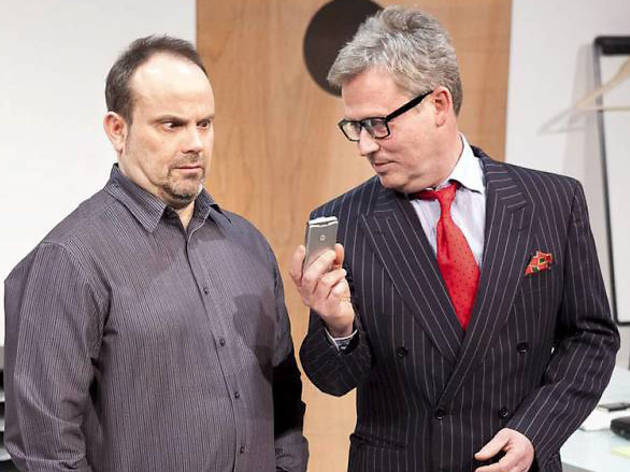 If they weren't so rich you could almost feel sorry for ad men. But their superficiality, paranoia and cutthroat ambition make them very satisfying satirical targets and now it's Jonathan Guy Lewis's turn to put the boot in.
Lewis is best known for his play 'Our Boys,' about men recovering from the Falklands War. Here again it's chronically insecure blokes who provide his fodder – this time two middle-aged men charged with thinking up a campaign for an orally administered micro-chip that enables telepathic messaging.
The play's best feature is its language: whizzed-up gobbledygook is spouted like Biblical truth as the characters rib and taunt one another. It runs the gauntlet from the brain-melting hyper-shite of 'emotionalising everyness' to the wry 'power corrupts and PowerPoint corrupts absolutely'. But Lewis's play has one big problem: there isn't enough story. There is build-up to a big presentation in which everything goes stupendously wrong, but it's better suited to 30-minute sitcom than two-hour drama.
There are, however, two impish performances, from Simon De Cintra as stout word man Phil and from Ray Eves as the gaffe-prone visuals guy. Louise Tyler spices things up too as a sexy, sharp-suited career psycho. Although the show is needlessly complicated by PowerPoint projections (they do indeed corrupt absolutely), it's certainly a good laugh. Had Lewis matched his wit with dramatic thrust, his play would have been pitch-perfect.