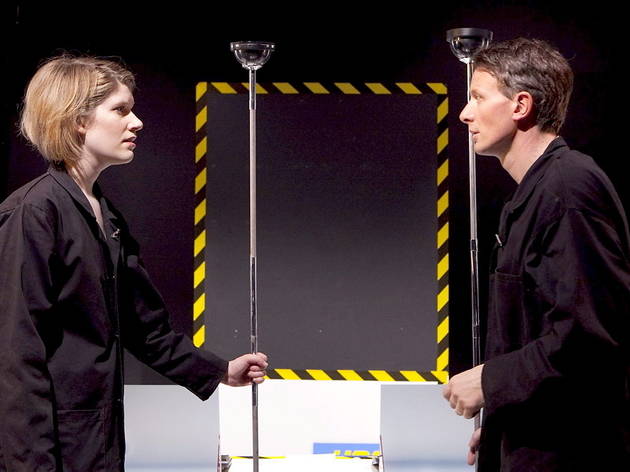 Time Out says
Sasha C Damjanovski once made a film that was scripted entirely from a phone directory. It inspired this charming futuristic comedy, which opens with a couple conversing in incomphrehensible streams of data.
Don't be put off: proper dialogue ensues after scene one, and, from the start, there's tangible sexual frisson between Jeremy (Simon Desborough) and Martha (Laura Evelyn).
It's 2060. The couple have developed a dream recorder, but the all-seeing nanny government wants to use the machine to make dreams happier. Idealistic Jeremy and excitable Martha grow closer, grow apart and… that would be telling. Desborough and Evelyn make a sweet, quirky couple, but star of the show is Jonathan Leinmuller as their villainous boss. His laugh is alternately menacing and nervous; his eyes wide with crazed energy; and if he's a little pantomimic, at least he doesn't drag down the play with seriousness.
Damjanovski also directs, and has choreographed even the set changes meticulously so that characters twirl around with props. And though not ignoring weightier themes of freedom and politics, he keeps the thrust refreshingly upbeat.
Details