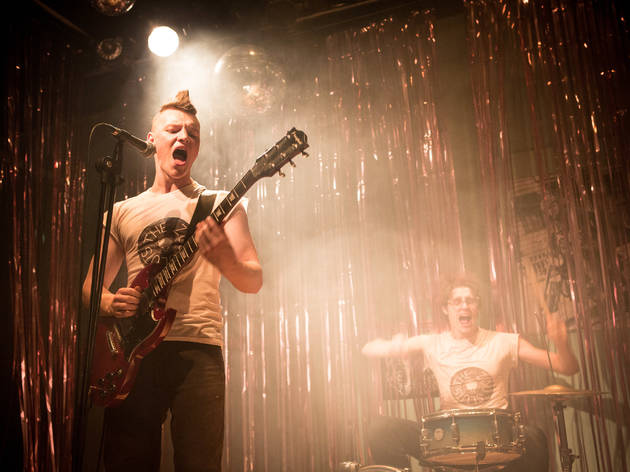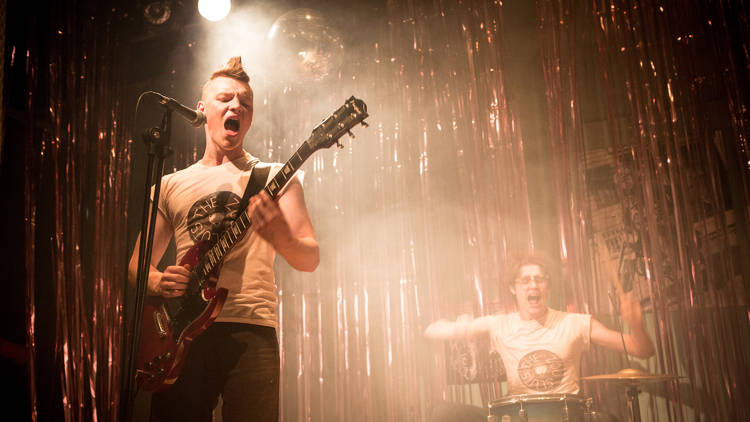 1/5
© Helen Murray
2/5
© Helen Murray
3/5
© Helen Murray
4/5
© Helen Murray
5/5
© Helen Murray
Interesting but rambling drama about two suburban American punks
In recent months, London has gone all-out in celebrating 40 years of punk. Everywhere you look there's a green mohawk or some ransom-note marketing material staring you in the face. Though it was first performed seven years ago, Gregory S Moss's 'Punkplay' is part of the official programme of celebrations.
By its own admission, it's ten years late to the party – it's set in the mid-'80s, and focuses on the friendship of two typically bored and angst-ridden American teenage boys. It's an endearing relationship, and the zippy back-and-forths between sweetly naive Mickey (Sam Perry) and amped-up, assertive Duck (Matthew Castle) will feel familiar to anyone who's ever sprouted pubes and worried that their jeans aren't cool enough.
But a few succinct observations on adolescence aren't enough to carry a whole show, and much of the pair's skits – from their commentary over a zoo-set porn film, to the repeated brainstorming of daft band names –are badly executed, unfunny or simply dull.
Not even the novelty of Tom Hughes's production, which has the whole cast whizz around stage on rollerskates can distract from the fact that, while it has its moments, 'Punkplay' is stuffed full of more filler than a Sham 69 album.