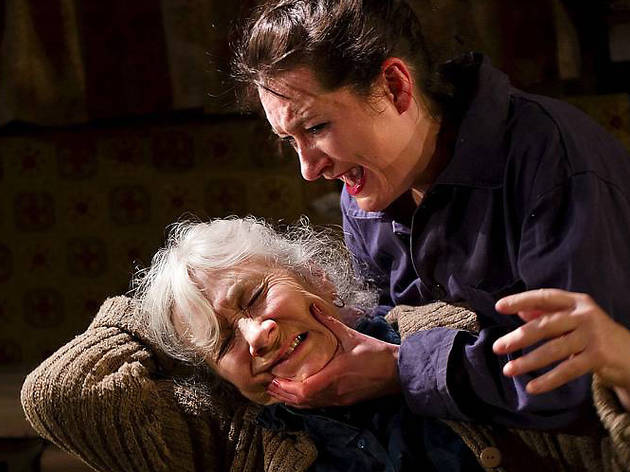 If you thought Estonia was just a cool place for a stag do then Sofi Oksanen's drama, also a prize-winning novel in her native Finland, will be a real education.
The Arcola's studio space is filled with scrubbed wood to recreate the home of elderly countrywoman Allide (Illona Linthwaite). In Rosemary Flegg's artful design, Allide's life and home – in an Estonian forest which was occupied by Germany, defended by local fighters and annexed by the Soviet Union – have hidden depths to reveal.
You have to chop off a lot to cram a multi-generational saga into a two-and-a-half hour play and Oksanen's sweeping story was probably better suited to the novel. But the detail and ingenuity with which it's staged by Borealis Theatre are impressive.
As Allide's past comes back to haunt her – somewhat improbably via a runaway prostitute and the brutal pimp who comes looking for her – her memories of the harsh Communist era play out in parallel to 1990s capitalist misery.
If there is a moral, it is that people don't need a uniform or an ideology to be cruel: modern gangster pimp Pasha is more brutal than party man Martin (Johnny Vivash) whom the young Allide (Rebecca Todd) marries, partly to protect her sister's handsome freedom fighter husband, Hans (Kris Gummerus), who hides for months in her cellar. There is a cruel pragmatism in all the relationships, which is echoed and amplified by the moaning CCTV soundtrack in Pasha's brothel.
The melodramatic coincidences weaken the historical story – which is dramatic enough without the extra literary flourishes. But this is strong, gut-wrenching stuff: effectively communicated by talented actors and harrowing use of film.
Rating Breakdown
5 star:

2

4 star:

0

3 star:

0

2 star:

0

1 star:

0
This is not for the faint-hearted! Mesmerizing from start to finish and in such an intimate space you are completely immersed, it can be hard to watch at times. The use of film and audio was brilliant and kept the audience in the play. Performances throughout were flawless in particular Rebecca Todd and Johnny Vivash as "Martin". Highly recommend seeing this one but you'll need a brandy before and after!
Gripping story- beautifully performed - and now so current with events in the Arab spring uprisings