Heads up! We're working hard to be accurate – but these are unusual times, so please always check before heading out.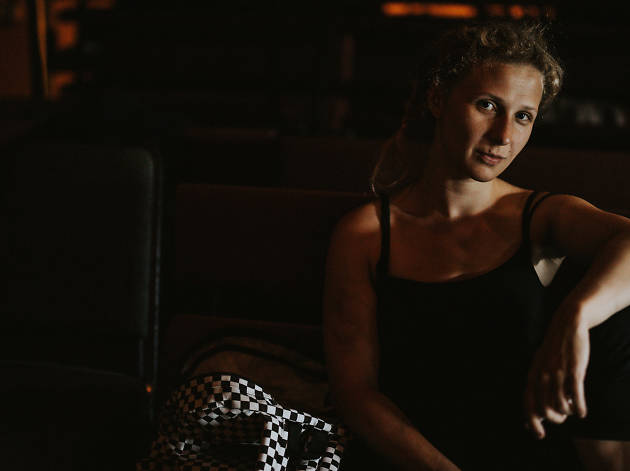 Pussy Riot's Maria Alyokhina on swapping her balaclava for political theatre
We chat to Pussy Riot member Maria Alyokhina about prison, Putin and her incendiary new theatre show
Maria Alyokhina is known as a member of balaclava-wearing Russian political performance artists Pussy Riot. She was jailed for 'hooliganism motivated by religious hatred' after the group performed an anti-Vladimir Putin punk song in Moscow's Cathedral of Christ the Saviour. Freed in 2014, she is now collaborating with the exiled Belarus Free Theatre on 'Burning Doors', a raucous show about the reality of life for political prisoners.
What's the purpose of 'Burning Doors'?
'I think one of its purposes is that not all of the people about whom we're talking are free. [Ukrainian filmmaker] Oleg Sentsov is still in jail and I think it's one of the goals to free him, because if he has to stay in for 20 years he probably will not see the end of his term. This is kind of based on my story and I really want to show the ordinary hell of what people in Russian prisons have to go through.'
Is it difficult reliving these memories night after night?
'What I've seen after prison has been more difficult than what I saw in it. But I wanted to show other people what I've seen inside and I feel that I'm really doing the right thing. It's also important to show what public and media campaigns can achieve.'
'What I've seen after prison is more difficult than what I saw in it'
Belarus Free Theatre has had to flee Belarus. Do you still live in Russia?
'I still live in Moscow. Since the annexation of Crimea, ordinary life for people who are politically active has become really terrible. You've probably heard about our friend Boris Nemtsov who was killed near the Kremlin walls. In less than two years we will have Putin's fourth term and nothing will change.'
Do you see Edward Snowden as a kindred spirit?
'Edward Snowden is one of my heroes: we are both fighting for the truth. It was not his decision to go to Russia and he is facing a very difficult thing. He doesn't have any place to go and if you're living like that the whole world can feel like a prison. If somehow I can support him I want him to know I will.'
By performing over here, is there any worry you might play into the hands of dodgy Western politicians?
'I know about political hypocrisy and how real action can stop it – I really believe that artists can make political gestures stronger and faster than politicians.'<
Belarus Free Theatre 'Burning Doors' © Manuel Moutier
'I want to show the hell that people in Russian prisons go though'
People call Pussy Riot a 'band' as if you did stuff like play gigs – that's not right, is it? 'Erm, no: it's a small confusion. [Laughs]. A major confusion!'
Do you miss the balaclava? 'Pussy Riot were known to the world as an anonymous group. But sometimes it's important to show what's under the mask.'
'Pussy Riot were known to the world as an anonymous group. But sometimes it's important to show what's under the mask.'
'Burning Doors' is at Soho Theatre from Wednesday August 31 - Saturday September 24 2016.
See more great theatre shows in London
Find the best London theatre shows for 2016 with our guide to all the best immersive, musicals and off-West-End shows on offer before the year's up.