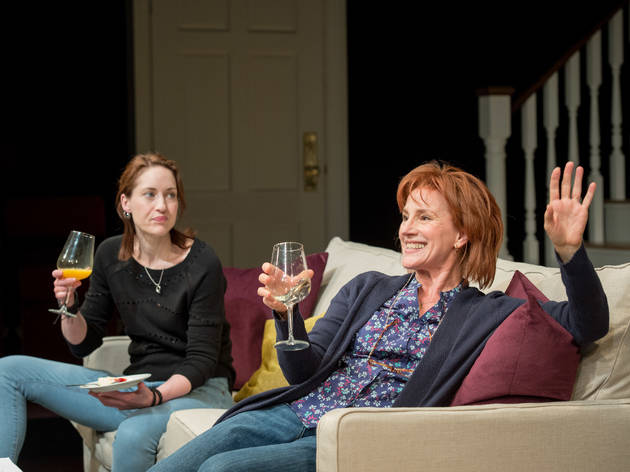 1/4
© Manuel Harlan
Georgina Rich (Izzy) and Penny Downie (Nat)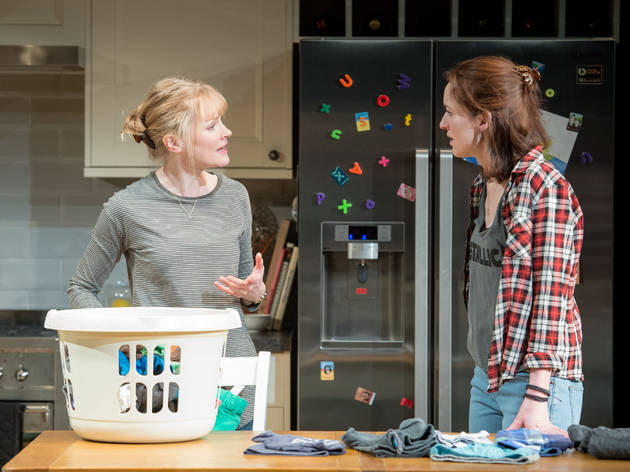 2/4
© Manuel Harlan
Claire Skinner (Becca) and Georgina Rich (Izzy)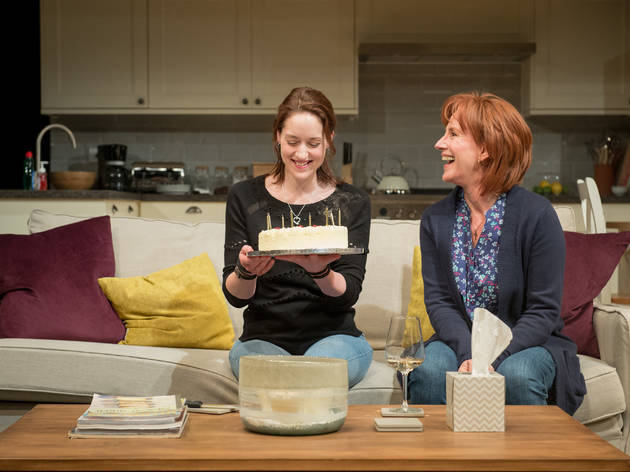 3/4
© Manuel Harlan
Georgina Rich (Izzy) and Penny Downie (Nat)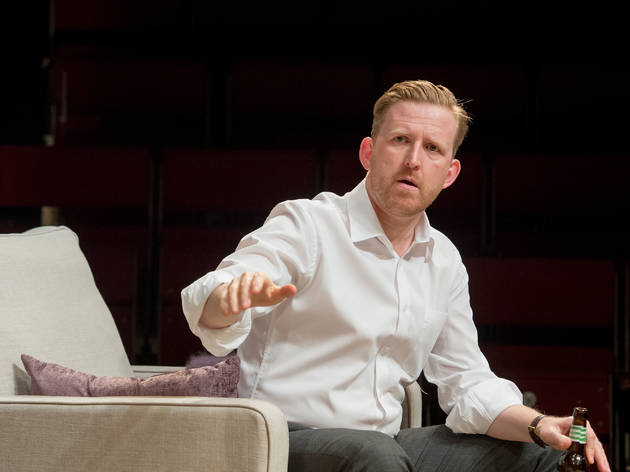 4/4
© Manuel Harlan
Tom Goodman-Hill (Howie)
Time Out says
You can see why this play about grief made waves on Broadway, but it feels a bit distant
This play about a comfortable young couple trying to keep their heads above water in the wake of losing a child was revered on Broadway in 2006, won its writer David Lindsay-Abaire a Pulitzer Prize in 2007 and was made into a film starring Nicole Kidman in 2010. But this is the first time 'Rabbit Hole' has been staged in the UK, and you wonder if other producers have hesitated not only at the tough subject matter but also the specifics of its New York State setting.
Certainly it raises the question of why talented British casts persevere with the mask of foreign accents when the themes and story of a show barely require it. Here, those accents, delivered with mixed results, are sometimes a distraction, especially as Lindsay-Abaire's acute, uncomfortable, unsentimental observations on the alienating and lonely nature of dealing with death are piercingly universal. Edward Hall's moving production, with its bland domestic design and carefully muted characterisation, stresses that. At its best, it's like watching an emotional time bomb ticking in the furniture department of Ikea. You just wish we weren't observing it all from the other side of the Atlantic.
It's not even a year since Becca (Claire Skinner, this production's undoubted star) and Howie (Tom Goodman-Hill, hints of the Damian Lewis of 'Homeland', home but not home) lost their young son Danny in a road accident. Life, as the cliché runs, goes on: so we first meet Becca doing the ironing while chatting with her younger sister, Izzy (Georgina Rich). Izzy announces she is expecting a baby – a challenge to grieving Becca, just as the memory borne by her mother, Nat (Penny Downie), of losing a son to heroin and suicide at 30 is a challenge: Becca won't accept any well-meant comparisons between her mum's experience and her own.
Howie, meanwhile, is handling things his way: attending bereavement classes and trying, awkwardly, to steer his marriage back to normality. The play's sole outsider is Jason (Sean Delaney), the teen behind the accident that killed Danny. He wants to talk; the reaction is mixed.
The writing is sensitive, if a touch schematic. Hall's production is sympathetic and well-performed, and after a first act marred by some rushed pacing (you yearn to feel more of the gulf of silence and pain between the words) it builds to two extraordinary late scenes that make some fleeting sense of the anarchy of the play's subject. There are laughs here, too; don't expect a wall of anguish. But a tiny, niggling sense of the bogus never entirely goes away.
Details
Best selling Time Out Offers