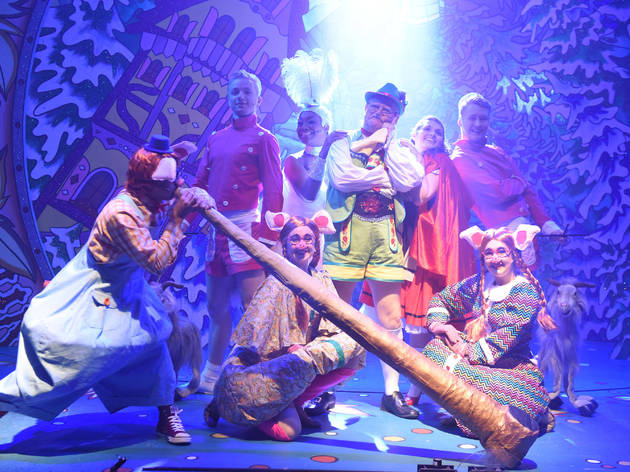 1/5
© Robert Day
Members of the cast of 'Red Riding Hood'.
2/5
© Robert Day
Members of the cast of 'Red Riding Hood'.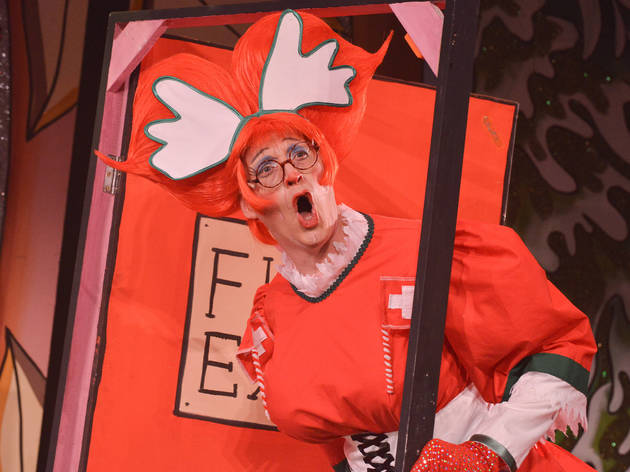 3/5
© Robert Day
Andrew Pollard as Nanny Fanny Cuckoo in 'Red Riding Hood'.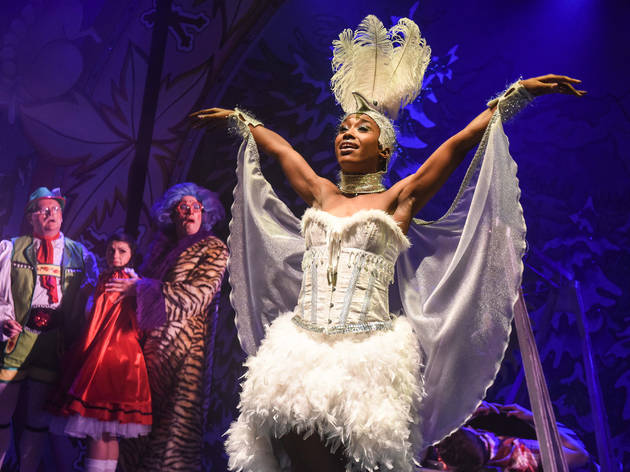 4/5
© Robert Day
Dawnita Smith as Silvana in 'Red Riding Hood'.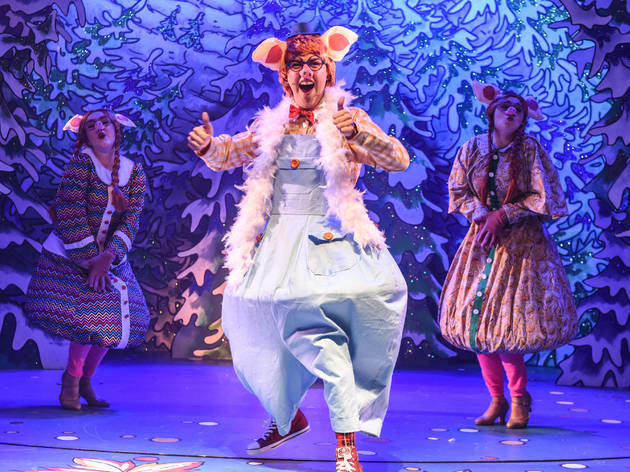 5/5
© Robert Day
Alim Jayda as Piggy Smalls in 'Little Red Riding Hood'.
Time Out says
Friendly warning! We're working hard to be accurate. But these are unusual times, so please check that events are still happening.
If all you want from your Christmas panto this year is a camped-up-classic fairy tale with a dashing villain, buckets of glittery smut and slapstick, hilariously mashed up pop songs and pretty fabulous dance routines, but you want it for over two hours, some of it in 3D, with a spanking script and outlandish costumes then hey presto, we have it all here in Andrew Pollard's 'Red Riding Hood'

Without lapsing into gratuitous sexism or the usual boring panto stereotyping, Pollard has once again created a superbly silly, glamorous and ridiculously riveting family show, where it is impossible not to join in with the singing and shouting and only a few of the gags will (hopefully) go over the kids' heads. We have wolves, pigs, revolving scenery, fluffy singing owls, men sawn in half, sexy doctors and fabulous trees, as well as a serious comment about the demise of the theatre in our lives today.In the second half, and now donning 3D glasses, we even get bricks, sticks and water 'thrown' at us by 3 little pigs, in a cleverly prepared optical stage trick.

Pollard is a most laconic, almost sophisticated Dame, which he somehow achieves even in a cuckoo clock bra; the stunning sets by Cleo Pettitt dazzle and the supporting cast look like they're having a lot of fun: beautifully voiced Kirsty Marie Ayers doesn't turn our heroine, Scarlett, into the usual simpering irritation (hurray!) and our Prince in disguise (Alex Spinney) is sweet, funny and non-alpha male (hurray!), our butt of most jokes is Herr Brush (Martin Johnston) but best of all is Anthony Spargo's dashingly malevolant, wickedly alluring Count Fracula, whose outstanding rendition of the Stones's Jumping Jack Flash happily borders on the deranged and is a hilarious highlight of the show: why he isn't billed as co-star is a real mystery: move him up the billing please!
BY: SARAH PEACH
Details