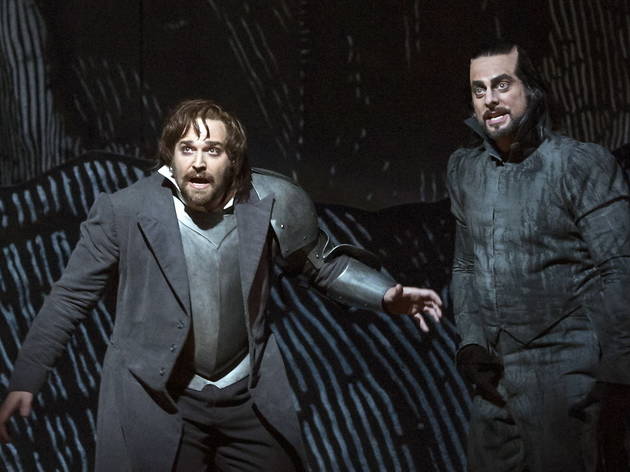 Giacomo Meyerbeer (a German despite his adopted first name) was the toast of Paris for 30 years until his death in 1864, but his work is rarely performed today. An historically important figure, he paved the way for the next generation of composers, Wagner among them – Meyerbeer's grand opera anticipating the harmonic adventurism and behemoths of late romanticism. And at over four hours, 'Robert le Diable' is pretty substantial, if mostly in length.
The gothic themes, ridiculous to us now, are held together by hooky plot – jousting knights, the son of the Devil, a magic branch – played out at a snail's pace. Laurent Pelly's production (sets by Chantal Thomas), however, has much fun with the clunky medievalism – flying in the armoured knights on wires and lowering them on to brightly coloured plastic horses; the ladies of the chorus, too, painted in single primary colours; and the wild mountains represented by huge Durer-esque engravings. The obligatory ballet in a cursed abbey was amusingly danced by randy zombie nuns.
Although the pacing creates many longueurs, there was much singing to enjoy, notably great choral writing and exciting soloists. Never mind Top Cs, the American dramatic tenor Bryan Hymel reached further into the stratosphere and fearlessly remained there, while holding attention with his burly presence. His devilish mentor, Bertram, was sung by bass John Relyea in a wonderfully dark voice, straight from hell. The love interest Princess Isabelle was played by Patricia Ciofi, who received a rapturous welcome on account of taking over the role at three days' notice. She went on to receive thunderous curtain call, having produced tuneful coloratura while competing with a large chorus and orchestra playing to the max under Daniel Oren. (The role was scheduled to be sung by Jennifer Rowley, but apparently it 'didn't work out'!) Marina Poplavskya's cool soprano had no trouble singing Alice, but was, perhaps, too powerful for such a simple character. Overall, a stodgy opera rescued by a great production.